AUS-ION™ 'RAW' 35cm Bigga Flaming Skillet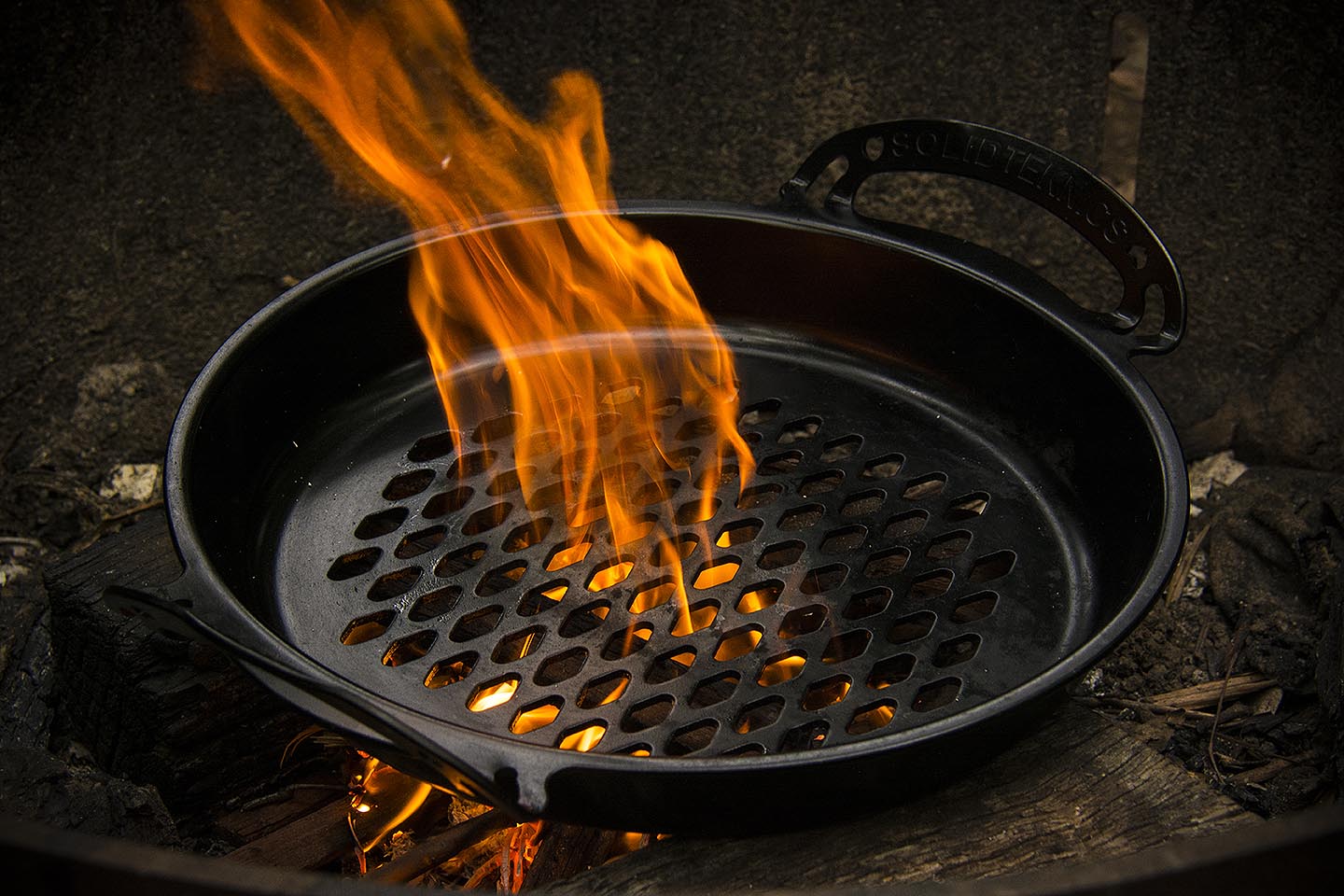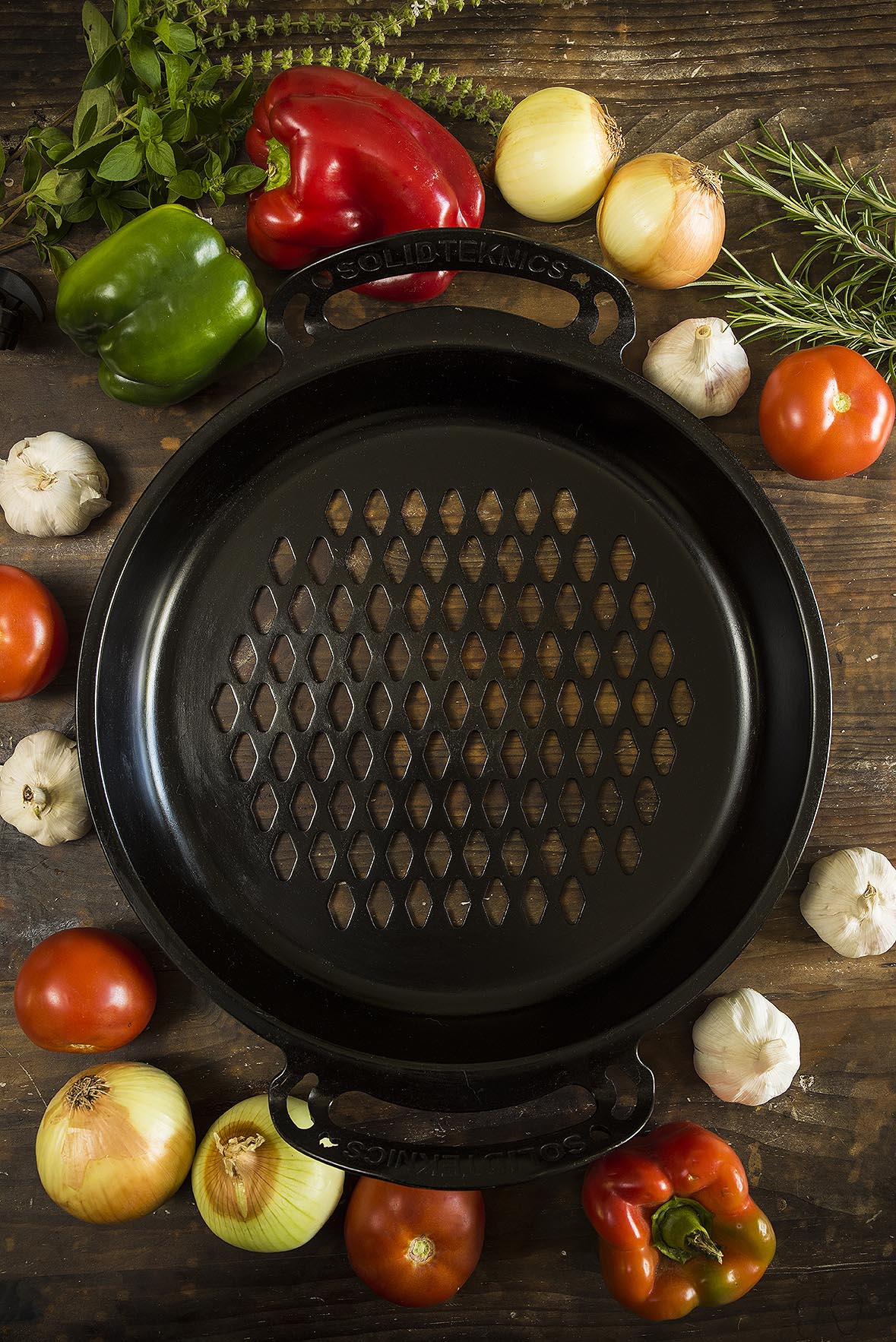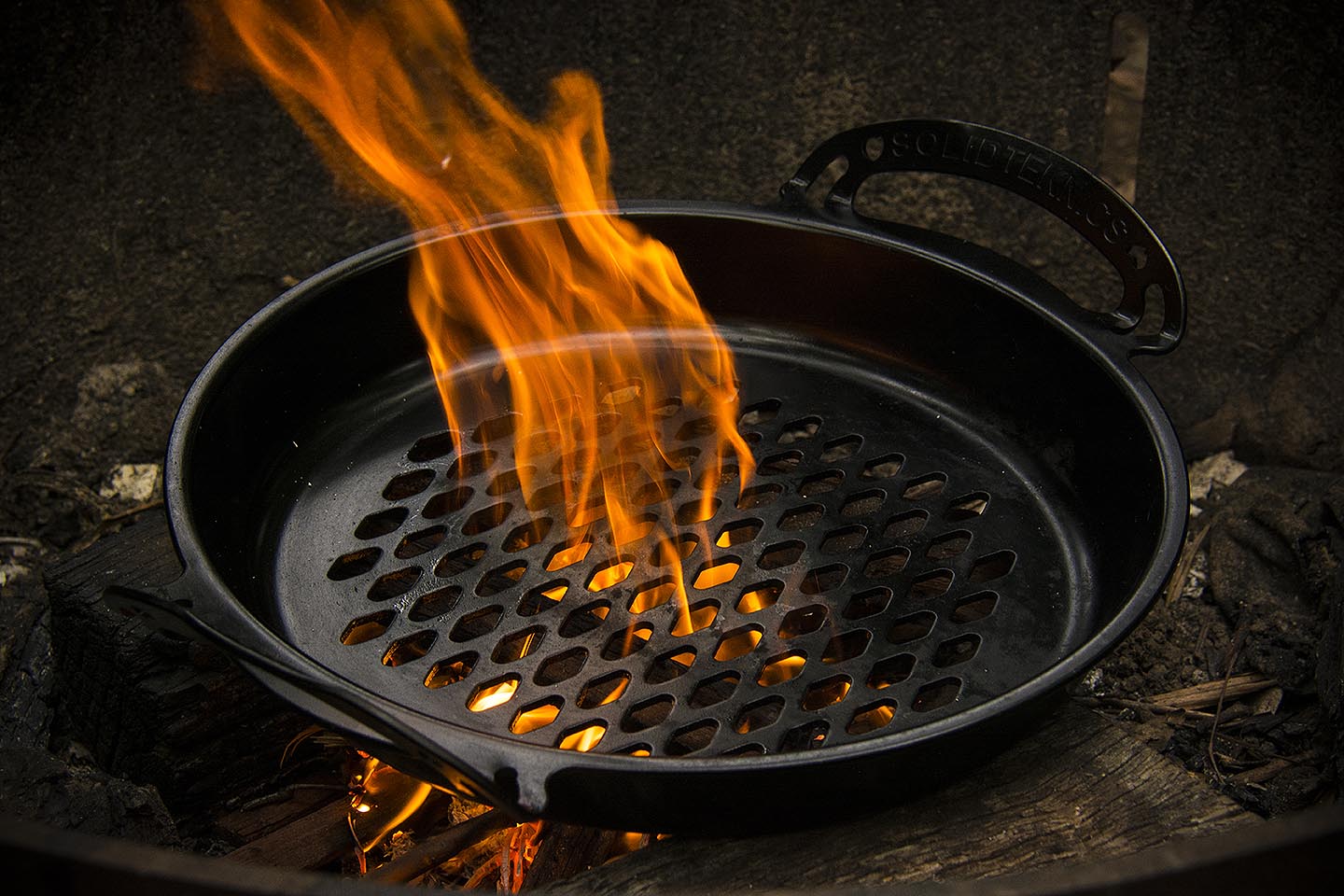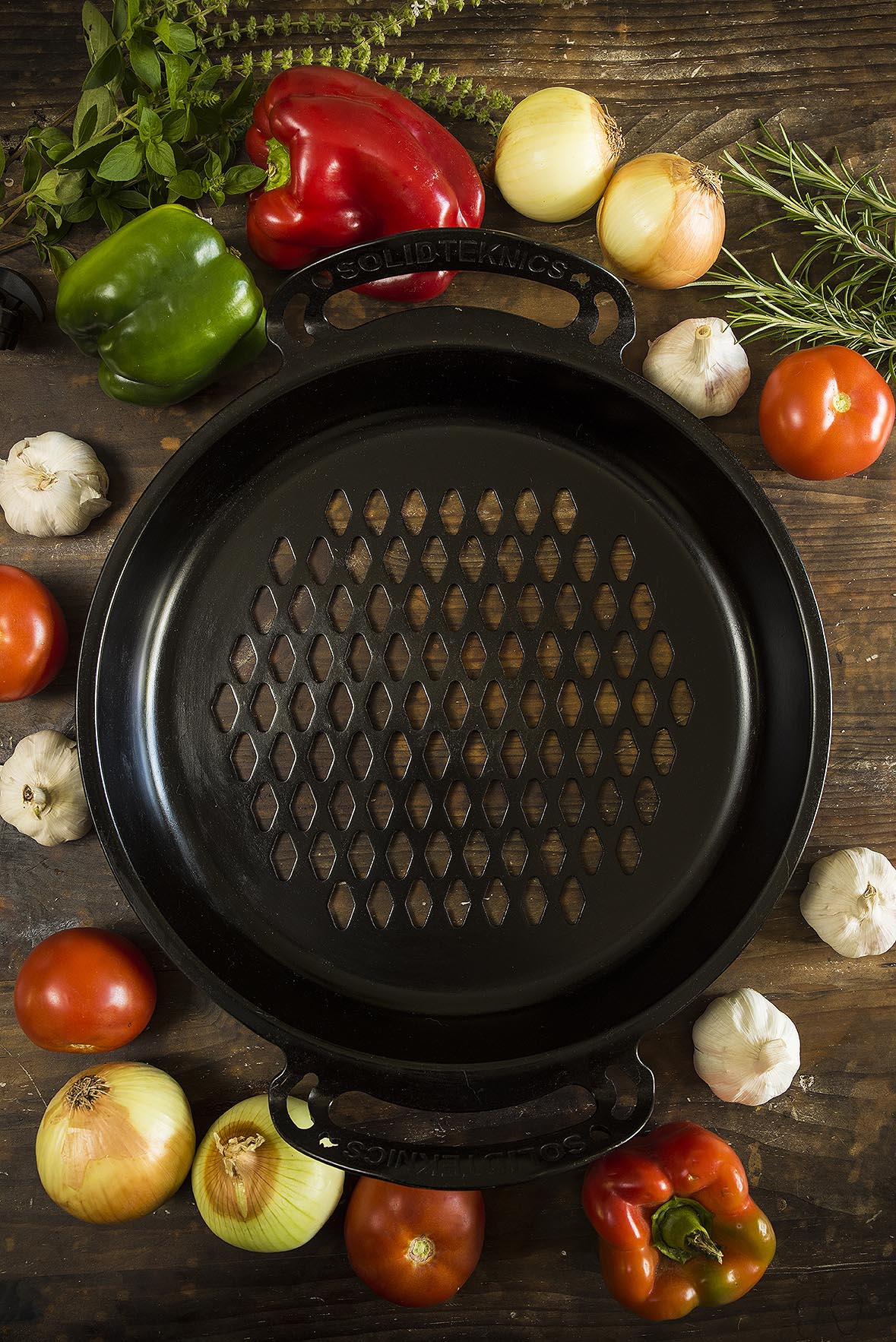 AUS-ION™ 'RAW' 35cm Bigga Flaming Skillet
Our 35cm AUS-ION™ RAW Bigga Flaming skillet combines with our AUS-ION™ RAW 35cm Bigga Skillet and 10L DEEPA Pan available for separate purchase.

This listing is for the 35cm Bigga Flaming skillet - the ultimate in flame & iron grilling!

If you already own our AUS-ION™ 26cm Flaming Skillet our new 35cm Bigga Flaming skillet will deliver that same flame-grilled taste in meats and vegetables with a bigger capacity and more potential for combining with other AUS-ION™ products for cooking, draining, steaming, roasting, or even use as a spatter guard!

Perforations in the Bigga Flaming skillet base allow smoke and fire to penetrate but it also nests perfectly with our standard solid-based 35cm Bigga Skillet to catch any drips, for easy transfer of roasts and thick steaks from flame sear and seal to oven.

Solid 4mm thickness for superior toughness and conductivity (full dimensions below).

'Raw' finish; wax coated, ready for seasoning.

Made in Australia in patented single piece construction.

Perfect for BBQ's, baking, pizza ovens and everyday meals!

Each pan is engraved with the month and year of manufacture for heirloom collectibility.

Discover how easy it is to build-your-own healthy, non-stick and forever-renewable AUS-ION™ cooking surface here and never replace a non-stick pan again!
Dimensions:
L 44.5cm, Diam 35cm, H of bowl 5cm, Weight 3 kg
Designed to fit in a standard 600mm oven.
What is RAW?
Our new AUS-ION™ RAW surface aims to reduce costs by eliminating the expensive Satin finishing and seasoning operations of our existing and immensely successful AUS-ION 'Satin' range, in order to offer a lower-priced option for our loyal customers. Ultimately both surface finishes ('Satin' & RAW)will end up in the same place with the correct care and lots of cooking. Aside from the surface finish and price, the two ranges are identical in every other way.
Background: We originally launched our AUS-ION™ pans in smooth pre-seasoned surface finish in 2015, and they were an immediate success. A year later we re-introduced them with a more expensive 'Satin' surface finish with pre-seasoning, and they just kept growing in popularity. The Satin finish made seasoning easier for all the cooks who were new to real iron pans in Australia (the rough surface grips seasoning better when the pan is new, making them easier for inexperienced seasoners - you can find AUS-ION™ 'Satin' pans in other sections of our store), however, this particular pan is only available in the RAW surface finish here. Ultimately both surface finishes will end up in the same place with the correct care and lots of cooking.
What is this seasoning you speak of?
If you are new to iron cookware seasoning is basically 'build your own' natural non-stick and it is the reason why bare iron cookware can become non-stick without toxic and/or disposable synthetic coatings. It involves a process called polymerisation whereby oil and fat is transformed by heat and bonds to the iron, creating a non-toxic natural non-stick surface that you build and maintain yourself over time. If you cook with fats and oils and wash carefully, your natural non-stick will keep renewing for many lifetimes.
Natural seasoning is healthy, non-toxic and forever renewable. Full care and seasoning instructions here
SOLIDTEKNICS AUS-ION™ wrought iron (low-carbon steel), and nöni™ ferritic stainless steel cookware are the only two production cookware ranges made in Australia. Both ranges are non-toxic, healthy, sustainable, and multi-century durable. AUS-ION™ and nöni™ are also World-first seamless, rivet-free, 1-piece wrought pans, with patents pending.

Ideally, every cook interested in healthy, non-toxic, and sustainable cooking will have a mixture of iron and stainless steel pans in the kitchen, because each has its strengths for different types of cooking:
1. AUS-ION™ Australian-made wrought iron professional cookware is perfect for everyday oil/fat based frying, grilling, etc. AUS-ION™ cooks and seasons like all bare cast iron cookware, but is half the weight. Seasoned iron is the only known non-toxic and forever-renewable non-stick. All other non-stick cookware is made with toxic and/or disposable synthetic coatings.
2. Our new conductive solid ferritic nöni™ stainless steel range is perfect for all liquid boiling, slow cooking, acidic sauces, and is very low maintenance.....and indestructible.
Both ranges are designed to work together as a complete set of complementary pans, on any heat source.
Please familiarise yourself with our Seasoning and Care instructions here before purchase, especially if you are new to bare iron cookware.
For deliveries outside of the US, New Zealand and Australia, please contact info@solidteknics.com with your country, we can quote the shipping and add the destination.
SOLIDTEKNICS is a development engineering company, working hard at pioneering a new cookware industry for Australia. We are not an importer waiting with a warehouse full of generic imports to quickly fill your order, what we do is much more difficult, and we constantly strive to achieve more with less. However, please understand that we must do things a little differently in order to remain viable. As such, please choose carefully and note the following before placing your order: