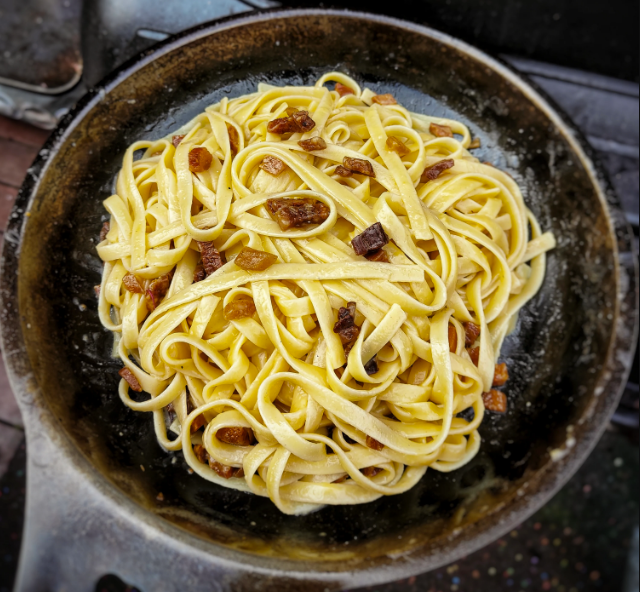 Here's an awesome recipe from our friends over at Firehouse BBQ that's simple to make and is jammed packed full of flavours! Originating in Rome, Italy, Carbonara has seen many variations over the years and our take pays tribute to the traditional ingredients that make it stand out from the crowd!
Ingredients:
Your favourite (good quality) pasta - we used Fettucine
50g Pecorino Romano (a hard, slaty cheese made from sheep's milk)
120g Guanciale (cured pork cheek) - if you get stuck, use prosciutto or bacon
1 x tsp course ground black pepper
2 x tsp salt
3 x egg yolks (best quality eggs you can buy
If you're wondering where the cream is... you ain't gunna find it here - forget about it!
The fat renders from the Guanciale, mixed with the egg yolks and cheese make the perfect creamy suace. You're going to love it!
Method:
Finely dice Guanciale – there's lot of fat in it which will render as it cooks. Here's where a lot of the flavour lies.

Finely grate cheese. You can 50/50 with Parmesan if you want for extra richness!
Separate 3 x egg yolks.
Combine cheese and yolks in bowl and mix for 30 seconds.
Boil pot of water with 2x tsp salt
Once water is boiling, add pasta in – don't break it. Follow instructions in packets.
Heat pan on medium and add Guanciale. Don't have the pan too hot otherwise you will end up with little bits of hard crackle. Medium heat is perfect to render the fat and achieve a balance of softness and crispiness.
Remove Guanciale pan from the heat and add cooked pasta – you want to get about ¼ cup of pasta water into the final dish so there's no need to drain the pasta – just pick it out with tongs and into the Guanciale pan. Top up with water to make approx. ¼ cup.
Stir thoroughly and allow pan to cool for a minute. If you add the cheese and yolk mixture when the pan's too hot, you will scramble the eggs – don't be that person!
Add cheese and yolk mixture and stir well to incorporate.
Add pepper and stir.
Serve up!
Handy Hint: This dish is best served immediately. Adjust the ingredient quantities to suit your palette.
Recipe and image credit: Firehouse BBQ