Products
Cookware
We have developed two ranges of innovative, Australian made world-first cookware: AUS-ION™ wrought iron (formed low-carbon steel), and nöni™ ferritic, non-nickel wrought stainless cookware.
100% designed and made in Australia, non-toxic, healthy, sustainable, and multi-century durable!
AUS-ION™ (iron cookware) and nöni™ (stainless steel cookware) are designed to complement each other, to cover all of your cooking needs. Both have their advantages: AUS-ION™ is perfect for all everyday oil/fat-based frying, grilling, etc Our natural clean AUS-ION™ Australian wrought iron cooks and seasons like all bare cast iron cookware but is half the weight of traditional cast iron. Seasoned iron is the only known non-toxic and forever-renewable nonstick. All other nonstick cookware is made with toxic and/or disposable, short-lived synthetic coatings.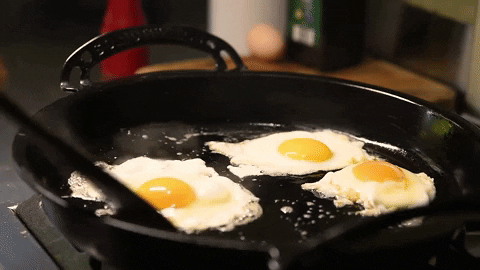 AUS-ION™ pans are now available with our 'seasoned for you' Quenched™ finish (learn more HERE)!
What is 'Quenched™?' Until Dec 2021, our AUS-ION™ pans were sold with either a Raw (no pre-seasoning) or Satin (lightly pre-seasoned) finish, ready for your at-home seasoning. With AUS-ION™ Quenched™, we've done the oven seasoning for you. Your AUS-ION™ Quenched™ pans come ready to cook, with a strong pre-seasoned foundation right out of the bag! It's never been easier to make the switch to healthy, sustainable iron cookware! SHOP AUS-ION™
nöni™ is our ferritic, non-nickel stainless steel range. Our nöni™ pans are formed into shape from one solid sheet of 3mm ferritic non-Nickel stainless steel. Nearly twice as conductive as regular 18-10 Nickel-based stainless steels (18-10 stainless means 18% Chromium and 10% Nickel) and also very compatible with induction, without the need for clad/ply layers. nöni™ is perfect for all liquid boiling, slow cooking, acidic sauces, and is very low maintenance. SHOP nöni™
Use on any heat source! To learn more about our cookware range, click here.
Kitchen Tools
New to Solidteknics, though decades in the planning. Our Kitchen tools are designed with durability, longevity, function and form in mind. Made from non-nickel stainless steel or superior quality titanium - our solid kitchen tools will be passed down to many future generations of cooks, alongside our pans.
To date, we've launched a TSS (Turner, Scraper & Scooper), kitchen tongs (members only; to learn about membership click HERE), two knives, a knife sharpening system, with many more innovations coming soon!
To learn more about our growing kitchen tools range, click HERE.