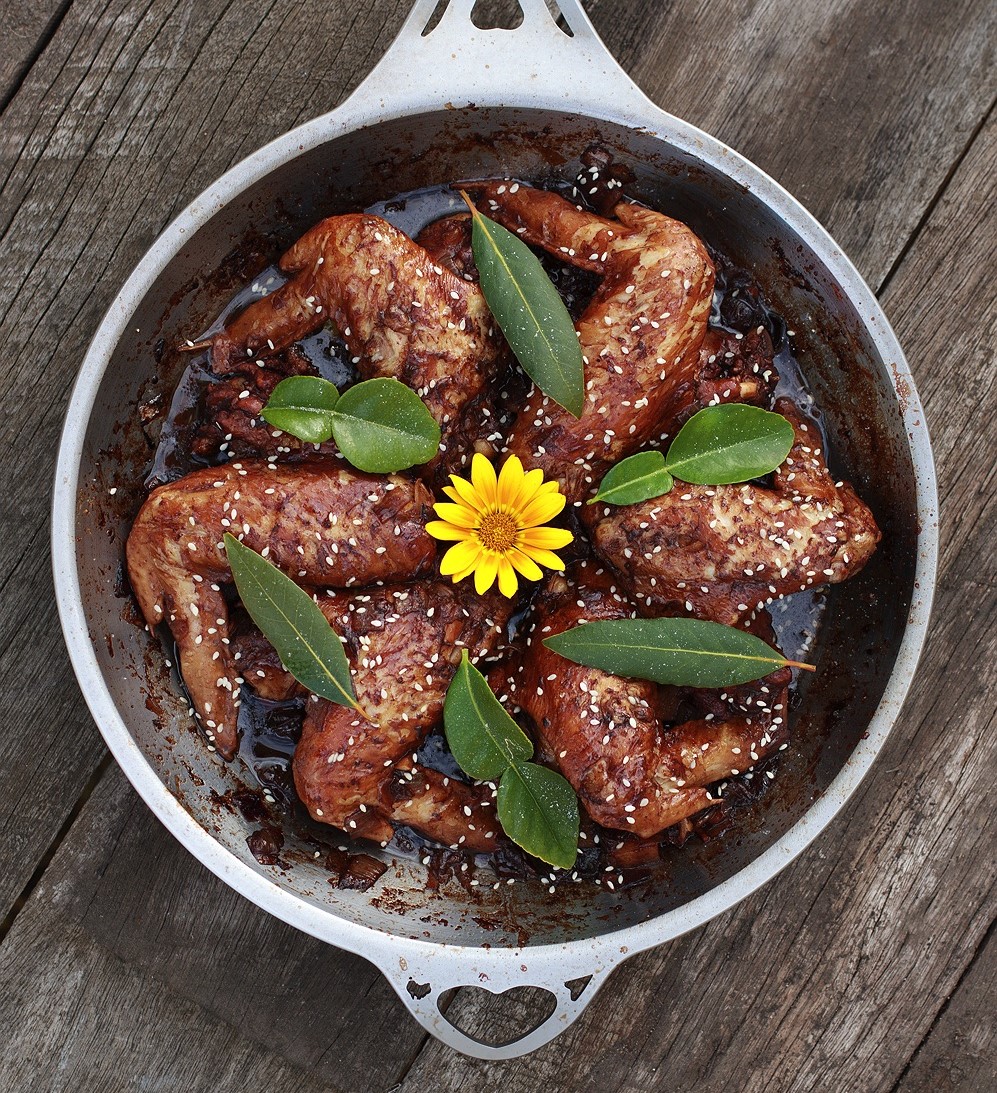 This recipe has been passed down between three generations of family, all in the original distinctive 'old world' handwriting of Matthew Kemp, who took the recipe from a Phillipino lady enjoying a day at the beach in the port city of Fremantle.
Adobo is the famous Filipino dish, and this variation adds a more powerful punch than the traditional version. Heavy on soy sauce and with the addition of kaffir lime leaves, it will activate your salivary glands while you're still cooking, and leave you wanting more as you scoop up the last grains of rice on your plate. The addition of diced potato rounds out the meal.
Ingredients:
6 chicken wings
2 tbsp of oil
2 onions, finely diced
4 garlic cloves, very finely chopped
2 potatoes, diced
1 cup of soy sauce
1/2 cup of white vinegar
1 tbsp of brown sugar
4 bay leaves
4 kaffir lime leaves
Salt
Ground black peppercorn
Sesame seeds
Method:
Preheat a nöni™ 26cm Sauteuse (or similarly sized pan) over medium heat. Add oil to the pan, then fry the onion and garlic until both start to brown.
Add potato, turn it over with the onion and garlic to combine, then add the chicken and turn that over too, searing the skin of the chicken against the pan to brown.
Mix the soy sauce, vinegar, and brown sugar in a mixing jug, then pour the mixture over the chicken wings. Bring to a simmer on low heat. Add the bay leaves and kaffir lime leaves, then season with salt and pepper.
Continue simmering on low heat for about 45 minutes, turning frequently. Remove from the heat before the chicken has begun falling apart.
Serve on a bed of brown rice with sesame seeds. Alternatively, remove the chicken from the pan and cook your rice in the leftover sauce, adding a touch of water to keep the rice moist while it cooks.