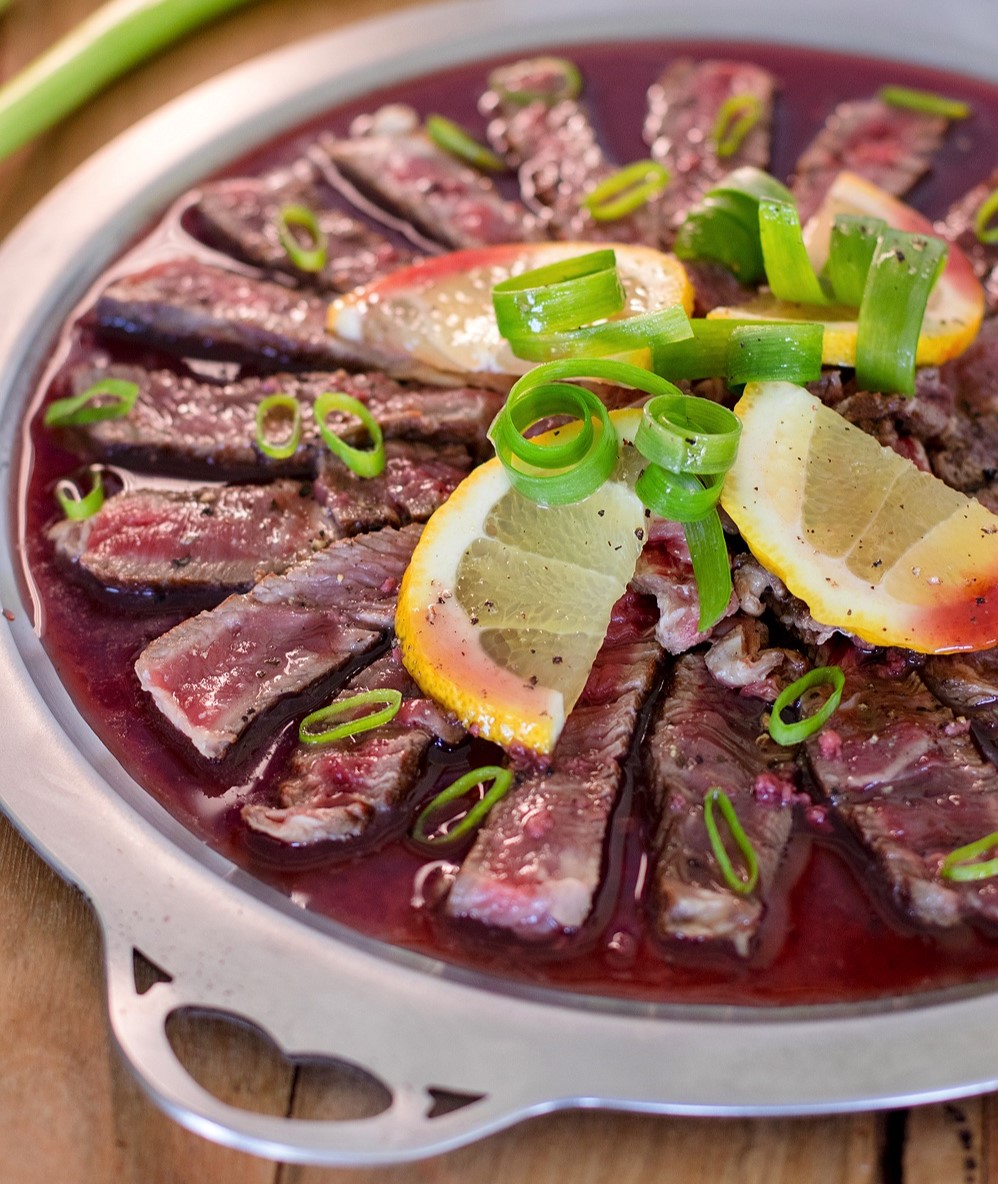 Beef carpaccio, and the Japanese equivalent beef tataki, is a wonderful dish that uses extremely rare and sometimes completely raw red meat to great effect. Many people consider it a dish for a high class restaurant, but Solidteknics pans make it easy to master at home.
In this recipe, a marinade of red wine is created and then used to deglaze the pan the ribeye fillet was seared on. Deglazing lifts all the wonderful fond left behind by the red meat, and as the marinade deglazes the pan, the alcohol is cooked out.
Once the rare meat has been joined with the marinade, the red wine and lemon juice start to chemically cook the meat; you'll notice it slowly change colour from the brilliant red to a cooked grey. Cooking by this method ensures it never loses the moisture and tenderness of a rare steak.
Ingredients:
350g (12oz) or larger ribeye steak
1 tsp of butter
1/4 cup of red wine (drinking quality)
1/4 cup of lemon juice
1 tsp of garlic, crushed
Salt & pepper
Spring onion
Method:
Preheat a 26cm or larger nöni™ Skillet Lid on high heat, ensuring there is good ventilation.
Rub butter onto one side of the ribeye steak until evenly coated and then place butter-side down onto the skillet lid. Pat down the stak to ensure even contact with the cooking surface. Once a brown crust has formed, flip the steak and sear the opposite side. Be sure not to cook through, a very hot and fast cook is necessary.
Move the steak to a cutting board, and remove the pan from the heat. Allow the pan to cool while using a sharp knife to finely slice the meat.
In a mixing jug, combine red wine, lemon juice, and garlic to form marinade.
When the temperature of the pan has dropped to about 100C (210F), pour the marinade over the pan. Use a flat ended wooden spatula to gently stir and rub the surface of the pan where the steak cooked.
Drain the marinade back into the mixing jug and set aside.
Wash down the skillet lid and then layout the slices of ribeye steak radially around the pan. Place any left over slices in the center and garnish with lemon slices and curled strips of spring onion.
Pour the marinade over the ribeye steak slices, ensuring not to overfill the lip of the pan. Throw finely sliced spring onion around the pan and grind rock salt and peppercorns over.
Servce with chopsticks.