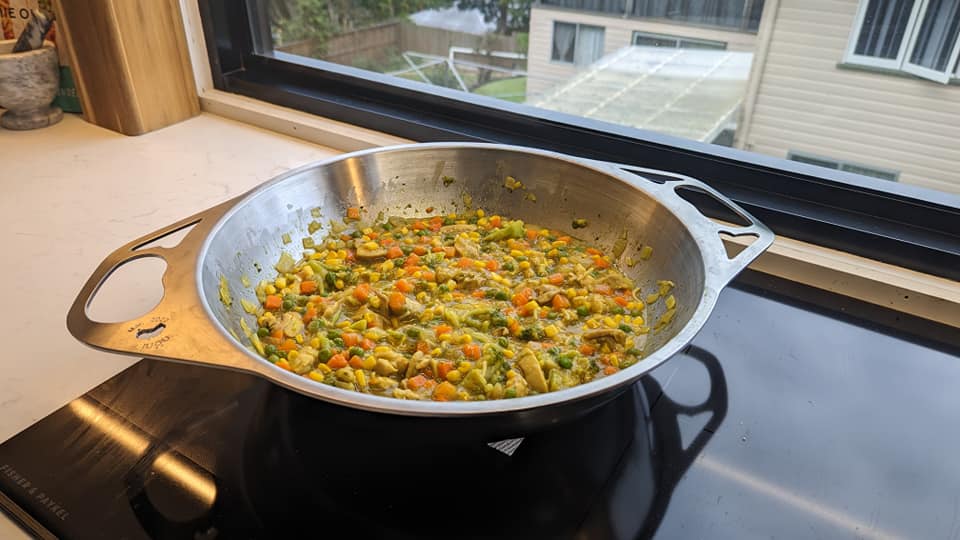 Recipe shared by Rhys, one of our Solid Lovers ❤️ His mum regularly made this easy recipe for dinner growing up.
Pan used: nöni™ 35cm Dual Handle Wok
Ingredients:
1 onion
500g chicken thighs
500g frozen peas, carrot and corn mix
1 broccoli head
45g packet of continental chicken noodle soup
45g packet of continental cream of chicken soup
1 tsp Keen Curry powder
500g chicken stock
Directions:
Dice up the onion and cut the chicken into bite-sized pieces
Fry the onion and chicken together on a medium heat.
Once the chicken is browned, add the chicken stock, vegetables, curry powder and packet of chicken noodle soup to the pan.
Create a paste out of the cream of chicken soup by mixing it in a bowl with a small amount of cold water.
Add the paste to the pan and stir through thoroughly.
Let the curry simmer until it thickens, and you're done!
Serve up with some rice, and enjoy.
Want to become one of our Solid Lovers? Join our exclusive Lovers' Group on Facebook!