Limited 1st Lovers Edition, numbered in series, initialed by Mark Henry
Available for preorder in our Exclusive Lovers Store until midnight 2nd August 2021 (AEST), with estimated shipping late June 2022.
We're excited to launch the second knife in our Söliditi™ range - the 11cm Unagisaki-goshu! Inspired by the traditional Japanese eel knife, and modified with our SOLID Aussie engineering, this an exceptional everyday utility knife. Proudly 100% made in Australia!
Watch our founder and engineer, Mark Henry, introduce our latest innovation!
Why knives?
For those new to the Lovers group, you may not know that Mark built his career engineering high performance chef knives. He founded Füri™ knives back in 1996 (then sold in 2008), which is still one of Australia's leading knife brands. This is his long-anticipated return to his first engineering passion, with a Solidteknics innovation difference. Many decades of engineering and development have gone into the creation these world-first, patent-pending, cutting-edge knives. (Pun intended ;) .)
Söliditi™ 11cm Unagisaki-goshu
This knife was inspired by a traditional Japanese eel knife, but as always, we gave it some SOLID Aussie innovation to make it an excellent everyday utility knife. The Söliditi™15cm Usudeba is more of a larger, heavy-duty knife, whereas the convenient size and easy handling of this new 11cm Unagisaki-Goshu makes it an all-round, everyday knife you'll be reaching for often!
We know Unagisaki-Goshu may be a bit of a mouthful, but this name captures the essense of this new knife - a perfect mix of Japanese tradition and Australian innovation! The Japanese word 'unagisaki' translates to eel knife, and 'Goshu' is the formal Japanese name for Australia. The first character from 'Go' (in goshu) also means magnificent/bold. To make things simple, we'll often refer to it as the 11cm USG!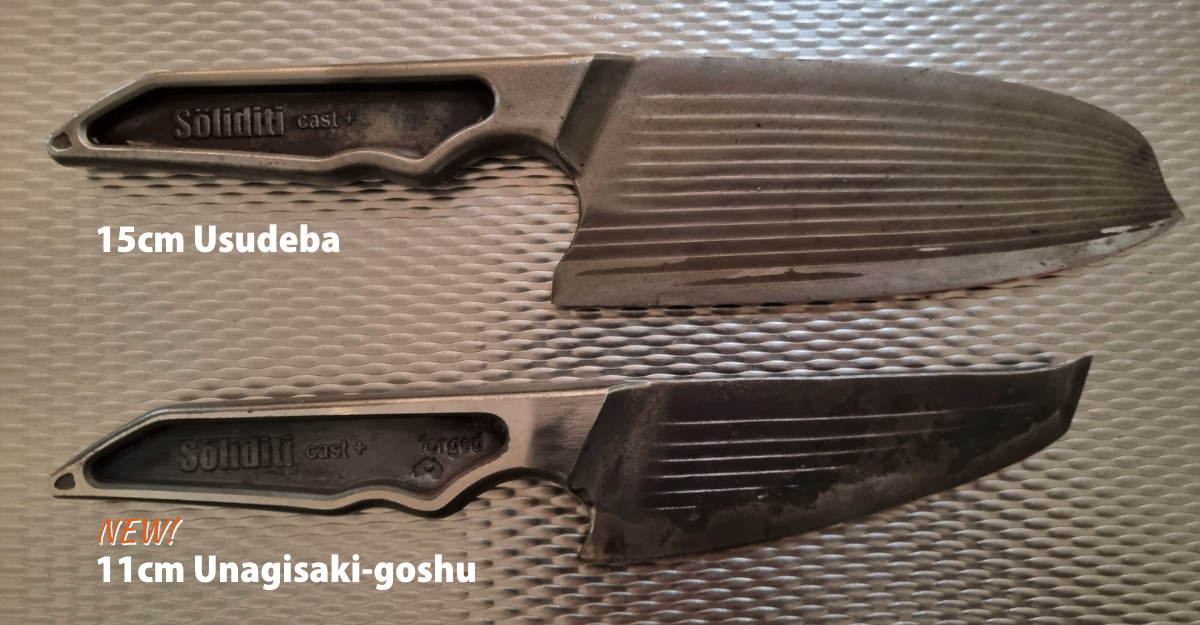 What makes our new 11cm Unagisaki-Goshu so special?
Cast, hand forged, hand ground & hand sharpened
These 11cm USGs are cast, hand forged, hand ground and hand sharpened. No two knives will be the same! We consider this handmade finish a thing of beauty as it shows the love and hard work that has gone into each and every knife! Form and function. Art meets engineering. A rarity in today's age of mass production.
Our own Carbon Steel blend
Like our 15cm Usudeba, our 11cm USG is made with the same exceptional carbon steel material - our very own special blend. Our long experience with Japanese knives, made those the obvious starting point for our Söliditi™ knives. However, the exact composition didn't exist to best suit the blade/edge properties, with this new cast + cold forged method and geometry.
Investment casting gives us the ability to precisely smelt our own carbon steel composition to achieve the perfect material. We can't disclose the exact composition, but it is broadly a high carbon alloy steel, with a tiny amount of Chromium (for performance, not for stainless).
Our steel is unlike old soft carbon steels (in the French tradition), and not quite like common modern Japanese carbon steel grades. This is something else again, and perfectly suited for optimal performance with our Söliditi™ blade design and manufacturing.


The Blade Shape
Inspired by the Japanese eel knife, this has two solid, strong sharp points.You will find this 'bevel elbow' one of the most used parts of any blade you own because it is so sharp and strong at the same time. The force you put into a cut is concentrated on this small point, making it penetrate more readily than the long regular blade zone.
Japanese Chisel Edge
Ancient Japanese chisel edge (single bevel) reduces the cutting force for thin slicing. There's less food compression with one cutting edge (instead of the normal two) and much less friction. Being a single-sided bevel, blades are specifically right or left-handed (if you are right-handed, order a right-hand blade).
Hand sharpened on our InversionEdge™ Sharpening System
Each knife will be hand sharpened on our InversionEdge™ Sharpening System. This system makes light work of maintaining an optimal cutting edge.
Our Japanese water stone-based sharpening system gives you the ability, for the first time ever, to quickly and easily maintain 'old master level' cutting edges. No complicated rods and adjustments, no destructive drag-through gadgets. Just real water stone sharpening to extremely fine mirror-polish finish (3,000 and 8,000 grit stages), with perfect double bevel geometry. Traditional manual sharpening on stones, to this level, takes years to master. The InversionEdge™ takes just minutes, and results are made more accurate and consistent by eliminating human error. Our InversionEdge™ instructions make it easy.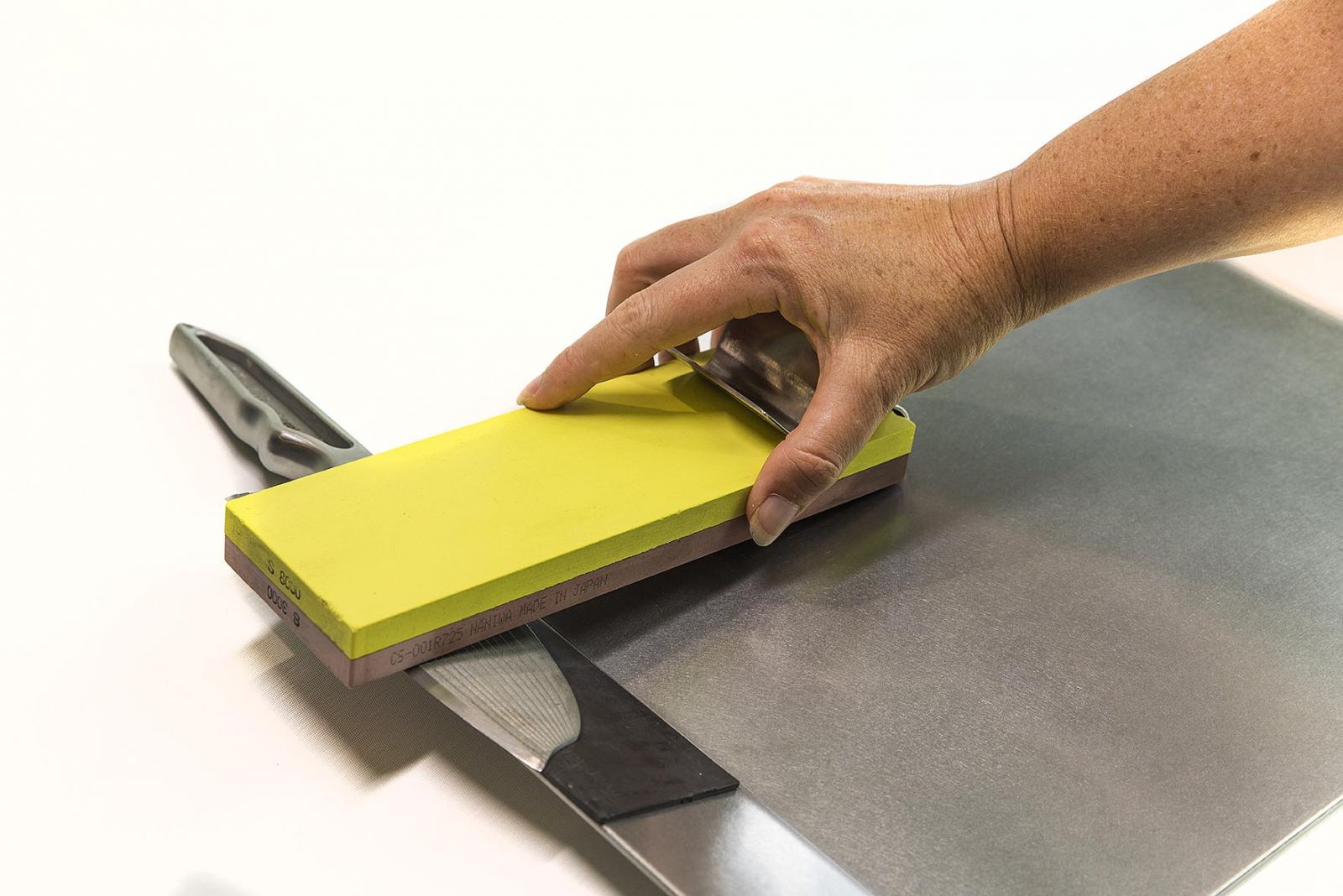 Multi-century durability
A solid one-piece monobloc knife will not fall apart, unlike all inherently fragile riveted or jointed knives, and will last centuries. Sharpen with the gentle and extremely fine InversionEdge™ sharpening system for the bare minimum of blade metal wear over the centuries.
Functional packaging
We love simplicity and multi-functionality. This is why we created our innovative bamboo board - great for shipping and storage, then flip it over for a great cutting board!
Like our Söliditi™ 15cm Usudeba (pictured below) our 11cm USG will be packaged in its own bamboo board. Bevelled edges make it easy to position shallow trays under the board edge for scraping chopped foods off the board and staging them for cooking. Button magnets embedded in the bamboo hold the knife secure during storage.
Why bamboo? If you know us and our vision, plastic is, of course, out of the question. Bamboo grows 1,000 times faster than oak, and is the most sustainable material available for anything that needs to wear and eventually be discarded, like cutting boards. We could have chosen Australian 'semi-sustainable' hardwoods for this purpose, but we couldn't bring ourselves to add to demand for these local slow growth trees. So we sourced our storage/cutting boards from the international bamboo experts: China!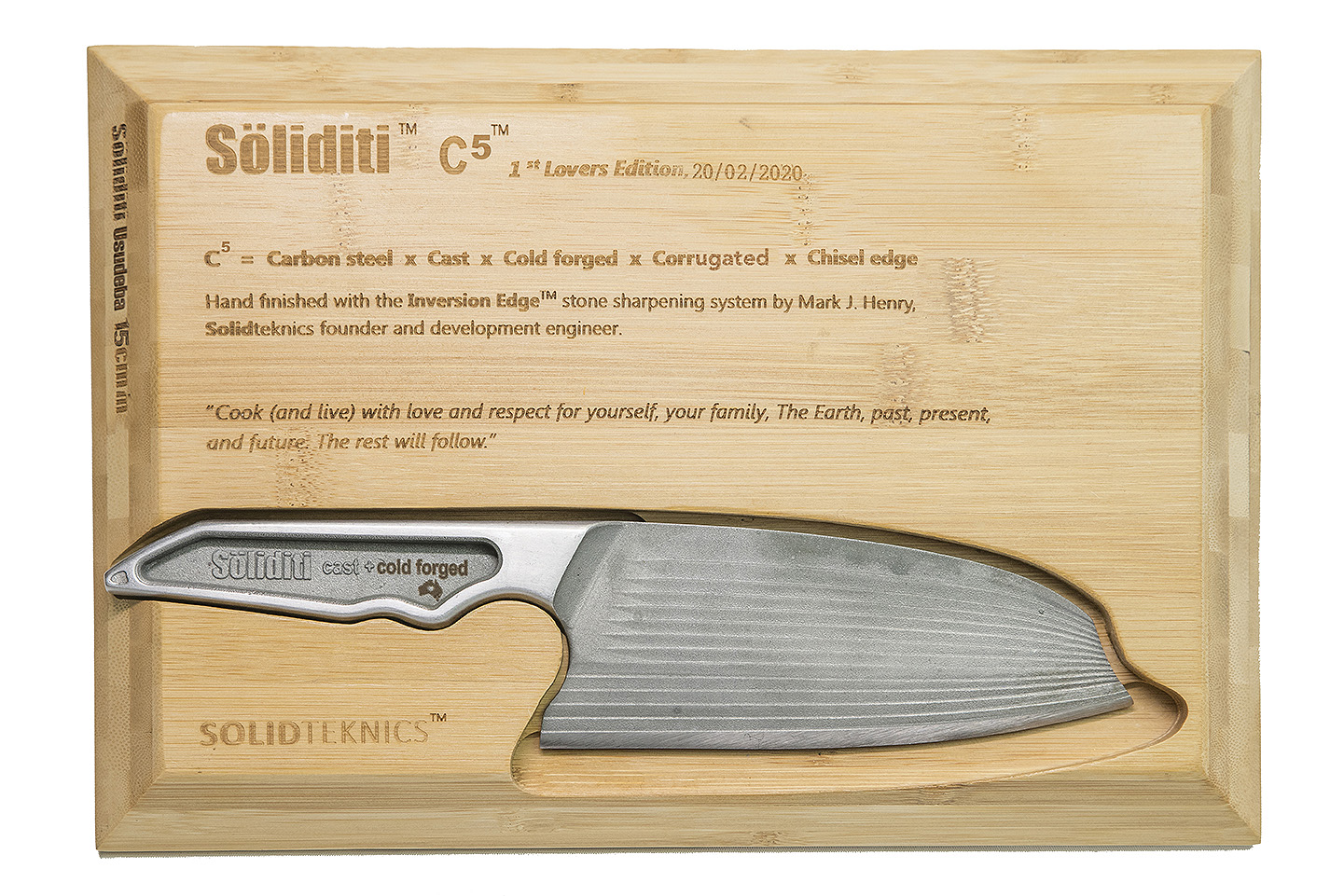 Please note, pictured above is the 15cm Usudeba to demonstrate the packaging. The new 11cm Unagisaki-Goshu will be packaged in the same board.
Exclusive First Lovers Edition
Each new piece will be:
Limited stamped '1st Lovers Edition'
Initialed by Mark
Dated with month/year of manufacture
Numbered in series
Much lower pricing than Kickstarter, and much lower than retail!
Pre-order method and production timeline
Preorders available until midnight 2nd August 2021 (AEST), with estimated shipping late June 2022.
Head to our exclusive Solid Lovers Store. (If you don't yet have access, FOLLOW THESE STEPS).
Your credit card will be billed at the time of order.
The first 20 of each in the series will be held for the Solidteknics museum archive.
For the full background of Sölditi and our C5 15cm Usudeba knife, click here.
Knerd free zone!
We're knife nerds too, so we understand the passion and enthusiasm as much as anyone! However, like our cookware, we need to protect our many trade secrets. After an engineering honours degree thesis on 'Knife materials and cutting edges', multiple patents, and decades of knife making around the world, including the USA, France, and Japan, Mark J. Henry is widely regarded as a leader in chef knife innovation. We hope you'll trust our expertise and extensive experience!
We hope you can understand that there is a limit to the information we can put in the public domain. Everything we are able to reveal is on this page. We understand that may not be enough to satisfy the curiosity of some and they may want to look elsewhere - and that's OK! You're welcome to reach out to our team directly, though please don't be disappointed if we can't answer technical questions: info@solidteknics.com