Limited 1st Lovers Edition, dated 20/02/2020, numbered, initialled by Mark Henry.
For simple, fast, razor sharp pro edges on Söliditi™ C5, and all Japanese and Western knives: single-sided chisel edges and regular two-sided edges.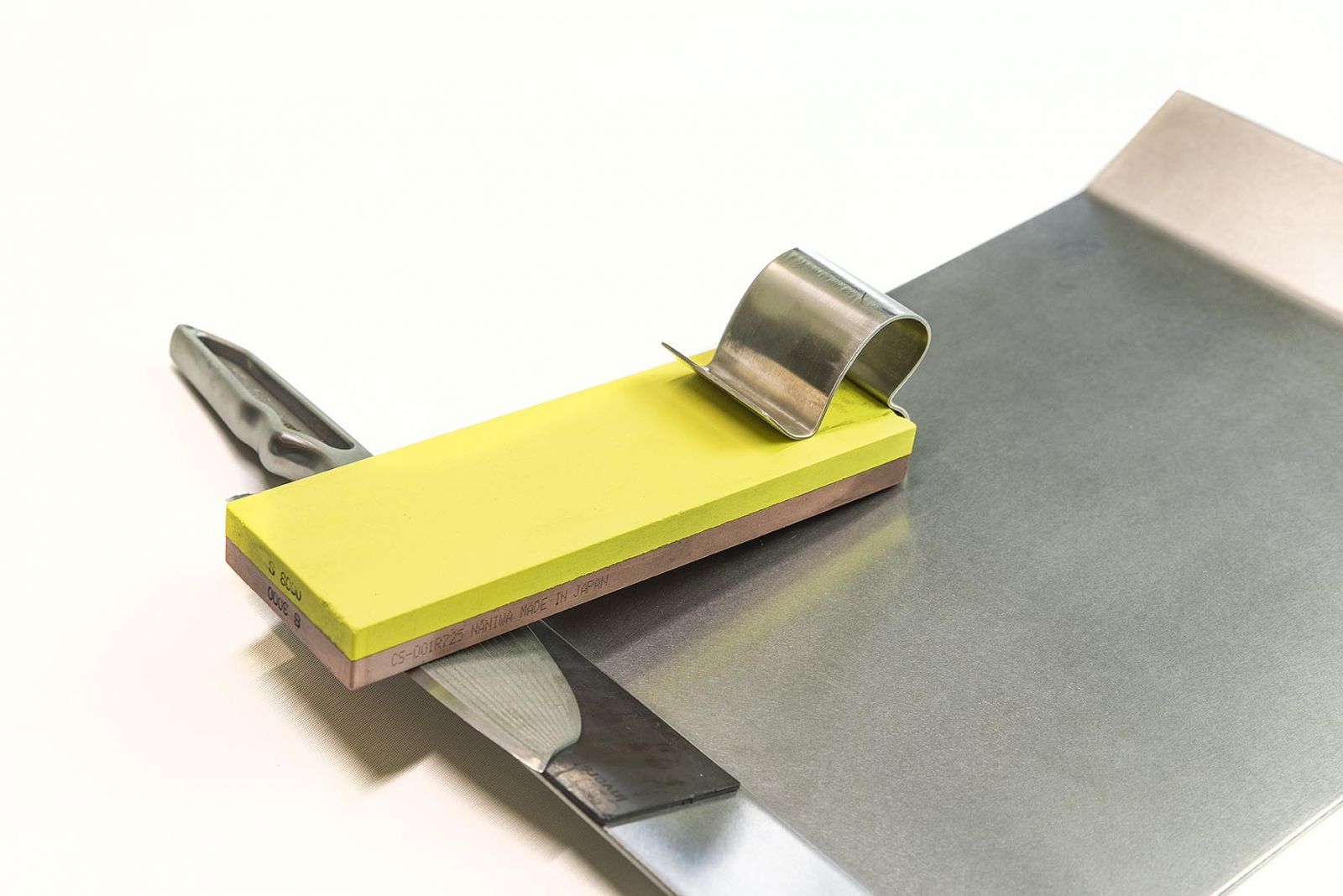 The world-first Solidteknics™ InversionEdge™ Sharpening System (patents pending) was developed by Mark J. Henry to embody a lifetime of practical knife sharpening experience and engineering research into this new 'ultimate, no-compromise, purist's sharpening system … for everyone.'
While developing his ultimate expression in expert cook's knives, Söliditi™ C5, with the ultimate purist's edge – the notoriously difficult to sharpen Japanese chisel edge – Mark J. Henry knew he had to eliminate the ancient and persistent sharpening problem. Only then would more Western cooks discover why the chisel edge blade has been so revered for centuries by the master Japanese swordsmiths and knife makers. These edges are just too difficult to sharpen with traditional water stone, so, sadly, these sharpest of all edges are rarely used by non-enthusiasts.
He also wanted to ensure his system worked better than any other sharpening method for breathing new life into all the Western knives already laying dulled and dormant in kitchens everywhere, with razor sharp edges better than their original factory edges.
Gadgets destroy Western blades (short term sharpening improvement, with far too much metal removal), and cannot be used on Japanese chisel edges. In fact, they should simply never be used on any good knife.
It is well known that Japanese water stones are the best for serious knife users. They are used by knife masters (and mistresses!) everywhere, particularly in Japan, but rarely by the average cook in the West, due to the high levels of skill, experience, and time required.
Mark knew there was only one solution to make water stones accessible to all: eliminate the human error in setting the angle between the blade and the stone. Everything else is simple.
There exists other sharpening systems that are inverted and guided, but they all use complicated combinations of rods and clamps, guidance holes, multiple angle settings, specific custom abrasive rods, etc. There had to be an easier way to utilize the best real Japanese water stones …
Complete solution!
Rather than manually control the moving blade angle by hand, while the stone is fixed on the bench, in the traditional way, Mark Henry elected to 'invert' the system, and accurately control the moving stone angle while the blade remains fixed to a platform. No manual hand control required: just a simple rubbing motion of the automatically guided stone across the edge of the fixed blade.
After years of development and iterations we present the Solidteknics InversionEdge™ Sharpening System:
Pair your Söliditi™ knives with our InversionEdge™ sharpening system, and you will have, for the first time ever, the ability to quickly and easily maintain 'old master level' cutting edges on the highest performance chisel edge blade. No decades of traditional practice on stones. No complicated rods and adjustments. No destructive drag-through gadgets. With no special skills.
This is real water stone sharpening to extremely fine mirror-polish finish (3,000 and 8,000 grit stages), with perfect double bevel geometry. InversionEdge™ sharpening takes minutes, and results are more accurate and consistent because human error is eliminated from the blade angle control. We'll show you how in simple video instructions coming soon (before you receive your sharpening system).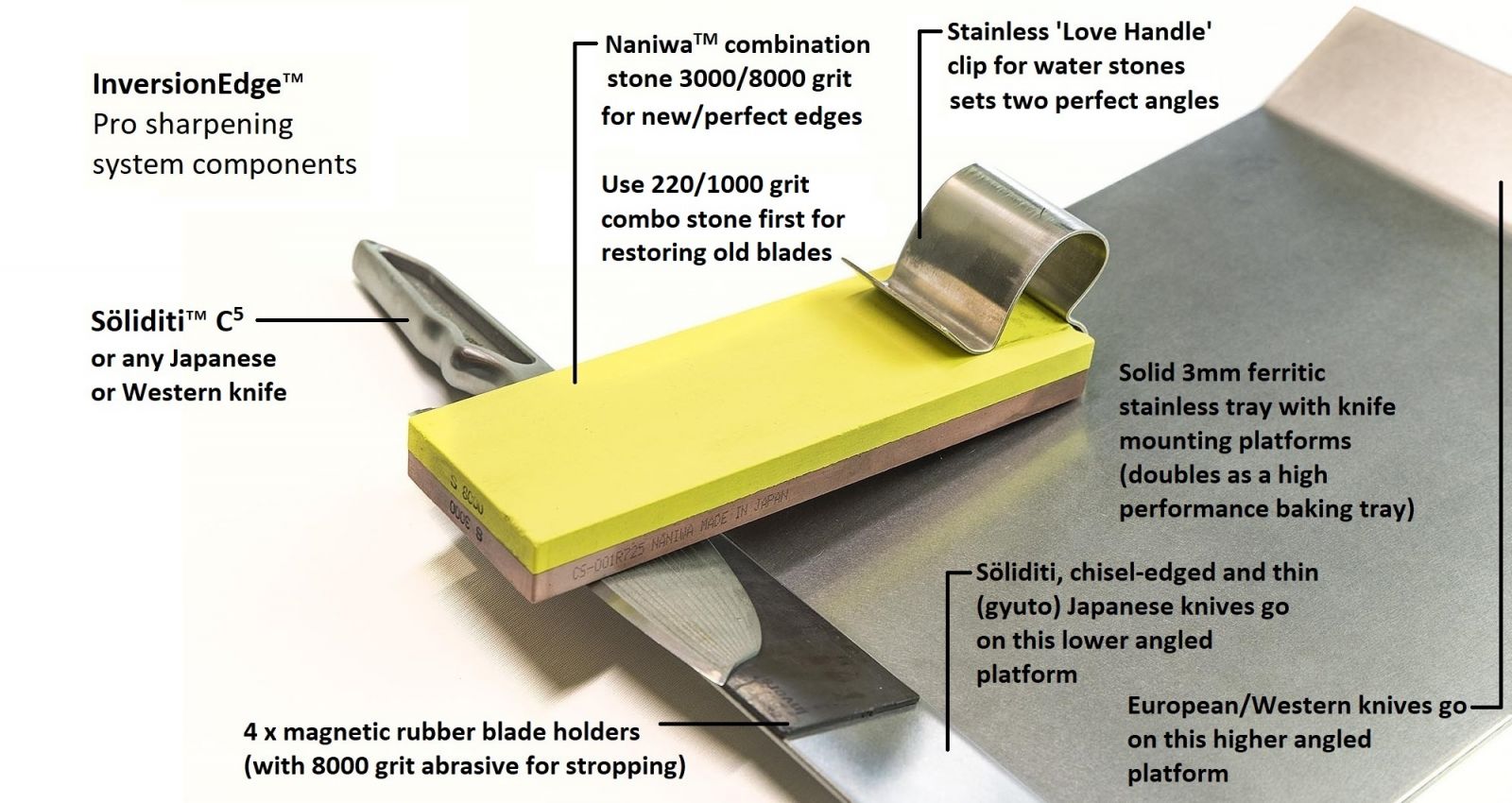 The tray and magnetic strips:
The Solid stainless tray, overall 31cm x 29cm has a different angled knife platform on each end: one for fine, narrow-angled Japanese knife edges, and one for strong, broad-angled Western knife edges, generally speaking. Made from the same 3mm exotic ferritic stainless as our nöni™ baking tray so, yes, it doubles as an exceptional baking tray!
Four rubberized magnets are supplied, each 14.5cm long, for sticking your blades to the angled platforms. The magnets can be easily removed for baking, or for positioning extra magnets on top of blades if you need to hold them more firmly in place (eg. heavy restoration of old blades). They also make a great temporary knife rest during cutting board sessions. The rubber magnets also contain 8,000 grit abrasive to allow them to double as a blade 'strop' for final finishing of the edge burr (just like a razor or scalpel is finished on a leather strop).
The base of the tray is the same width as the Söliditi™ bamboo storage/cutting boards, so they will all stack together neatly as you grow your Söliditi™ collection!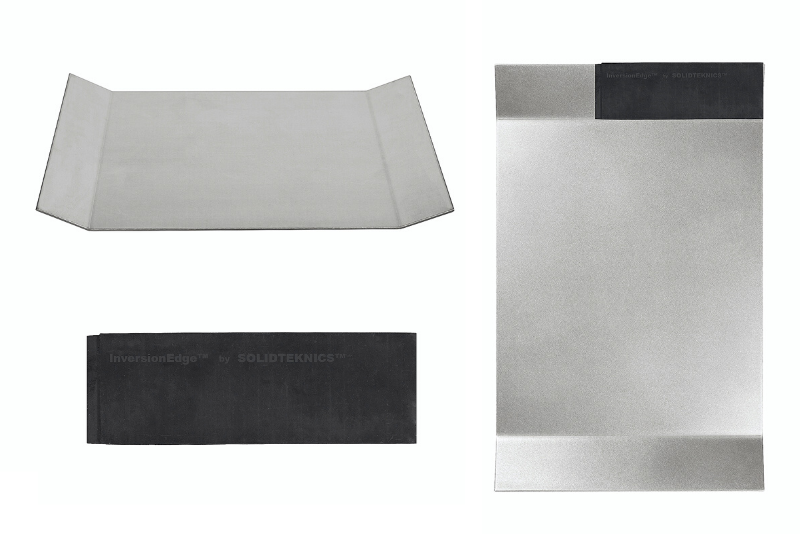 Love handles!
Mark knew Japan already made the world's finest water stones, so they were essential for his fine Söliditi™ edges. He developed a clip that would hold almost any regular water stone, and gave it a hint of his favourite shape, ❤️, thus was born our version of the Love Handle!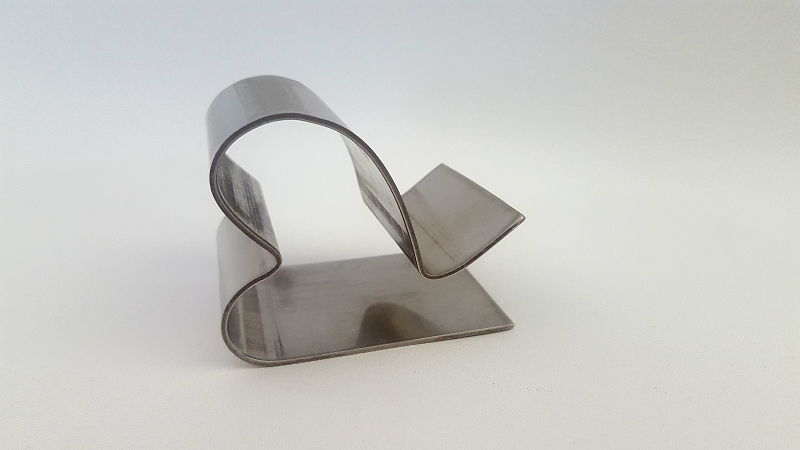 Every good knife edge, Japanese or Western, should actually consist of two bevels: the fine primary cutting edge, and the broad secondary edge supporting it – the classic, legendary, and almost humanly unattainable – double bevel edge. The tiny primary cutting edge is honed to the finest grit, but it also has a broader angle to give the blade strength on the very edge in contact with the food and cutting board. Supporting behind it, the main secondary bevel is as narrow in angle as possible to reduce the 'wedging force' required to push it through food. Each of the fixed knife platforms on the end of our tray are given two possible angles with the Love Handle, simply by flipping it over to raise or lower the water stone, thereby increasing or decreasing the angle. The angles are shown below, but don't fixate too much on those. Simply sharpen with your Söliditi™, chisel edged knives, and thin Japanese gyuto knives, on the lower/narrower angled platform, and your Western knives on the higher/wider angled platform.
The ultimate fine combination stone
After long experience, Mark settled on the revered Japanese NaniwaTM combination water stone, legendary among fine knife purists for its very consistent sharpening, particularly down to the fine grits necessary for this level of blade honing.
The NaniwaTM stone supplied with the full InversionEdge sharpening system is 3000/8000 grit. (That is very fine, when you consider most folks consider 1000 grit to be a fine honing stone.)
You could use almost any other stone in the Love Handle, if you are confident you have the experience to choose well, but they won't be as well-matched to Söliditi™ knives as this particular NaniwaTM combo stone. Knives in poor condition will require stones of coarser grit (eg. The Naniwa 220/1000 combo, also available for a limited time in our exclusive Lovers Store) to remove enough metal necessary for bevel reconstruction. NaniwaTM stones of other grits are readily available from online resellers.
Cheaper stones exist, using lower concentrations of abrasive material in a resin matrix, but results won't be as good, at this level of sharpness.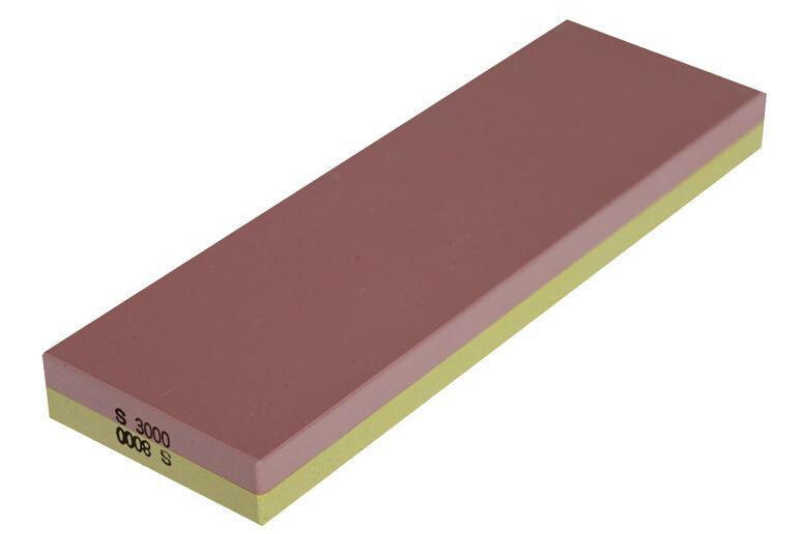 An international fusion
Because many things are not made in Australia, and some countries specialize, we've brought together the best available for each component to make our InversionEdge™ sharpening system:
Entire sharpening system: designed and patented by Solidteknics Pty Ltd, Australia.

Combination water stones: made in Japan by Naniwa Abrasive Mfg. Co., Ltd.

Love handle and magnetic strips: Designed by Solidteknics, made in China.
Sharpening/baking tray: Designed and made by Solidteknics in Australia, from our exotic German ferritic stainless steel.
How did this little Australian engineering team achieve such a world first?
After launching the world-first, patented, machine-wrought Solidteknics™ cookware in 2015, this is our founder and development engineer, Mark Henry's long-anticipated return to his first love in engineering: high performance chef knives. After many years of research, and a few intensive years of solving the manufacturing challenges, the Söliditi™ knives and InversionEdge™ sharpening systems are the ultimate syntheses of everything he has learned, and everything he loves, in pure performance knives.
Mark has been hand making knives all his life, and production manufacturing knives his whole career. He was still at university finishing his engineering degree when he founded Füri™ knives in 1996. They look common now because they have been 'adapted' by many mass consumer import knives over the decades, but they were 'cutting edge' back then, and became the first experience for many Aussie cooks with real pro-level knives. His engineering honours thesis was based on a pioneering deep study of knife materials and cutting edges under wear conditions, which produced insights he still relies on to this day. He took the Füri™ company to the USA in 2005 and sold it in 2008 when he was making ½ million knives each year. He didn't stop developing knives, but had to work long and hard to find a way to achieve a whole new no-compromise blade geometry and new manufacturing method for Söliditi™ knives. He also needed to find a way to demystify the ancient and revered/feared Japanese chisel edge, including their sharpening, and put their legendary sharpness into the hands of many more regular Western cooks, starting with the best: the core of the Solidteknics Lovers Group!
Solidteknics has plans to roll out many more Solid knives and accessories in coming years, so this could well be the start of an iconic new knife and sharpener brand. If so, this first numbered limited series, signed and hand-finished by Mark, will become the most cherished heirloom Solid knives and sharpeners of all in coming decades and centuries. That is why he is offering this first batch exclusively to his beloved Solidteknics Lovers Group, in appreciation for everything they have done to help build this remarkable new era in innovative, local, healthy, sustainable cookware … and knives.
Söliditi™ pre-order method and production timeline
If you believe in this new era in Solid knives and sharpeners, please pre-order your Söliditi™ C5 knives and InversionEdge™ sharpening systems in our exclusive Solid Lovers Store (after first registering for store access), while our limited edition products are available until 20/02/2020. Your credit card will be billed to secure your reserved, series numbered, dated and signed First Lovers Edition knives and sharpeners. The first 50 knives and first 10 sharpeners in the series will be held for the Solidteknics museum archive.
As soon as numbers are confirmed on 21/02/2020, we will swing into action to manufacture this historic first batch of Söliditi™ C5 knives for anticipated shipping starting May of 2020. Because each knife will be hand finished by our founder, Mark Henry, pre-orders may need to be split into several batches of around 200 each, and shipped in the sequence in which they were ordered, each batch a month after the previous. For example, if there were 2nd and 3rd batches, they could extend into June or July of 2020, as an estimated timeline.
Your InversionEdge™ sharpeners should ship together with your knives, if suppliers all ship components to us on time. We are discounting the shipping for the sharpening system because most folks here have already pre-ordered a Söliditi™ C5 knife. Note, if one product is a little late we will wait to ship both together. If one is very late we will ship each separately (for no additional shipping charges), so you can at least get started with one new world-first innovation!
We invested heavily early in this development, so most tooling is ready, and we don't expect any delays. However, because this is the first production run of a type of knife and sharpening system that has never been made before, and we're relying on several specialist sub-contractors, we can't be 100% certain there will be no delays. We hope you will be patient with us if there are any small delays, in the name of making long-run history together.
The general blade differences with cross-sections and zooms - Explained!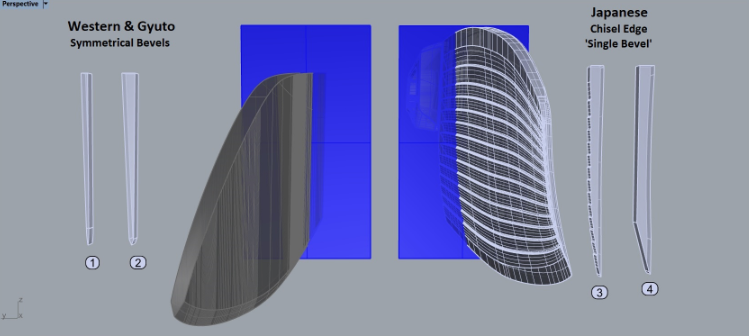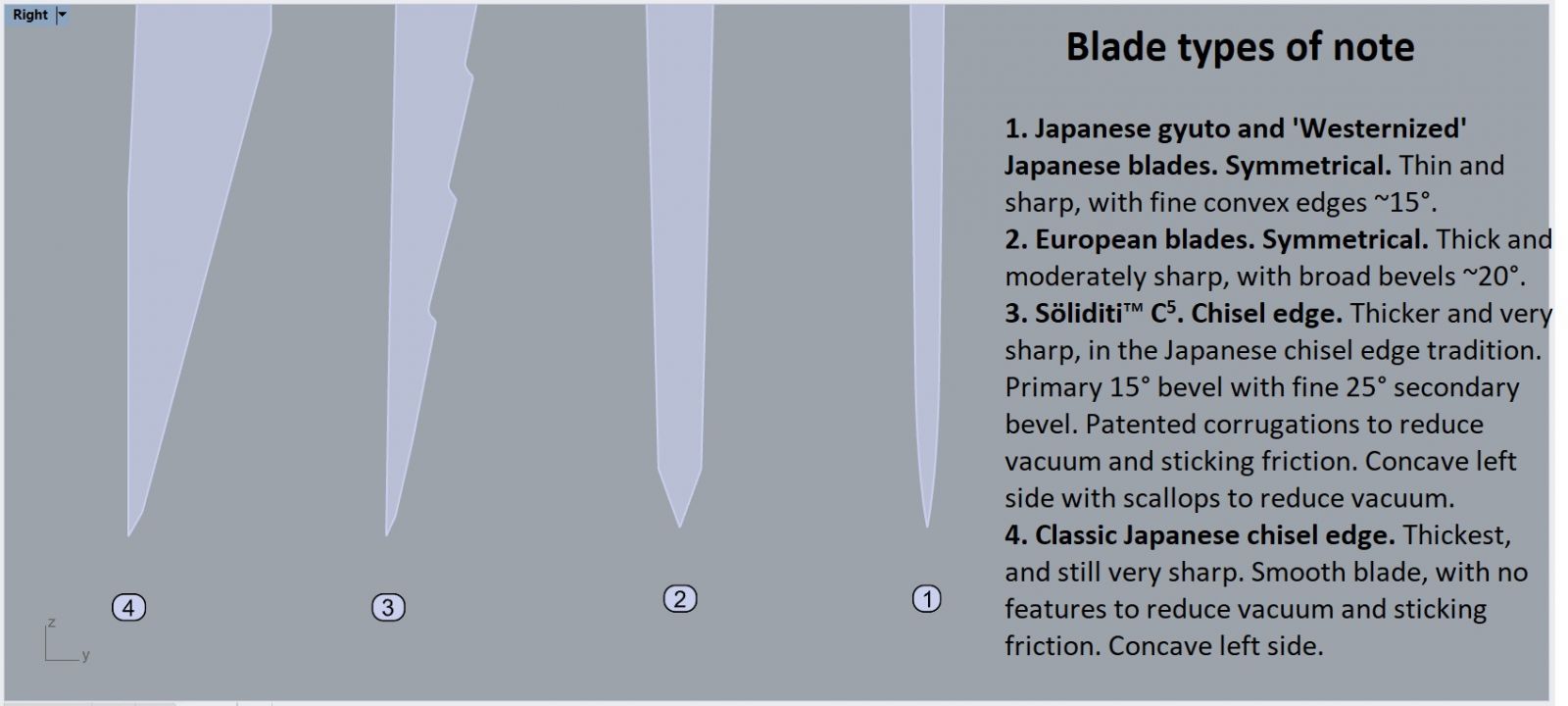 Still not sure about Japanese chisel edge blades?
We highly recommend reading some background information on Japanese chisel-edged knives if you're not too familiar with them. Here is a good place to start, then the internet will recommend many more: https://en.wikipedia.org/wiki/Japanese_kitchen_knife
These blades are legendary among serious knife users because they are simply the sharpest (practical) blades, by nature of their geometry (one bevel crushing the food, instead of two, in simple terms). We used that principle as a starting point, then did something entirely different with the blade geometry to radically reduce 'sticking friction', and basically eliminate the sticking of sliced food to blades.
This will no doubt be interesting for any serious knife user, but, along with all the other innovations in Söliditi™ knives and sharpening system, could be a little overwhelming for anyone without much knowledge of Japanese traditional chisel-edged knives, and why they are so revered, and feared. We aim to take away that fear with knowledge, a new innovation in the way these blades are made, and with a whole new 'master level' sharpening system that's quick and easy for anyone. With your help, we hope to finally bring this ancient Japanese blade wisdom to many more regular Western chefs and cooks, like us.
FAQ: What are the angles of the sharpening system, and what if I want other angles?
The 'lower' end of the tray (visibly less angled) has a platform at 23°, and this generates 16° and 26° edges with the Love Handle on low and high orientations, respectively. The 'higher' end of the tray has a platform at 28° (visibly more angled) generates 21° and 31° edges. The Naniwa stone is mounted in the Love Handle with the 3000 grit on the low side, and 8000 grit on the high side (because you want to rough out the big secondary bevel with the coarse stone, and finish the final primary cutting bevel with the wider of the two angles). If you really want other angles, you can raise the stone to greater angles by placing spacers of any kind (such as cutting boards or similar) between the tray and Love Handle.
That is already too much information for most, so it's easiest to think of it like this:
Mount your Söliditi™ knives, chisel-edge knives, and thin Japanese gyuto knives, on the tray platform with the lowest/narrowest angle.

Mount your Western knives on the tray platform with the highest/widest angle.

Use the coarse side of the stone on the lowest side of the Love Handle™ until the blade feels sharp, then flip the Love Handle™ over to the fine side for finish honing at a higher/broader angle. This generates the ideal double-bevel edge on either chisel-edge blades or symmetrical blades.
Before shipping your InversionEdge™ sharpeners we will have added simple sharpening instructional videos to the sharpener web page.
*Knerd free zone!
Hey, we're knife and sharpening nerds too, so we understand the passion and enthusiasm as much as anyone, after making and sharpening knives all our lives and dedicating decades of research and production manufacturing to this field. However, like our cookware, we will need to maintain some mystery around our many knife and sharpening trade secrets.
Why? Competitors are watching. Also, we really just never will have time for long debates with amateur engineers and knife forum heroes. That would be fun, but would achieve nothing, and take us away from all the intensive development work that needs to remain top priority for now. Apart from all the current product production, which is intensive enough, we have many other world-first innovations in development behind the scenes, lining up for launch in coming months, years, and decades. We hope you will understand when we say that there is a limit to the information we can put in the public domain, and the volume of personalized responses to FAQs.
Again, all we are willing to reveal is on this page. That may not be enough to satisfy the curiosity of some 'knerds', or those who demand answers to all their questions. They will want to look elsewhere … and that is okay too … life is too short. ❤️
Reviews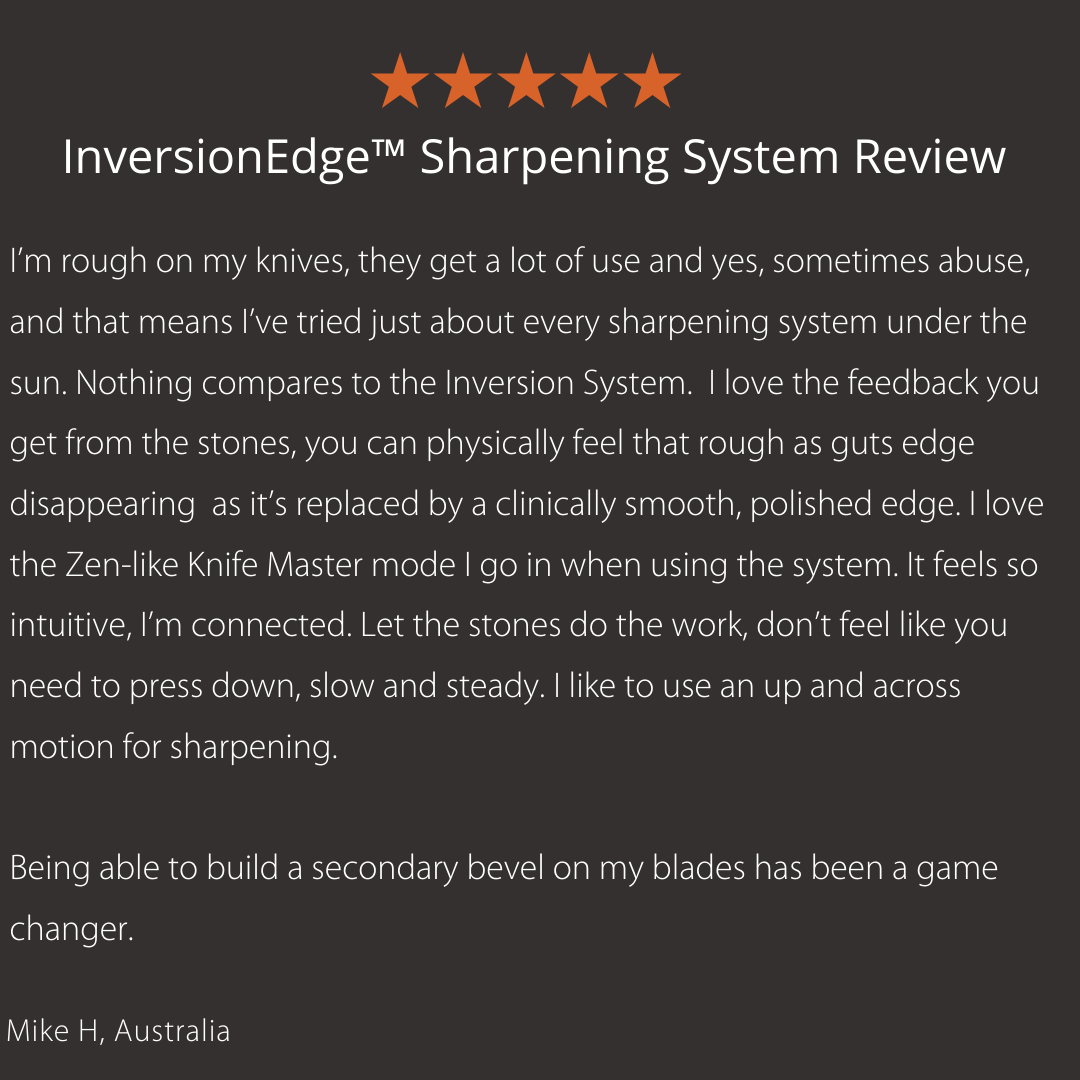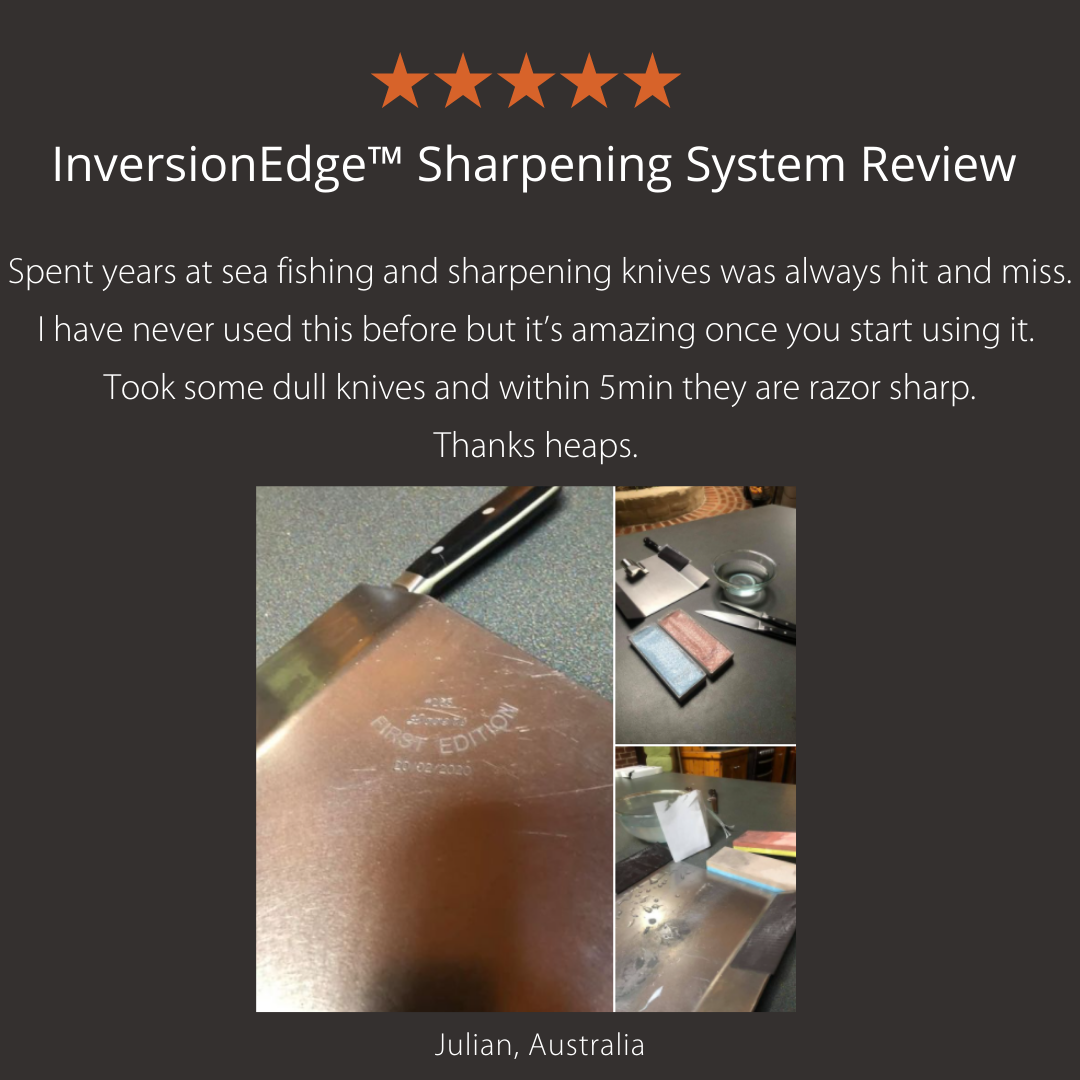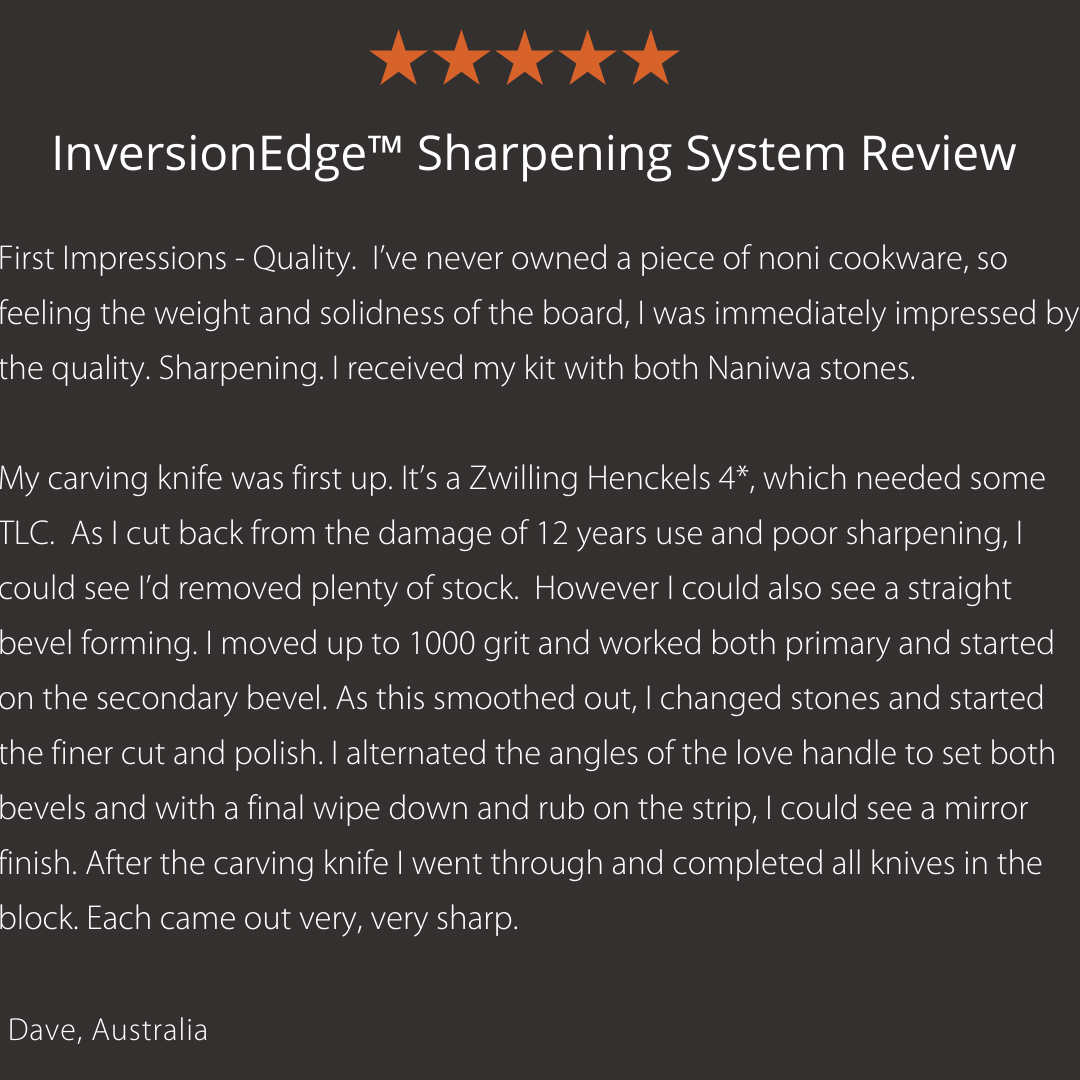 SHOP NOW - Select from the below three options...

on Kickstarter NOW

!