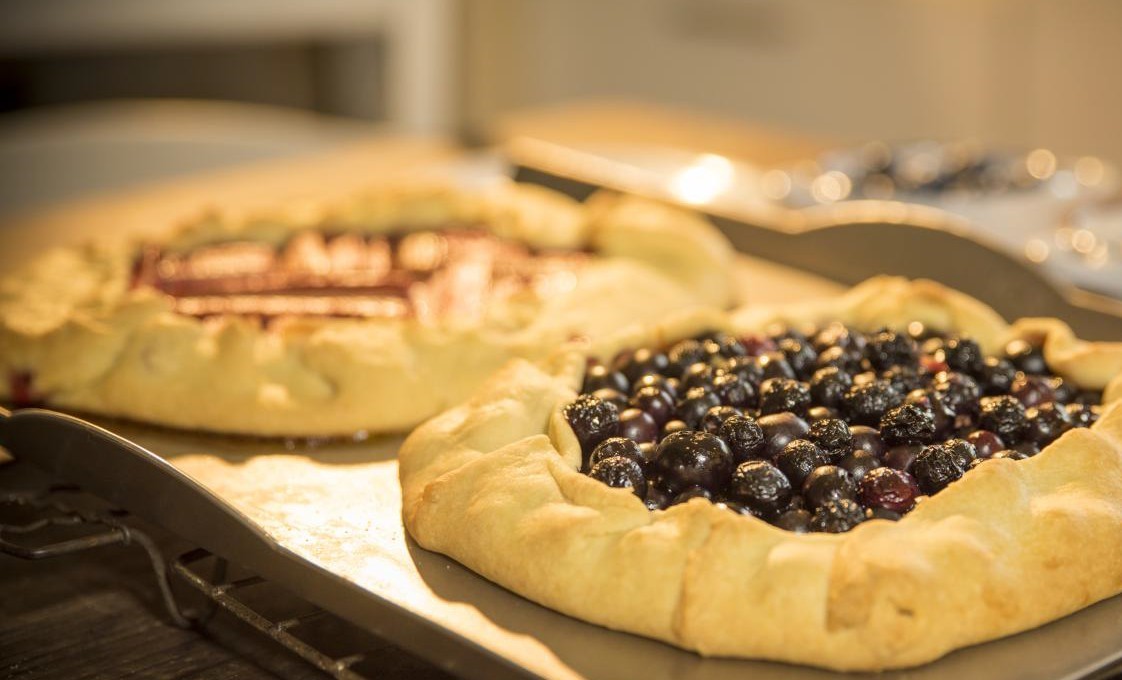 Ingredients
Pastry
200g all-purpose flour
2 Tbsp sugar
1/2 tsp fine salt
110g unsalted butter, cut into 16 pieces, then frozen
1/4C ice water
Fruit filling
3 cups fresh blueberries or rhubarb
1/4 C sugar
1 lime, zested and juiced
1 tsp of peeled, minced ginger
1 tsp cornstarch
1 1/2 Tbsp of breadcrumbs
Directions
1. Combine the flour, sugar and salt in a food processor. Add the butter, pulsing the processor to cut the butter into the dry ingredients.
2. When the butter has been cut down to resemble flakes, begin to add small amounts of ice water at a time, and continue pulsing until all the water has been added, and the mix has formed into a soft dough.
3. Transfer the dough to the counter, and 'fraisage' the dough by massaging it into the counter with the palm of your hand.
4. Roll out a length of baking paper across the noni baking tray. Roll the dough into a ball and transfer to the centre of the baking tray, flattening the dough into a disk with your fingers. Place another length of baking paper on top, then use a rolling pin to form a flat disc of pastry about the width of the baking tray.
5. Transfer the baking tray with pastry to the fridge for at least 2 hours, then bring back to the counter and peel the baking paper off the pastry to transfer it directly to the baking tray.
6. Combine the sugar, lime juice, lime zest, ginger and cornstarch in a mixing bowl and leave for 5-10 minutes until the sugar has dissolved to form a syrup. Toss the fruit through the syrup.
7. Spread breadcrumbs across the pastry, then spoon the fruit into the centre, leaving a gap from the edge. Fold over the pastry and sprinkle sugar over the top.
8. Place in a preheated oven at 200°C for 45-55 minutes, or until the crust is golden brown.
9. Serve with fresh vanilla custard or cream.