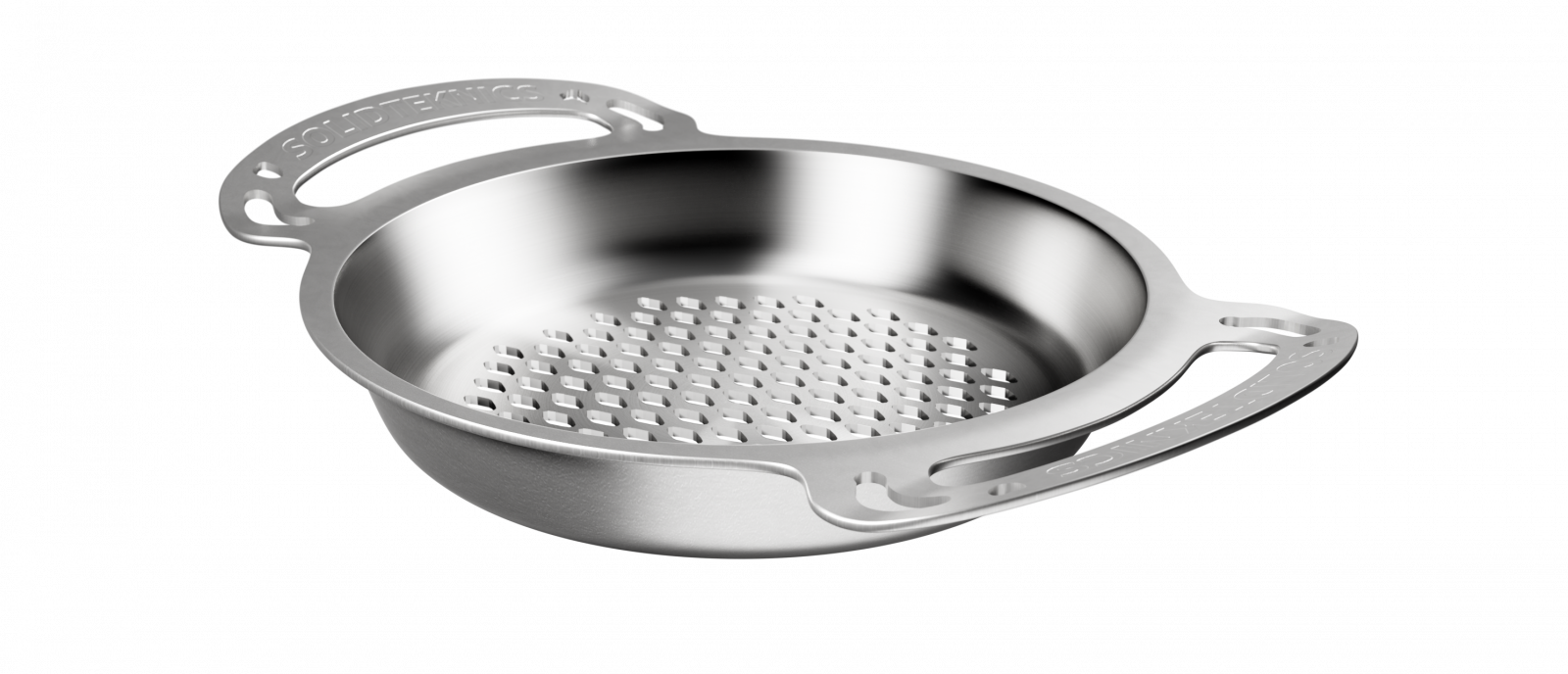 Our Lovers group exclusive launch. Preorder available from 4 August 2021 - 31 August 2021, for estimated shipping late March 2022.
Since launching our first 6.5L nöni™Steamer last year, we've received many requests for a smaller steamer. So we went back to the drawing board and thought "how do we create the most functional steamer, to work with our existing cookware?" We think we've designed something you're going to love.
Our most versatile, modular set yet: a 24cm nöni™ Steamer that fits with both our 2L Rondeau AND 3L Rondeau! Mix and match all five pieces depending on your cooking needs. Plus they all nest together for easy storage!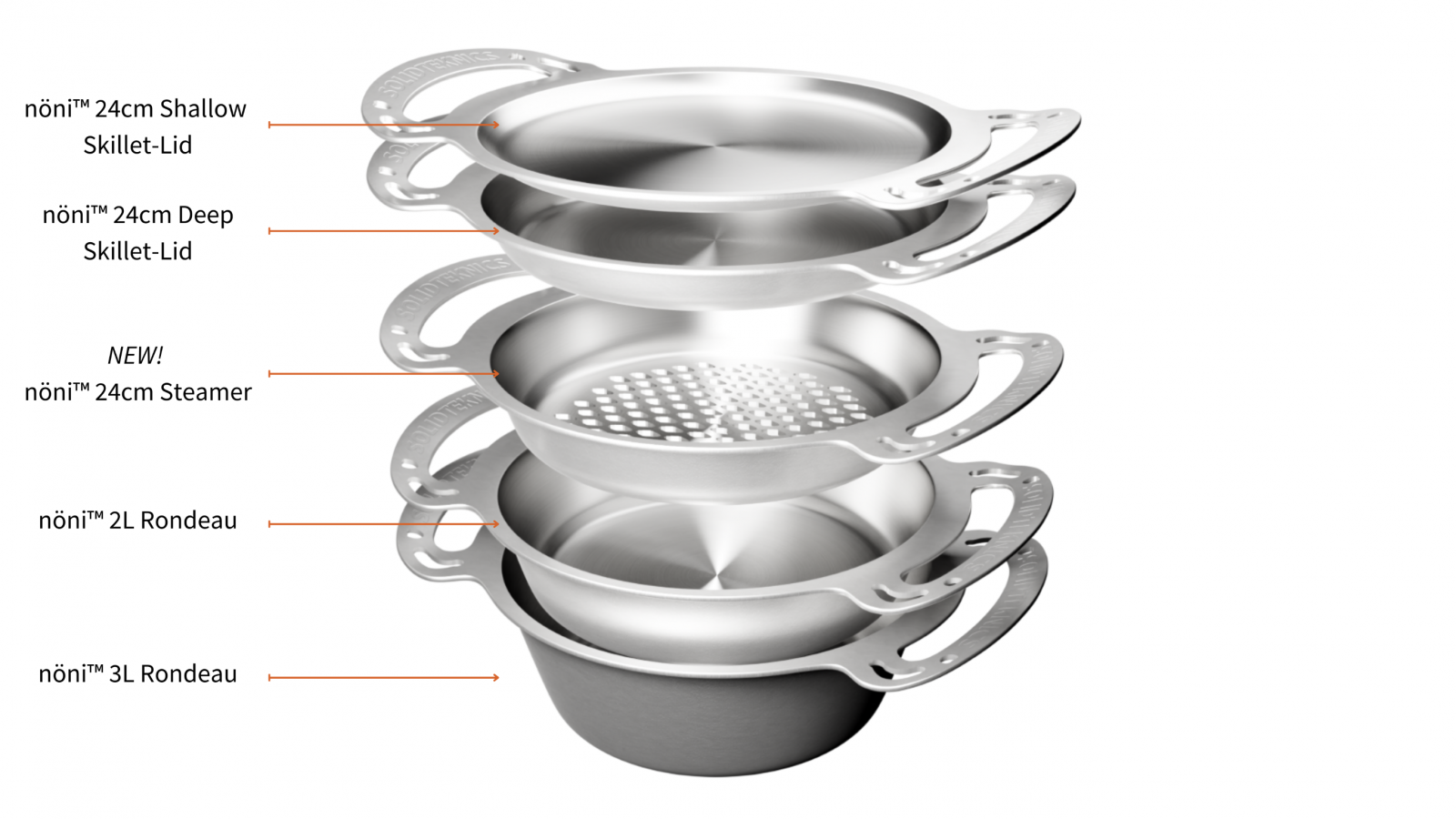 Our new 24cm Steamer has been designed to perfectly nest in both the new 2L Rondeau, and our 3L Rondeaus, AND both of the matching 24cm Rondeau lids will fit as a lid!
24cm nöni™ Steamer
With a capacity of approximately 1.5L, our new smaller steamer is perfect for those smaller steaming jobs - small side of vegetables, baby or toddler meals, half a dozen dumpings, two chicken breasts and fish, a couple of bao buns, and it also doubles as a small flaming skillet!
Need more steaming space? Use the 3L Rondeau as the base, and the 2L Rondeau as the lid! Mix and match all of the pieces to find whatever works best for the job at hand. There are so many options with this five piece set!
All five pieces neatly nest together, requiring minimal storage space!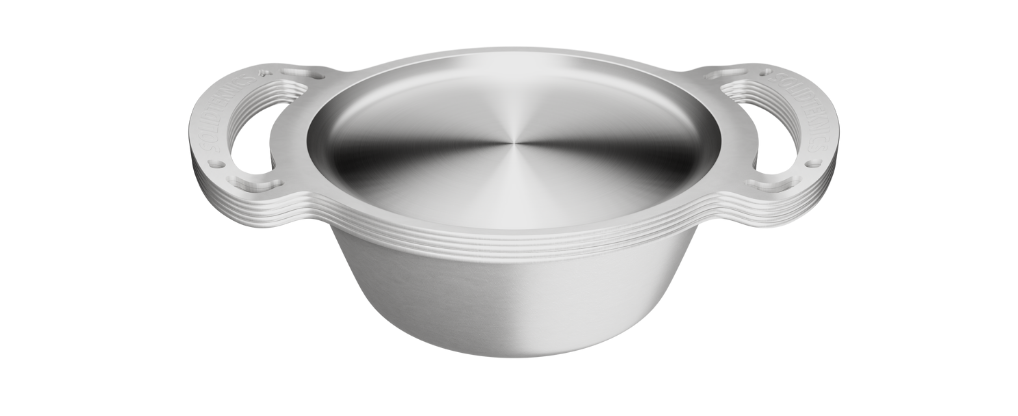 If you missed out on the 2L Rondeau, don't worry - we have some great sets available in the Lovers' store with the steamer, so you can complete the set for ultimate modular cooking.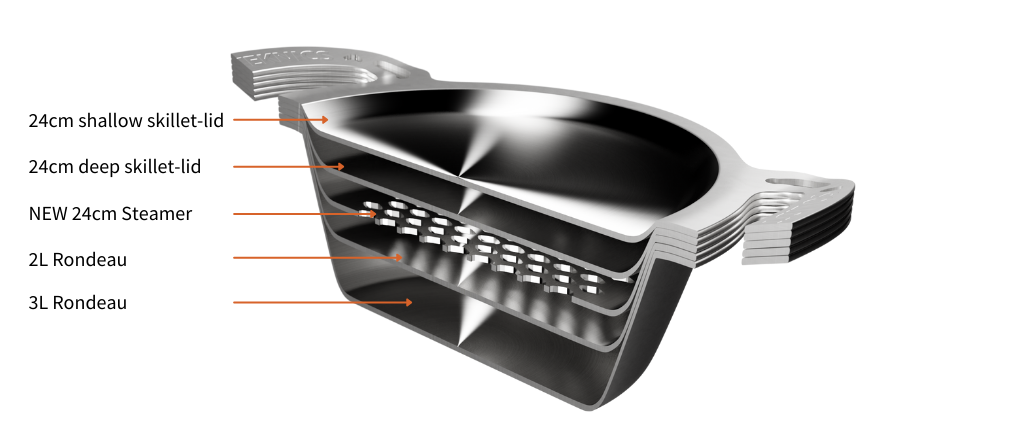 Possible Cooking Combinations
3L Rondeau + Steamer + 24cm Shallow Skillet-lid

3L Rondeau + Steamer +24cm Deep Skillet-lid

3L Rondeau + Steamer + 2L Rondeau inverted as a lid (for more steaming space)

2L Rondeau + Steamer + 24cm Deep skillet-lid

2L Rondeau + Steamer + 24cm shallow Skillet-lid

2L Rondeau + Steamer + 3L Rondeau inverted as lid
Dimensions

Our lowest pricing, just for you.
Our Lovers' inspired launches are a way for us to show you our deep appreciation for your loyal Solid support. This is why we give you exclusive early access, at heavily discounted pricing. We're launching this steamer to you first, which may then be followed by a Kickstarter launch, and eventually to retail.
Each new piece will be:
Limited stamped '1st Lovers Edition'

Dated with month/year of manufacture

Numbered in series

Much lower pricing than Kickstarter, and much lower than retail!
Pricing
24cm nöni™ Steamer
Lover First Edition: $189
Kickstarter: $229
RRP: $249
Sets
Sets are always better value!

Please note, the 2L Rondeau is not available for separate purchase, though will be available on Kickstarter in the coming months.
Pre-order method and production timeline
We make it our business to bring innovation to the world and it's you that has access to it first. We are thrilled we can be so close to our early adopters. We do our best to set realistic timelines, however, with innovation, often comes unpredictable challenges. We suggest that you only back our new launches if you are willing to go on our innovative journey with us - which may encounter speed bumps from time to time. Otherwise, you are best to wait for the pieces to reach our online 'buy now' store as by that stage, we have ironed out the manufacturing method.
Head to our exclusive Solid Lovers Store. You will need to be logged in to see the store and the listings. If you don't yet have access to our Lovers' store, please FOLLOW THESE INSTRUCTIONS.

Our new nöni™ 2L Steamer and sets will be available to preorder until 31 August 2021, and estimated to ship late March 2022. We're keeping pre-orders open for all of August as we know some of you have backed many of our recent launches and are waiting on lots of goodies! We hugely appreciate your SOLID support.
Your credit card will be charged upon purchase.
The first 20 of each in the series will be held for the Solidteknics museum archive.
All products will ship together. Please note, if one product is a little late we will wait to ship until all products are ready. However if there is a significant delay with a particular product, we will happily split your order and ship the pieces separately so you can get cooking (for no additional shipping charge).
Remember, you will need to be logged into your account to view the listings. If you do not yet have access to the Lovers' store, please follow THESE INSTRUCTIONS.
New to nöni™?
nöni™ is a genuine world-first in cookware: seamless one-piece production, wrought stainless steel saucepans. Made in Australia from highly conductive ferritic non-nickel stainless steel that is specially made for us in Germany (Australia doesn't make stainless steel anymore). Our solid stainless steel range is perfect for all liquid boiling, slow cooking, acidic sauces, and is very low maintenance.
All Solidteknics' cookware can be used for both professional and home kitchens, camping, and cooking outdoors. Our lids are unique - each skillet-lid is a high-performance shallow skillet, crepe pan, baking tray, or griddle for all kinds of frying and grilling.
Unsurpassed nöni™ performance:
Solid 3mm thick

Non-nickel ferritic (highly conductive) stainless steel specially made for us in Germany (no stainless steel is made in Australia).

Wrought from one solid piece with our patented world-first method

No rivets, joins or screws for world-leading durability and easy cleaning. Indestructible.

Ferritic stainless is a far superior conductor of heat than the regular austenitic stainless, aluminum-clad, materials used in most cookware, for fast, even cooking without hot spots

Will not react with food - non-nickel/toxin-free

Bakes/Cooks evenly and less likely to burn

Easy release of foods - natural non-stick

Easy to clean, and dishwasher safe

No coating to scratch or wear off

Attractive and durable brushed interior

Suitable for any heat source

Won't rust/Low maintenance

Multi-Lifetime Warranty