Introducing our new AUS-ION™ 26cm Sauteuse - your new family Sauteuse pan. The sauteuse is one of our most popular workhorse pans, we've UPSIZED it for families and batch cooking!
What is a sauteuse? The term is derived from the French faire sauter. The sautéuse is intended to either swivel the food in short fat or prepare it as a short baking dish. These types of preparations thus essentially correspond to those in the Asian wok.
A sauteuse is a pan of similar dimensions to a frypan, but with deeper sides and often with a lid, and can be known as a sauté pan. While a sauteuse pan can be used as a frying pan, it is designed for lower heat cooking methods, namely sautéing.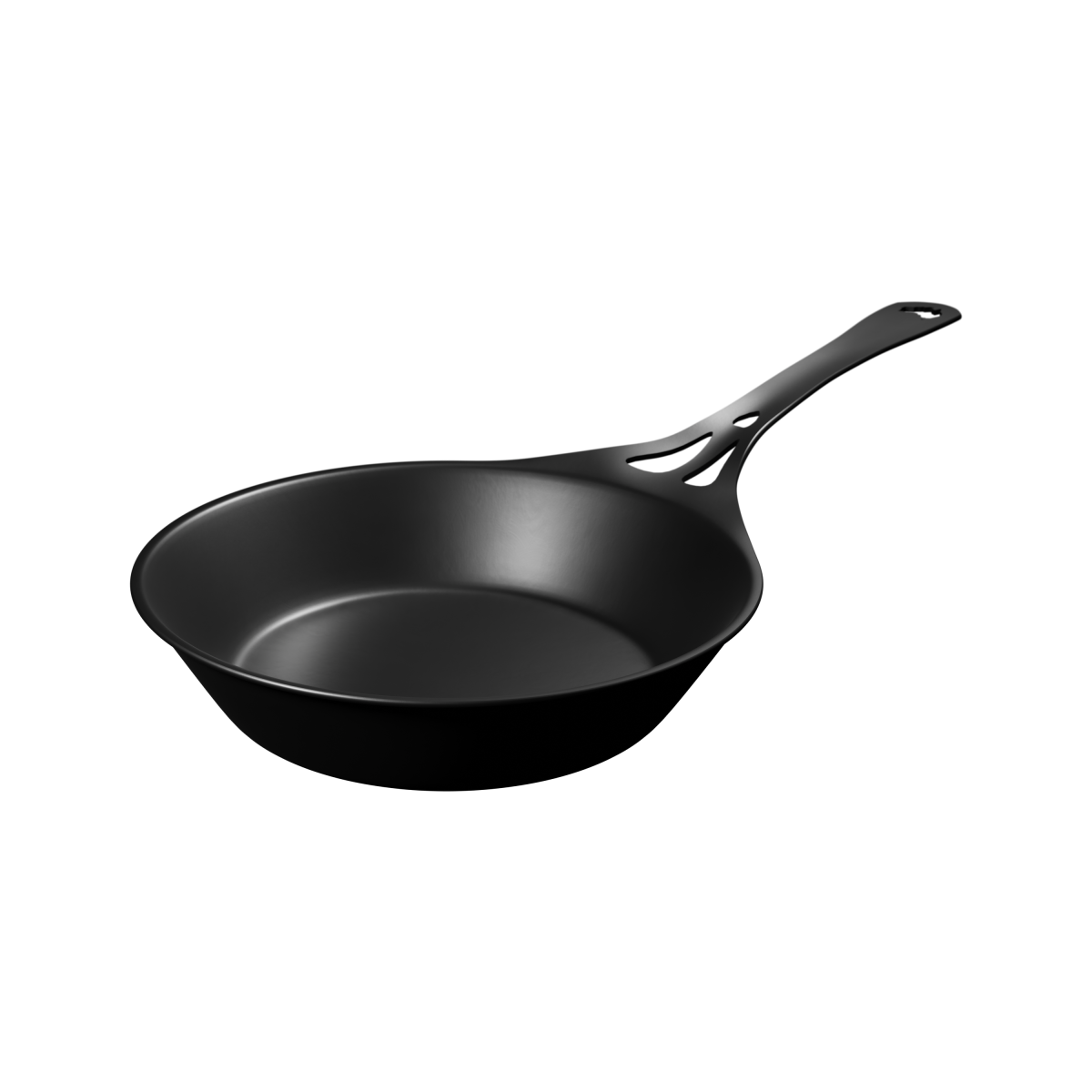 Our infamous 22cm AUS-ION™ Sauteuse along side the NEW 26cm AUS-ION™ Sauteuse. Soon to be as equally popular in household and commercial kitchens.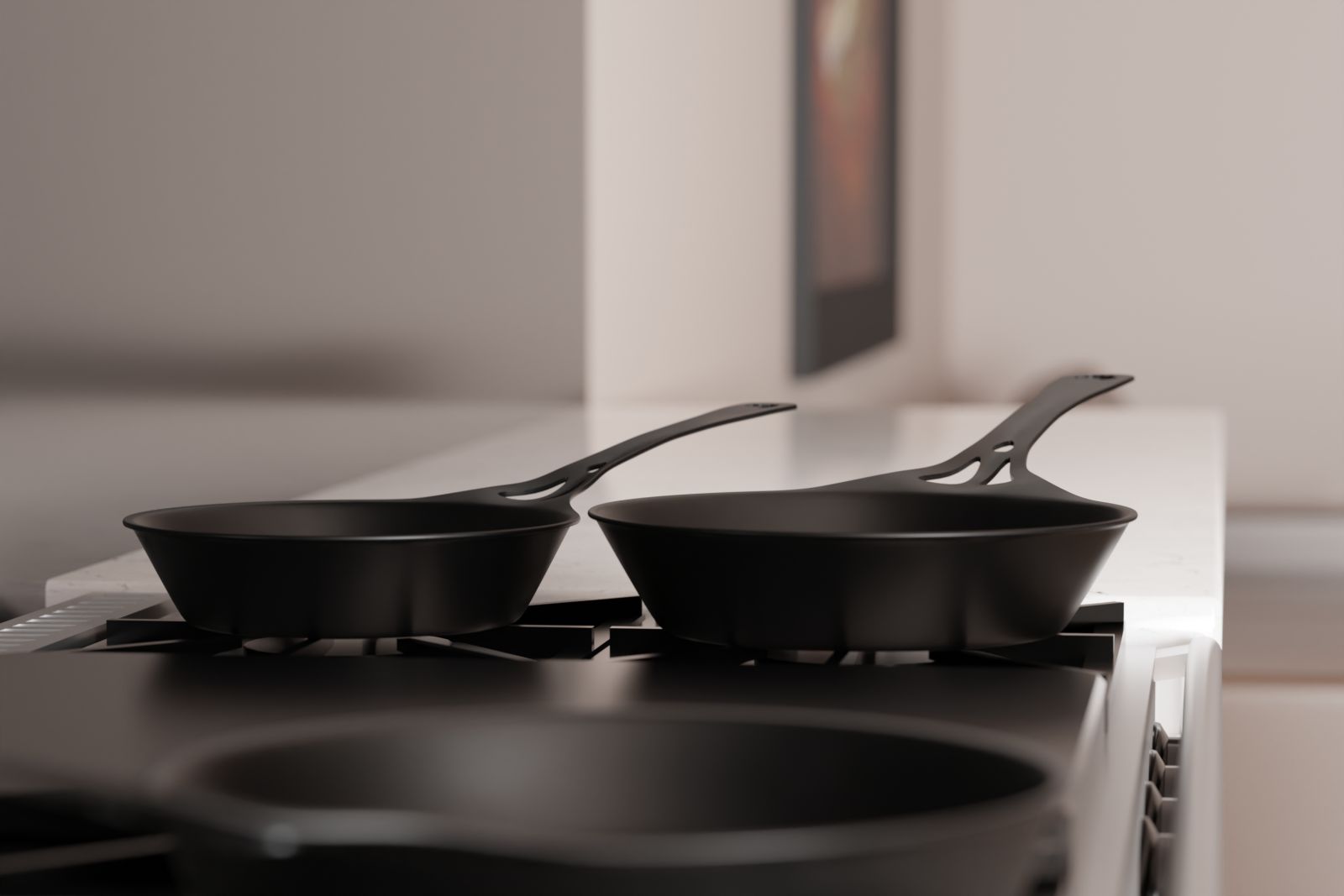 Yes! The 26cm nöni™ skillet-lid (from the 4.5L Saucepan is a perfect fit), not to mention it complements the rest of our 26cm range as below:
NEW! Lovers Edition AUS-ION™ 26cm Sautéuse
nöni™4.5L Saucepan and 26cm Skillet-lid (available separately)
nöni™26cm Workhorse Chefs Pan
AUS-ION™ 26cm Workhorse Chefs Pan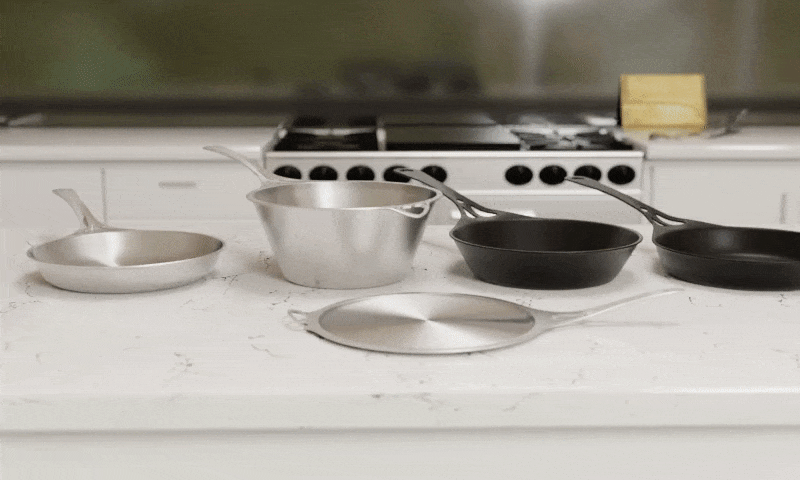 To show our deep appreciation to you, our loyal Solid Lovers group members, we are giving you exclusive early access.
Each new 26cm Sauteuse will be:
Limited stamped '1st Lovers Edition'
Dated with month/year of manufacture
Numbered in series
Much lower pricing than Kickstarter, and much lower than retail!
Our NEW 26cm AUS-ION™ Sauteuse has deeper sides than a standard skillet, making it ideal for one-pan meals such as frittatas, scrambled eggs, baking bread & cakes, and roasts. Also great for deep frying and pan searing.
Dimensions:
Total Length: 52.2cm
Weight: 1.6kg
Diameter: 26cm
Depth: 7.8cm
Capacity: 2.8L
Stove Contact: 17.6cm
Made in Australia from clean 3mm thick Aussie iron, our AUS-ION™ pans provide excellent heat retention and thermal mass for consistent, even cooking. Seasoned with our new Quenched™ finish and ready to use. Learn why Quenched™ is a game-changer in iron cookware! Suitable for all heat sources from stovetop (including induction) to oven to campfire.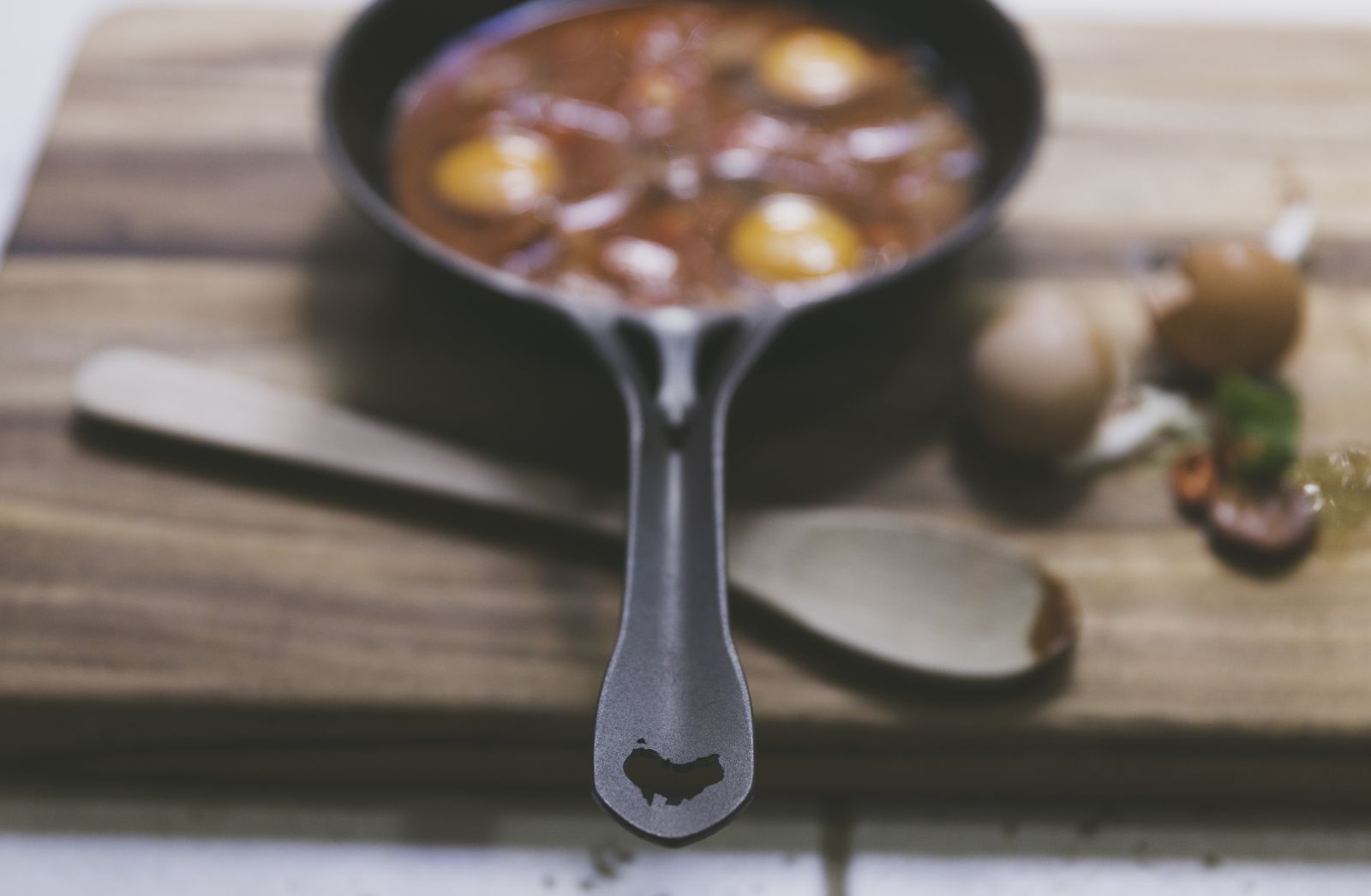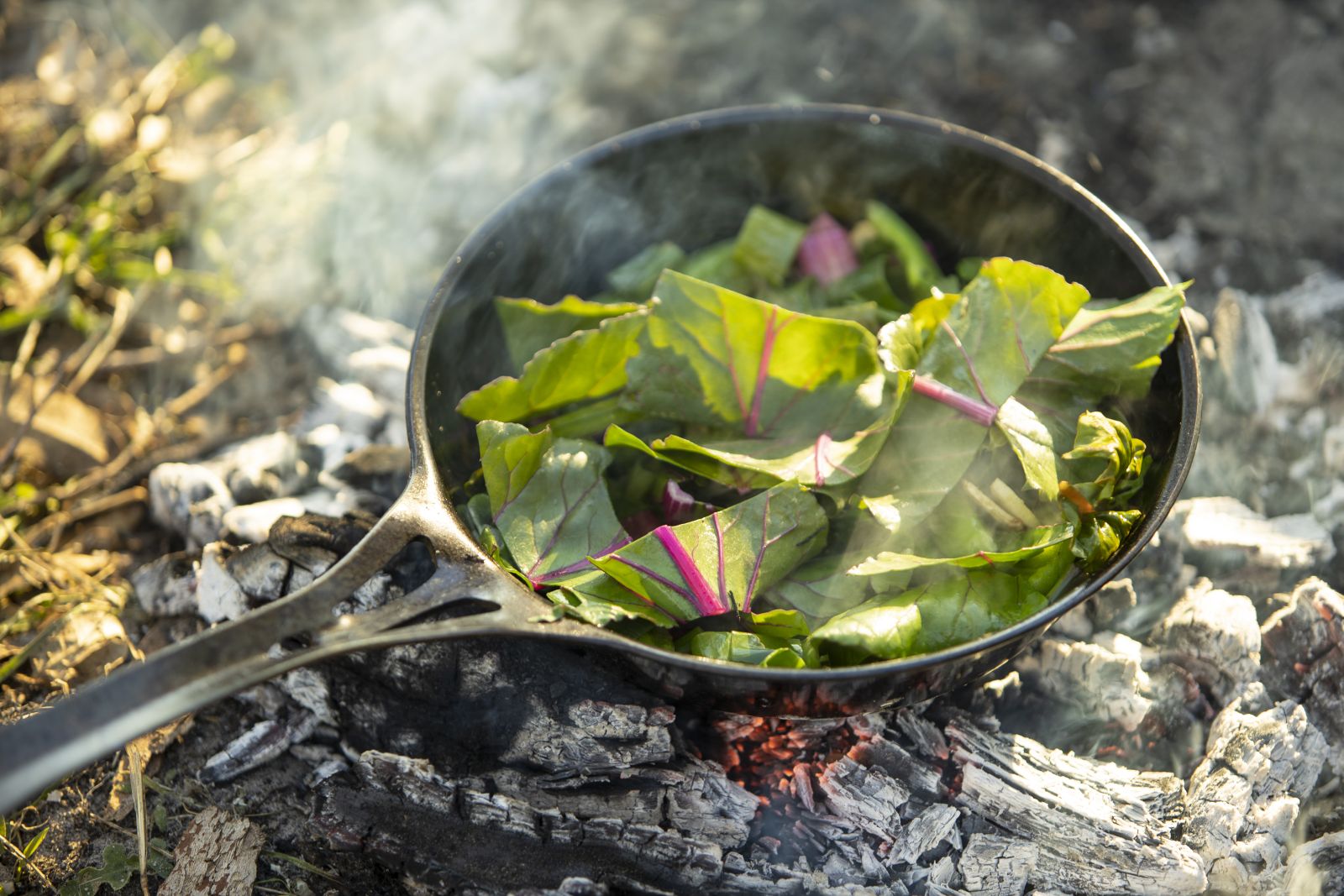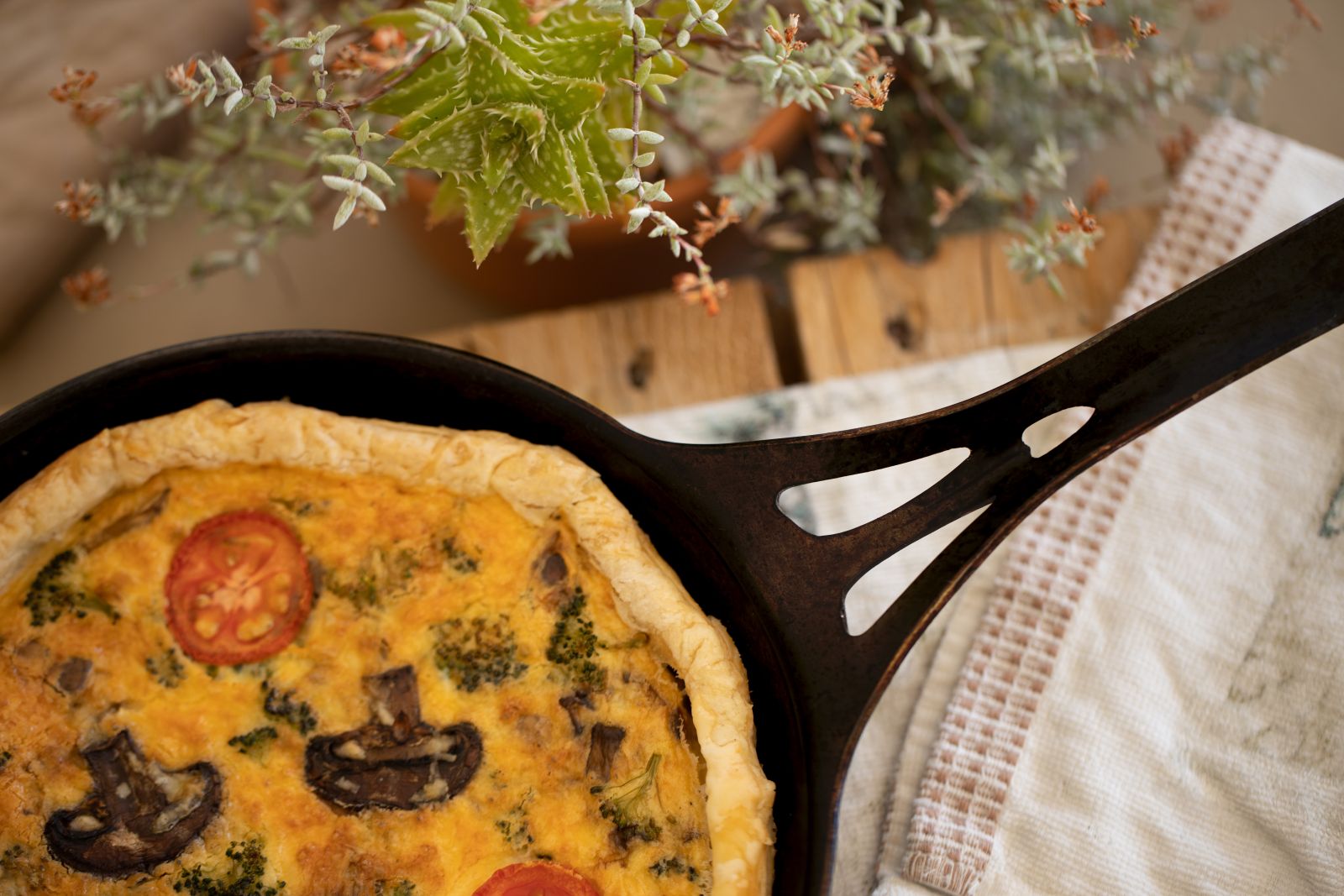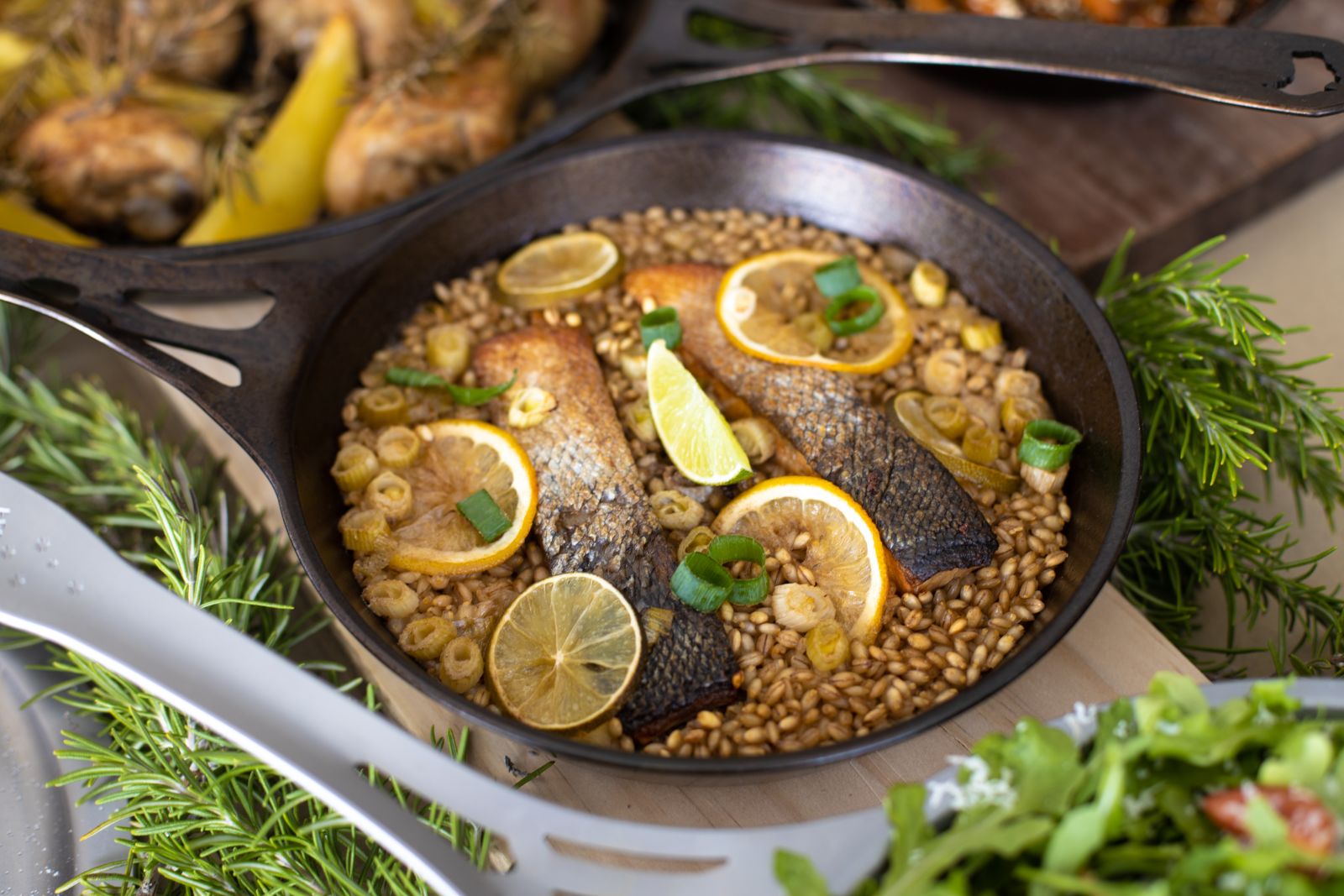 Side by side NEW 26cm AUS-ION™ Sautuese and our most popular sized pan - the 26cm AUS-ION™ Chefs (workhorse) Pan.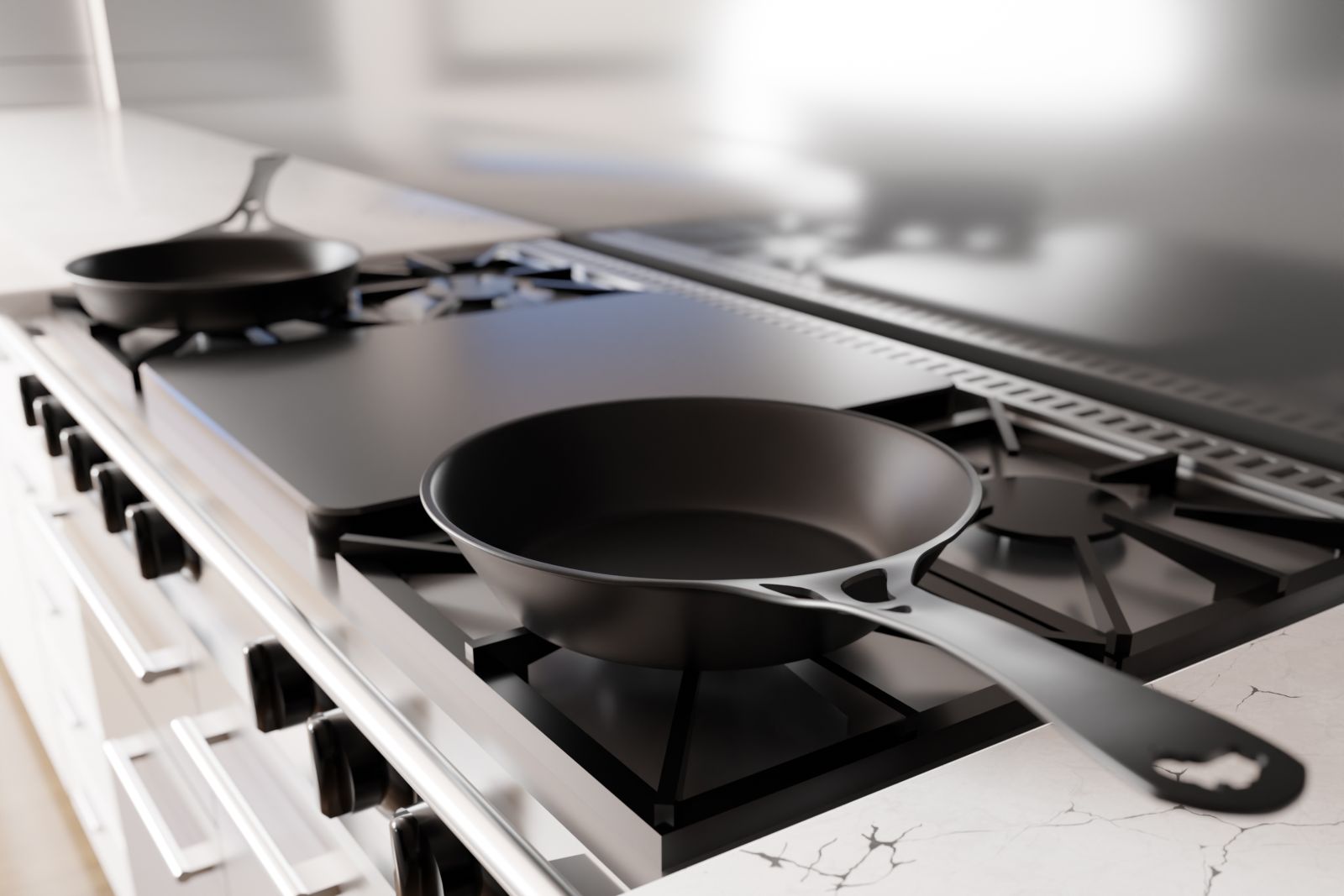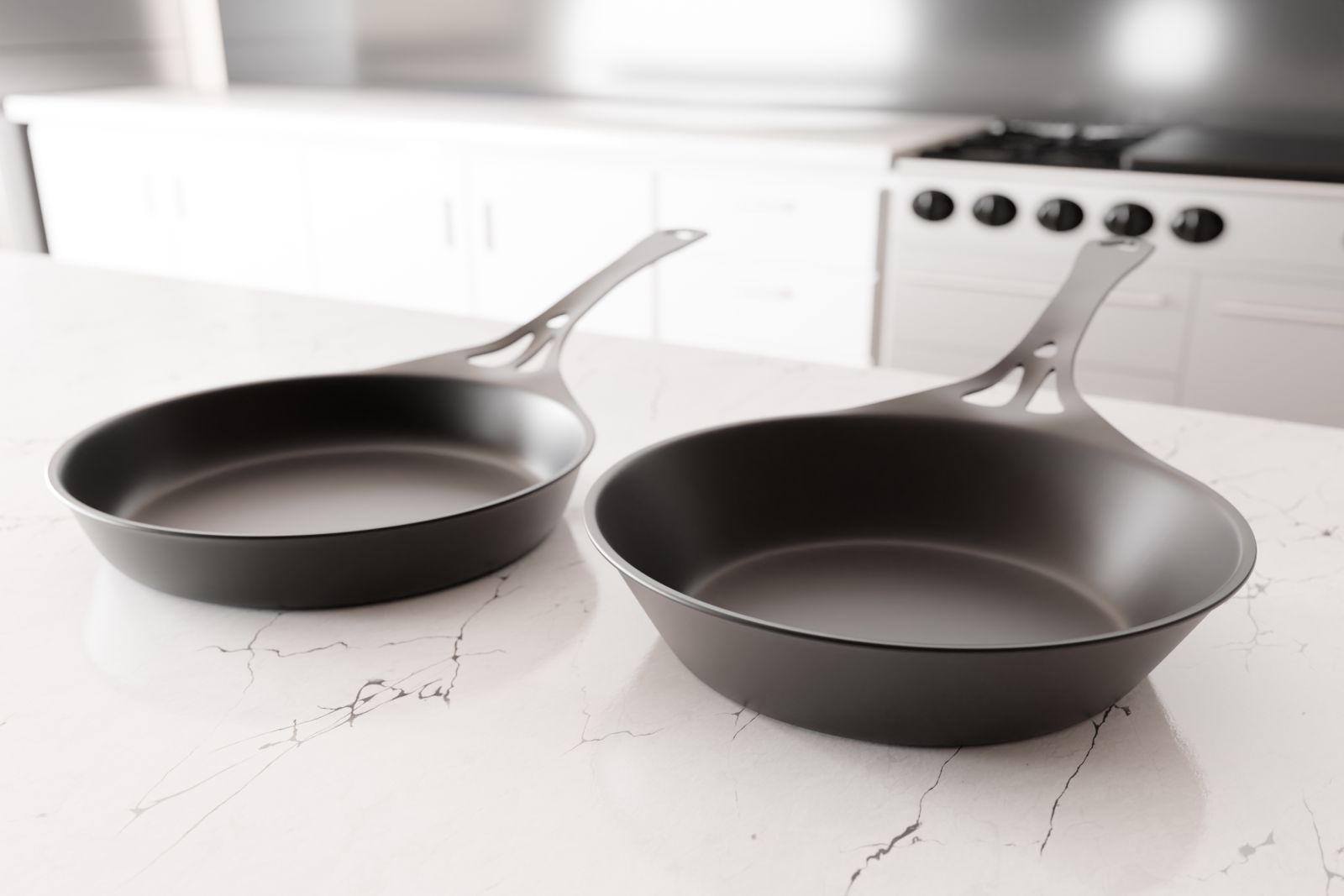 The Australia map cut-out in the handle is great for hanging the pan when not in use!
Pricing:
Preorder available until 15/02/2022, for estimated shipping May 2022.
NEW 26cm AUS-ION™ Sauteuse
Lovers Edition with Quenched finish $149 (RRP $189.95)
Pre Order your NEW LOVERS EDITION 26cm AUS-ION™ Sauteuse HERE
SETS are the best value.
SET ONE - 2 pieces

NEW 26cm AUS-ION™ Sauteuse

26cm nöni™ Skillet-lid

SET TWO - 3 pieces

NEW 26cm AUS-ION™ Sauteuse

26cm nöni™ Skillet-lid

26cm nöni™ Workhorse Chefs Pan

$378 Pre Order

HERE

(RRP $438)
$627 Pre Order

HERE

(RRP $687)

SET THREE - 3 pieces

NEW 26cm AUS-ION™ Sauteuse

4.5L nöni™ Saucepan and 26cm nöni™ Skillet-lid

SET FOUR - 4 pieces

NEW 26cm AUS-ION™ Sauteuse

nöni™4.5L Saucepan and 26cm Skillet-lid

nöni™26cm Workhorse Chefs Pan

$728 Pre Order

HERE

(RRP $788)
$927 Pre Order

HERE

($1037)
Shop the range HERE!
Pre-order method and production timeline
Head to our exclusive Solid Lovers Store (if you haven't already, you will need to register and email us for store access). Our limited edition products are available until 15/02/2022 and are estimated shipping starting in late May 2022.
Your credit card will be billed to secure your reserved First Lovers Edition piece/s.
The first 20 of each in the series will be held for the Solidteknics museum archive.
All products will ship together. Please note, if one product is a little late we will wait to ship until all products are ready. If one is very late we will ship each separately (for no additional shipping charges), so you can at least get started with one new world-first innovation!
More about the materials. All Solidteknics' cookware can be used for both professional and home kitchens, camping, and cooking outdoors. Our lids are unique - each component is a high-performance shallow skillet, crepe pan, baking tray, or griddle for all kinds of frying and grilling.
AUS-ION™
AUS-ION™ is wrought from a single sheet, there are no joins, screws or rivets for easy cleaning and maximum durability.
Made in Australia from clean Australian iron
Dated with month/year of manufacture
Patented, seamless, one-piece design
Sear, saute, bake, roast, fry or grill
Use on any heat source - oven, stovetop (including induction), BBQ, campfire!
Exceptional heat retention, even heating and thermal mass
Multi century warranty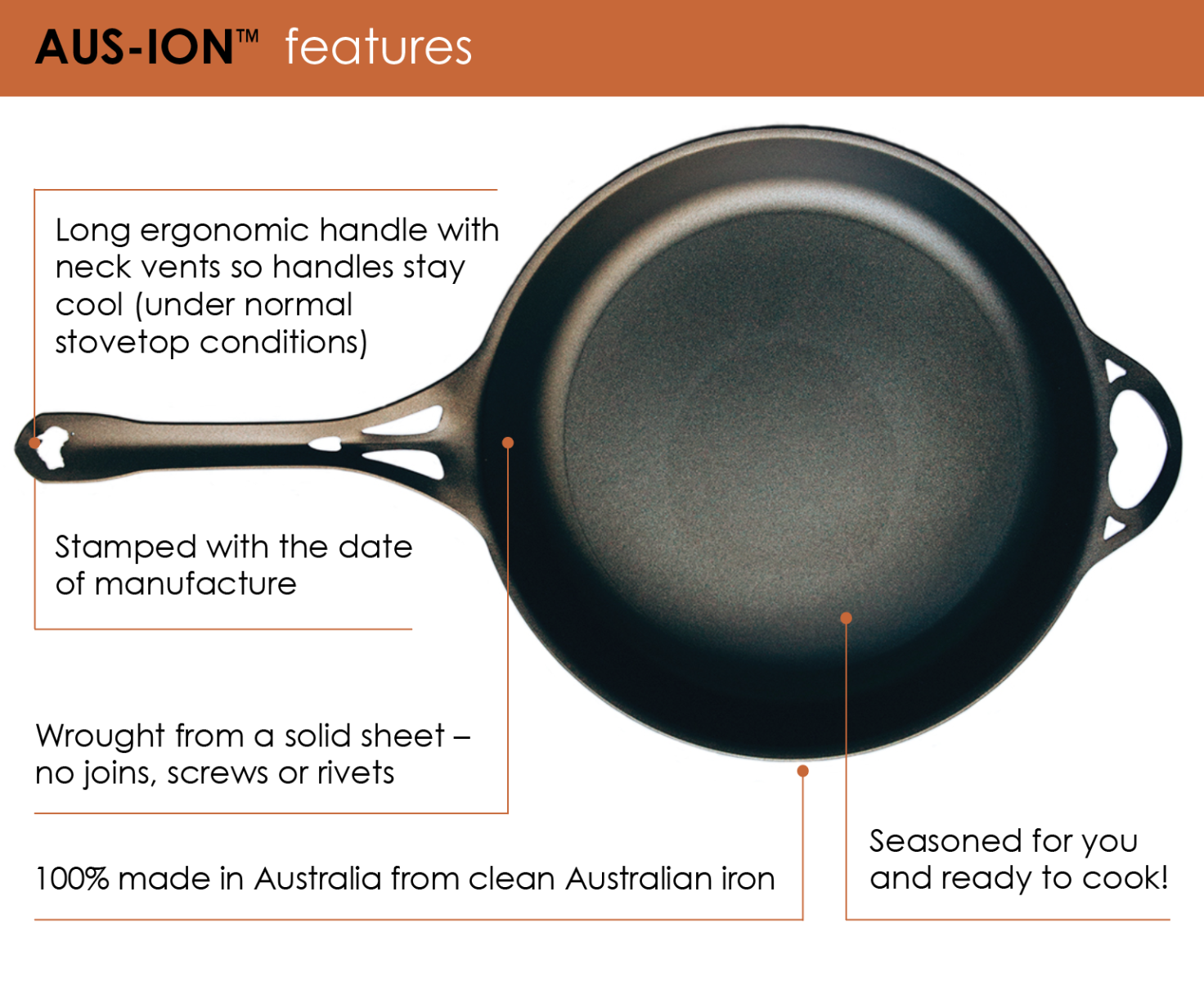 nöni™
nöni™ is a genuine world-first in cookware: seamless one-piece production, wrought stainless steel saucepans. Made in Australia from highly conductive ferritic non-nickel stainless steel that is specially made for us in Germany (Australia doesn't make stainless steel anymore). Our solid stainless steel range is perfect for all liquid boiling, slow cooking, acidic sauces, and is very low maintenance.
Solid 3mm thick
Non-nickel ferritic (highly conductive) stainless steel is specially made for us in Germany (no stainless steel is made in Australia).
Wrought from one solid piece with our patented world-first method
No rivets, joins or screws for world-leading durability and easy cleaning. Indestructible.
Ferritic stainless is a far superior conductor of heat than the regular austenitic stainless, aluminium-clad, materials used in most cookware, for fast, even cooking without hot spots
Will not react with food - non-nickel/toxin-free
Bakes/Cooks evenly and less likely to burn
Easy release of foods - natural non-stick
Easy to clean, and dishwasher safe
No coating to scratch or wear off
Attractive and durable brushed interior
Suitable for any heat source
Won't rust/Low maintenance
Multi-Lifetime Warranty

Stamped First Lovers' Edition
We invested heavily in this early development, so most tooling is ready, and we don't expect any delays. However, given the current COVID-19 pandemic and worldwide shipping chaos, we can't be 100% certain there will be no delays. We hope you will be patient with us in the event that there are any small delays outside of our control, in the name of making long-run history together.
Like all our Solidteknics products, our goals are the ultimate in performance, health, and sustainability through durability and locally-made. As we always say, 'together we're making history, not just the finest cookware'.
Thank you in advance for your support!
The Solidteknics team