Our Lovers Group exclusive launch! Pre-orders available until 11:59pm Tuesday 7 November, 2023 (AEST), with estimated shipping late May 2024!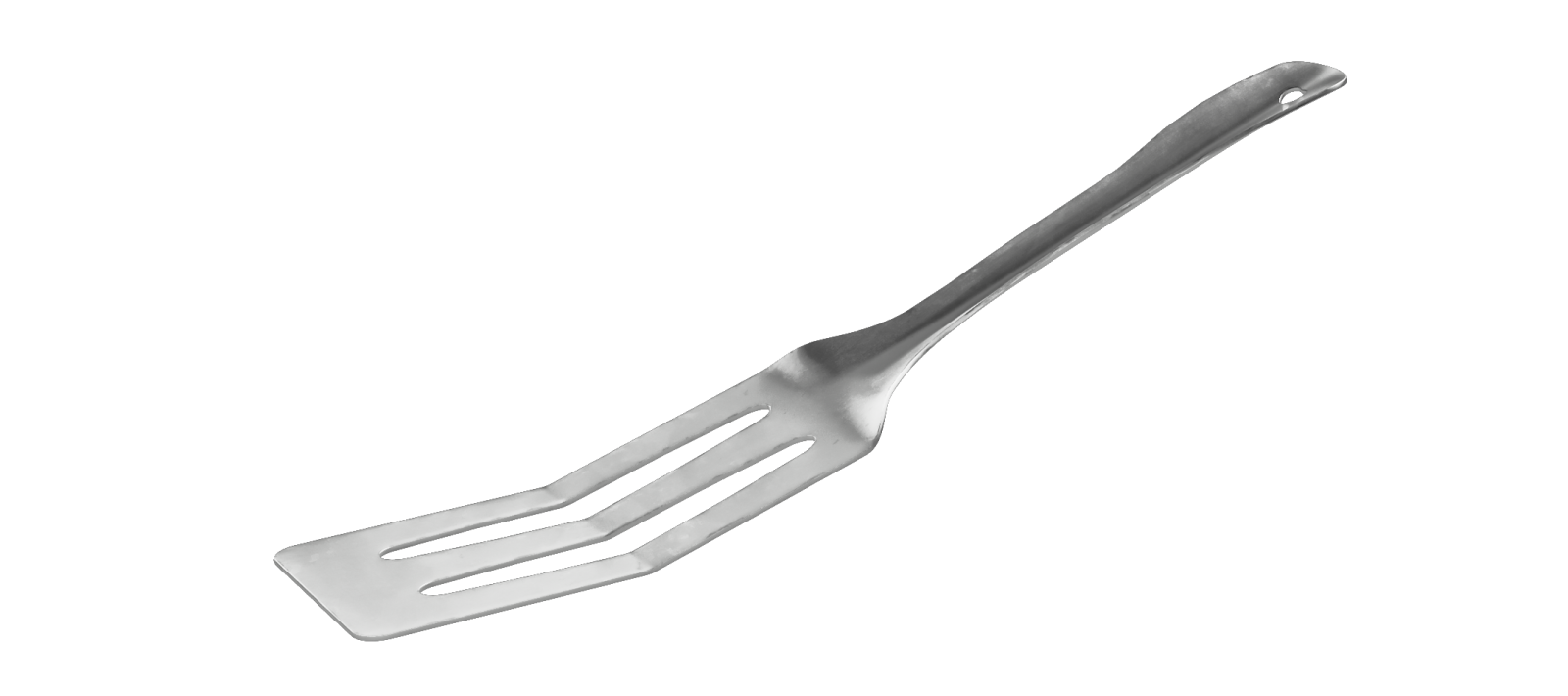 Lovers, meet the newest addition to our Kitchen Tools range... the Long Flippa! You already love your Lil Flippas and Flexi Flippas, and our new Long Flippa is finally here to complete the ultimate flipping trio! Thoughtfully shaped and durably designed, the Long Flippa has a longer spatula head that will have you flawlessly flipping fish fillets, pancakes and so much more, for generations to come.
Dimensions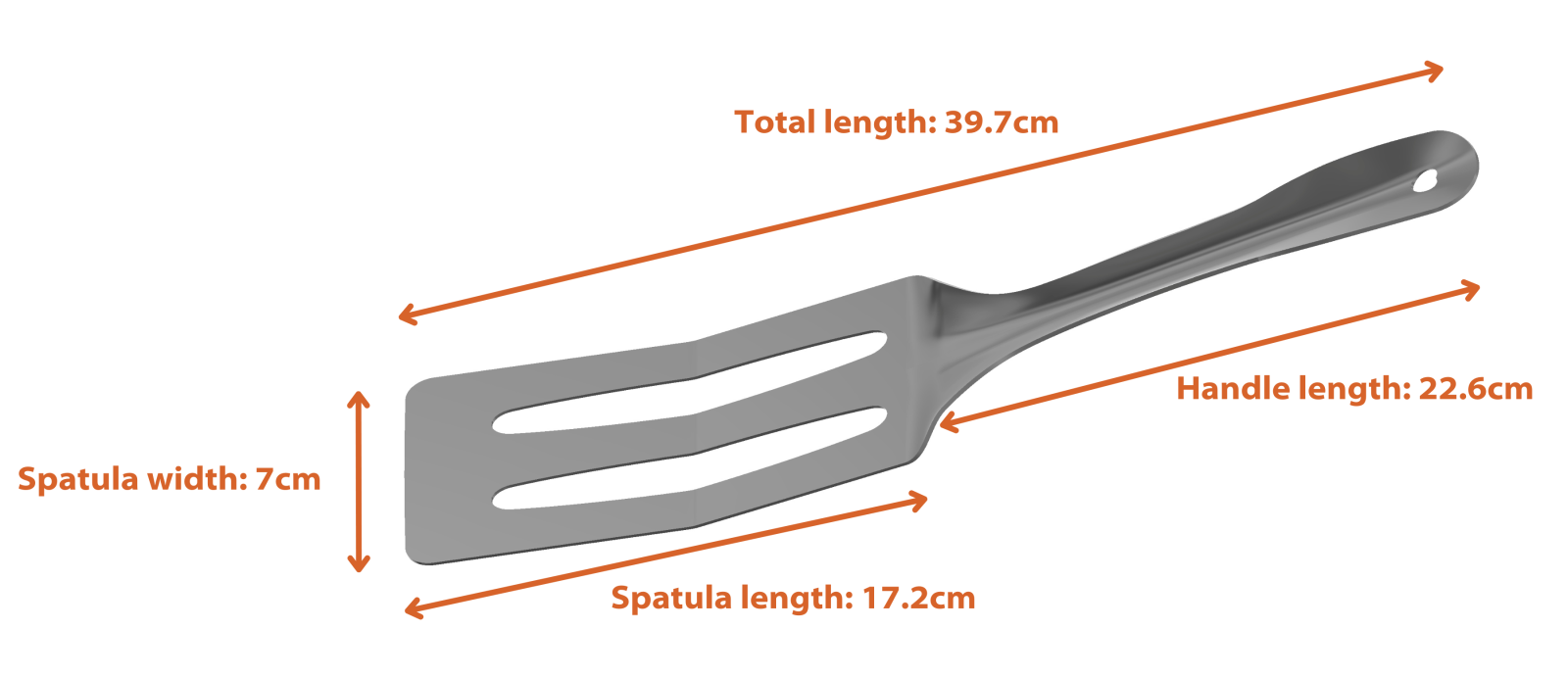 Total length: 39.7cm
Handle length: 22.6cm
Spatula length: 17.2cm
Spatula width: 7cm
Weight (approx.): Stainless Steel = 160g | Titanium = 90g
Let's deep dive into the design!
One seamless piece – no joins, screws or rivets
Each Long Flippa is a seamless, one-piece design, pressed into shape from a solid sheet of either our Stainless Steel or Titanium material. With no joins, screws or rivets, there's no risk of your Long Flippa handle snapping, and there is also no risk of water getting trapped and causing rust.
Longer handle, to keep your hands away from the heat
With a 22.6cm handle, you can flip your fish fillets and turn your food without getting too close to the heat – especially great for anyone wanting to cook over a fire!
Slightly thicker material, for unbeatable strength
While our Lil Flippa is 0.9mm thick and our Flexi Flippa is 1mm thick, the material for our new Long Flippa is 1.5mm thick. This slight increase in thickness means it is incredibly strong, and can lift even the biggest fish fillets or lasagne servings with little to no flexing.
Perfect width for a wide range of foods and uses
We've met halfway between the width of our Lil Flippa and Flexi Flippa to give our Long Flippa a spatula surface that's 7cm wide. This is great for precision cooking, so you can flip eggs, turn a cheese toastie and lift delicate fish fillets, all with the same tool. Talk about versatility!
Slotted surface for easy drainage
The surface of the Long Flippa head has a slotted design to allow oil to drain away from your food.
Heart hole for hanging and storing
Not only does the heart cutout in the handle of our Long Flippa represent our brand and our amazing Lovers (that's you!), but it also doubles as the perfect way to hang your Long Flippa for an easy storage option.
One design for everyone to enjoy
Unlike generic fish spatulas of similar dimensions that have an angled edge, our Long Flippa has a straight, perpendicular edge, making it comfortable for both left-handed and right-handed cooks to use.
Bent spatula head for optimal use
Our Long Flippa is designed with a bend partway down the spatula head, which will allow you to easily get underneath your food even with a higher-walled frypan. If, after trying out your new Long Flippa, you find the designed bend isn't quite how you'd like it, you can put a little pressure in either direction to slightly reduce or increase the bend until you get the perfect angle for your everyday needs!
How do all three Flippas compare?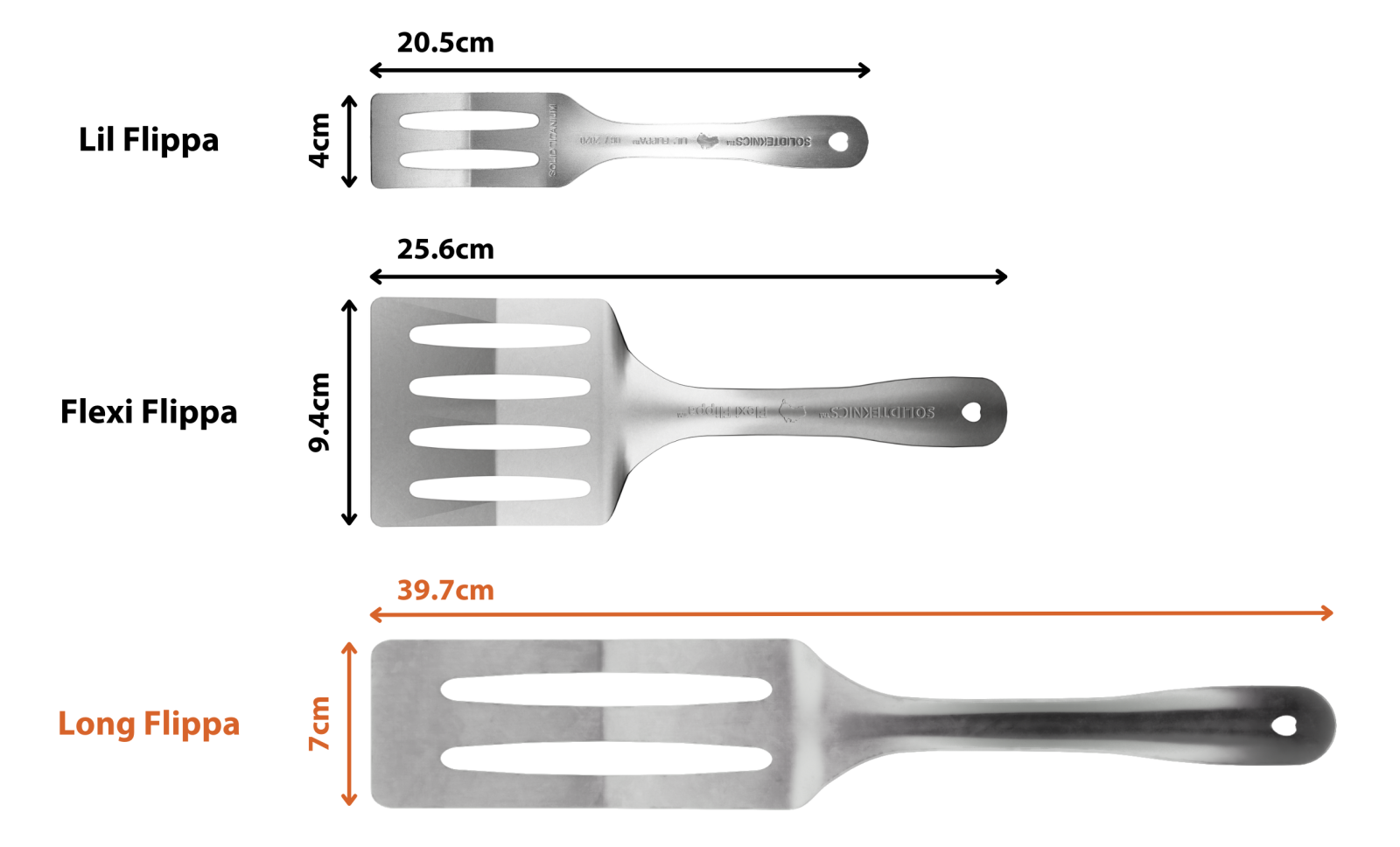 Proudly made in Australia
Like both our Lil Flippa and Flexi Flippa, our new Long Flippa will be proudly made in Sydney, Australia. Manufacturing locally ensures the highest quality possible, while also supporting local jobs and communities. A true win-win for our customers, our team, and the future of Australian-made cookware!
Designed for multi-century durability
Each aspect of the design for these special pieces has been carefully thought out, to ensure that you will never need to buy another long spatula again! Our Long Flippa is guaranteed to last you and your family for many generations of cooking (or in this case, flipping) and is backed by our multi-century warranty.

Dishwasher-friendly, for easy cleaning
Our new Long Flippa is 100% safe to use in the dishwasher, meaning you can let the dishwasher take care of the cleaning while you kick back and relax!
Available in 1.5mm Stainless Steel or Titanium
You have the choice between our Stainless Steel or our popular Titanium for the material of your new Long Flippa! Both options will be made using 1.5mm-thick material – the perfect balance for nimble maneuovering and durable strength.
What is the benefit of one option over the other? The biggest reason why people will choose a Titanium option for our kitchen tools is due to its lighter weight. Our Stainless Steel Long Flippa weighs 160 grams (approx), while our Titanium Long Flippa weighs just 90 grams (approx) – almost half the weight! This makes it super lightweight, and ever-so-slighty easier to use. Titanium is also a stronger material, so is even more durable than Stainless Steel. Don't worry though, your Stainless Steel Long Flippa will still last for many centuries to come!
Date stamped for heirloom collectibility
Each Long Flippa will be date stamped with the month and year of manufacture, for ultimate collectibility. If you pre-order yours during this exclusive Lovers launch, your Long Flippa will also be stamped '1st Lovers Edition' to recognise your incredible early support.
We design all of our kitchenware with the intention that each piece will eventually become a treasured family heirloom. It is a very special thing to know that in 100 years time, our descendants will be cooking with the same kitchen tools we were.

Exclusive Lovers Pricing
From $69!
As always, we are giving you, our Lovers, the opportunity to secure our new Long Flippa at specially-reduced pricing, to show our appreciation for all of your ongoing love and SOLID support! Pre-order your very own Long Flippa now, and save between $30–$90 off RRP!
Special Lovers pricing = $69
Retail price = $99.95
Special Lovers pricing = $129
Retail price = $169.95
Special Lovers pricing = $179
Retail price = $269.90

Pre-order Method and Production Timeline
Pre-orders close midnight Tuesday 7 November, with estimated shipping late May 2024.
Head to our exclusive Solid Lovers Store. Remember, you will need to be logged into your account to view the listings. If you do not yet have access to the Lovers' store, please FOLLOW THESE INSTRUCTIONS.
Your credit card will be charged upon purchase.
The first 20 of each in the series will be held for the Solidteknics museum archive.
Lovers Launch disclaimer:
We make it our business to bring innovation to the world, and it's you who has access to it first. We are thrilled we can be so close to our early adopters. While we always do our best to set realistic timelines, with innovation often comes unpredictable challenges. We suggest that you only back our new launches if you are willing to go on our innovative journey with us – which may encounter speed bumps and unexpected delays from time to time. Otherwise, you are best to wait for the pieces to reach our online 'buy now' store, as by that stage, we have ironed out the manufacturing method. The Solid supporters who trust us to deliver on our promises are rewarded with lowest-ever pricing, earliest production dates and numbered in series for the highest value in heirloom collectables.
Thank you for your solid support, and for helping us continue to bring new, world-leading Australian-made kitchenware innovations to life. ❤️
Please note, Lovers launches are excluded from our affiliate program. No further discounts apply.
Want to stay updated on the production progress of new launches?
Head over to our Lovers' Launch & Production Updates page, and bookmark the page for easy future access!