They say Lightning doesn't strike twice... but here we are, launching EIGHT new AUS-ION™ Lightning pieces! These are all new pieces - different sizes and shapes to our existing range, to fill any gaps in your cookware arsenal! Seasoned and ready to cook! This range is strictly limited and offered exclusively to our Lovers Facbook group first, at heavily reduced pricing - from $69!
NOTE: As this is an exclusive Solid Lovers Store offer, in order to view the listings you must be logged in to your solidteknics.com account. If you don't yet have access, please FOLLOW THESE STEPS and we'll get you in there ASAP! Pre-order available until 6 June for estimated shipping late August.

What's so great about our Lightning series?
We'll start with a few words from Darren, one of our customers: "After receiving a set Lightning Quenched pans (18, 21 and 26cm) pans in late March, I just thought I'd update you on their performance - in a word "Awesome! The lighter pans are easy to work with and much quicker to heat (& no sign of warping if you heat gently and I use an electric ceramic stovetop!) But the big improvement for me is the Quenched finish​​​​​​"
If you're a member of of Facebook group, you can read Darrens full review - here.
For those new to Solidteknics (welcome!), our Lightning range was launched on Kickstarter in 2020 in response to the pandemic. This was our no frills AUS-ION™ range, redesigned for maximum value and performance.
Built to last generations
As with all our cookware, our Lightning pans come with a multi-century warranty. This is not a marketing gimmick, just SOLID engineering. Our pans are date stamped, and designed to be passed down through generations as treasured family heirlooms. We believe in sustainability through durability. Each pan has many lifetimes of cooking in it! Imagine your great grandchildren making the famous family heirloom recipe in the same pan you made it in.
Light in weight, heavy with value!
We eliminated every non-essential cost, cut our margins to the bone, and reduced the pan thickness from 3mm iron to 2.5mm.
Since 2020, our Lightning pans have become a household favourite so we wanted to see what else we could do! We received many requests for larger Lightning pans. At the time, we didn't think it would be possible, but after rigorous testing, we've managed to push the limits and now have a 28cm Lightning Pan! These eight new sizes, won't be going to retail, so this is your exclusive opportunity to secure our LIghtning range, seasoned for you!
Lighter weight, lightening heat!
The result is a pan that's 16% lighter, even faster to heat, and significantly lower in price than our flagship retail range! But most importantly, they are still 100% Australian-made from clean Australian iron, and built to last generations.
100% Made in Australia
Made in our Sydney factory and wrought from clean Australian iron.
No synthetic, toxic coatings
Our Quenched™ seasoned for you finish is just natural, real seasoning using only rice bran oil. No synthetic, toxic coatings, just healthy, natural forever renewable non stick that will continue to get better the more you cook!
Seamless, one-piece design
Patented, seamless, one piece design. Wrought from a single sheet means no joins, screws or rivets! Never suffer wobbly handles again! Easier to clean, more durable.
Handles stay cool to the touch
Our long ergonomic handles are designed for cool comfort. Based on simple thermodynamics, the ventilation gaps in handles effectively dissipate the heat so it won't transfer to your hand under normal, stovetop cooking.
New dual handle design - oven to table!
We're excited to reveal our new oven-to-table handle design! As you know, we're all about versatility, so this pan will be equally at home on your stovetop, in your oven, and on your family table. Simplified, compact and functional. Think baking pan, pie dish (savoury or sweet), cake pan, sides etc

Seasoned and ready to cook
All eight new pans are made from solid 2.5mm thick Australian iron. And thanks to our new Quenched finish, we've taken care of the seasoning so you can get cooking straight away! From 20cm-28cm, long handles and dual handles, there are pans to suit all of your cooking needs.
Can you use the Lightning pans over fire?
Absolutely! 2.5mm is a perfect thickness, suitable for all heat sources - from kitchen to campfire! From stove top (including induction) to oven, to BBQ, campfire and pizza oven.

All Solidteknics cookware is designed for use on all heat sources! (Except the microwave)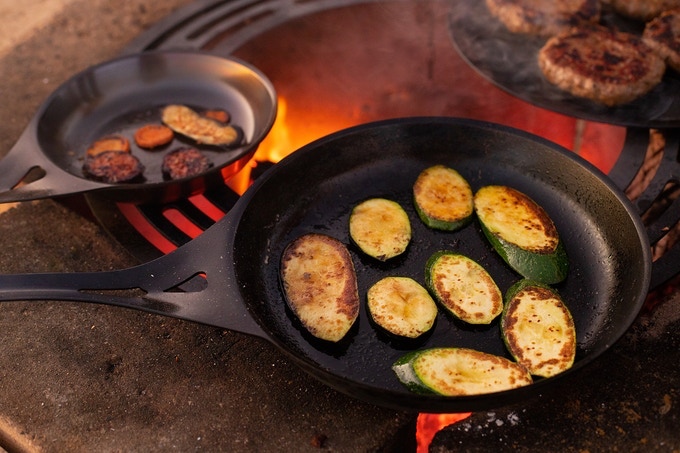 Eight new Lightning Pans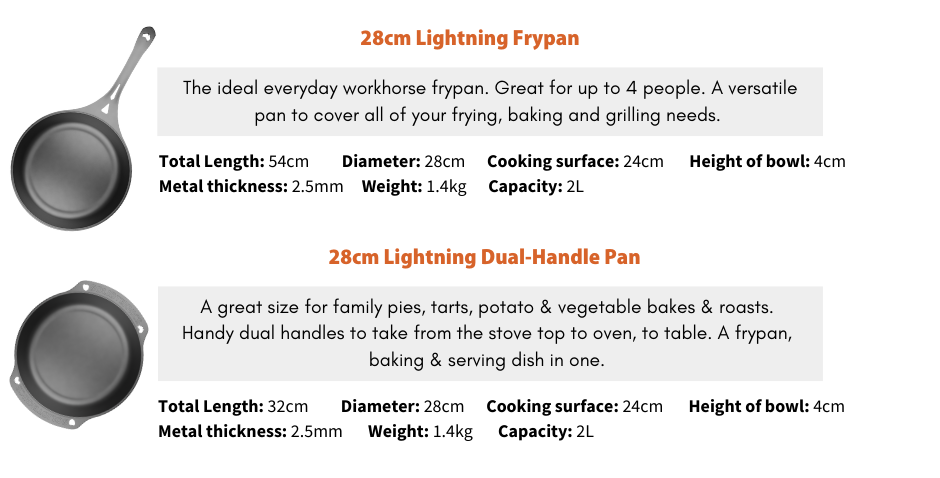 Lids
If you've been with us a while, you may already have a skillet-lid in your arsenal to fit. For example, our noni 2L and 3L skillet-lids will fit on the 24cm pans, the 2.5L Saucepan Lid will fit the 22cm, and the 4.5L Saucepan lid will work well as a lid on the 26cm. Or even better, the new dual-handle pans will work well as a lid for equivalent size skillet, or two dual-handle pans in the same size will fit nicely together!
Pricing
We've trimmed our pricing to the bone for these Lightning pieces. We will be launching on Kickstarter in early June, at a higher price. It's very unlikely these pieces will go to retail. To keep pricing as low as possible, these Lovers Edition pans won't be numbered in series like our usual Lovers' launches.

Exclusive First Lovers Edition
Each new piece will be:
Limited stamped '1st Lovers Edition'
Dated with month/year of manufacture
Much lower than retail pricing
100% made in Australia!
Pre-order method and production timeline
This Lovers launch will come and go with lightning speed. Here for a good time, not a long time! Preorders available until midnight 6 June (AEST), with estimated shipping August 2022. We will then be launching these pans on Kickstarter, however they will be at a higher price.
All products will ship together. Please note, if one product is a little late we will wait to ship until all products are ready. If one is very late we will ship each separately (for no additional shipping charges), so you can at least get started with one new world-first innovation!
Head to our exclusive Solid Lovers Store to view the listings. If you don't yet have access, please FOLLOW THESE STEPS and we'll get you in there ASAP!
Your credit card will be billed at the time of order.
Please note, these images are a very close artist impression, there may be minor variations with the final product.