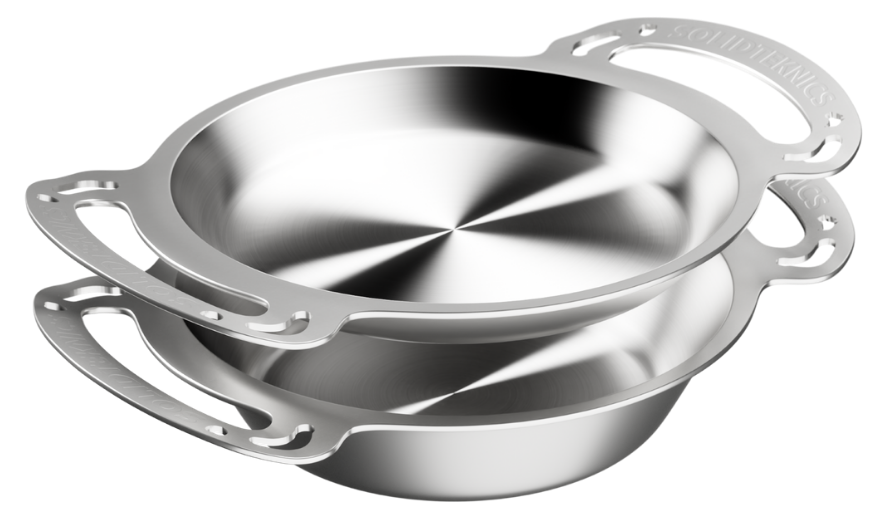 Our Lovers group exclusive launch. Preorder available until 20 June 2021, for estimated shipping late October 2021.
We've turned the tables and our 2L shallow nöni™ Rondeau and 24cm deep nöni™ skillet-lid is here! When the 3L is too deep, and 6L Rondeau is too, but skillets aren't quite right, this is perfectly in between! With a matching 24cm skillet-lid, this is the perfect size for one-pan meals, small roasts, baking cakes and breads, and sauces or heating up leftovers! A great size for the caravan and outdoor adventures, with dual-handles make it a convenient size for smaller ovens. From stove top, to oven, to campfire!
2L nöni™ Rondeau:
With a depth of 6cm, this pan doubles as both a skillet and a pot! Perfect for frying, roasting, and baking! You can mix and match it with your 3L Rondeau base and skillet-lid AND it will work as a vessel for our nöni™ 6.5L Steamer! Plus, rumour has it there is a smaller 24cm steamer in the works, designed to work with this new Rondeau...watch this space! So many possible combinations and cooking options!

24cm nöni™ deep Skillet-Lid:
We've designed this lid a little differently to our usual flat skillet-lids. We've added extra depth for even more versatility and capacity! A great smaller roasting tray or skillet for frying, with higher sides to manage liquids.

Use many different ways, and mix and match with your 3L nöni™ Rondeau!

Suitable for all heat sources – stovetop (including induction), oven, BBQ, campfires - and it's even dishwasher safe!

Our lowest pricing, just for you.
Our Lovers' inspired launches are a way for us to show you our deep appreciation for your loyal Solid support. This is why we give you exclusive early access, at heavily discounted pricing. We're launching these exciting products first, which may then be followed by a Kickstarter launch, and eventually to retail.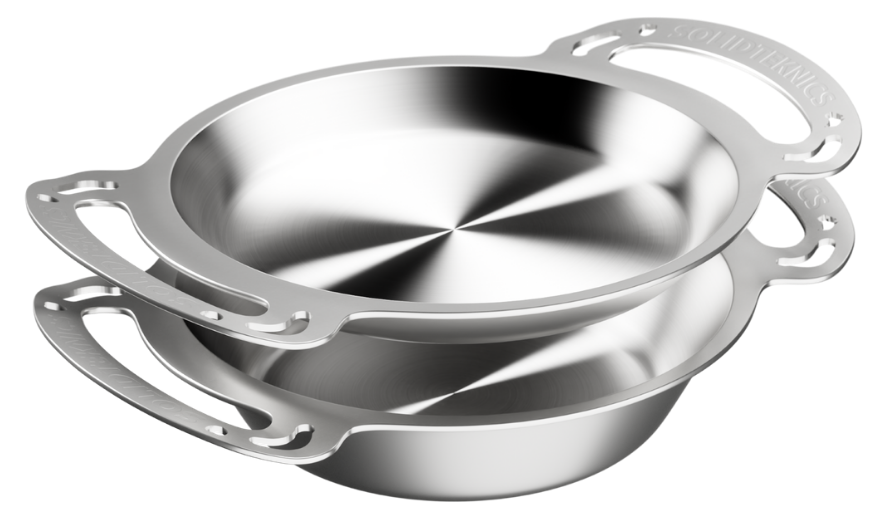 Each new piece will be:
Limited stamped '1st Lovers Edition'

Dated with month/year of manufacture

Numbered in series

Much lower pricing than Kickstarter, and much lower than retail!
Dimensions

For quick comparison vs our 3L Rondeau:

Pricing

Preorder available until midnight 20 June 2021 (AEST), for estimated shipping late October2021.
Pre-order method and production timeline
Head to our exclusive Solid Lovers Store. You will need to be logged in to see the store and the listings. If you don't yet have access to our Lovers' store, please FOLLOW THESE INSTRUCTIONS.

Our new nöni™ 2L Rondeau and skillet-lid will be available to preorder until 20 June 2021, and estimated to ship late October 2021.
Your credit card will be charged upon purchase.
The first 20 of each in the series will be held for the Solidteknics museum archive.
All products will ship together. Please note, if one product is a little late we will wait to ship until all products are ready. If one is very late we will ship each separately (for no additional shipping charges).
You have to be logged into your account to view the listings. If you do not yet have access to the Lovers' store, please follow THESE INSTRUCTIONS.

Please note, this is an artist's impression and actual sizes may differ slightly.
New to

nöni™?
nöni™ is a genuine world-first in cookware: seamless one-piece production, wrought stainless steel saucepans. Made in Australia from highly conductive ferritic non-nickel stainless steel that is specially made for us in Germany (Australia doesn't make stainless steel anymore). Our solid stainless steel range is perfect for all liquid boiling, slow cooking, acidic sauces, and is very low maintenance.
All Solidteknics' cookware can be used for both professional and home kitchens, camping, and cooking outdoors. Our lids are unique - each skillet-lid is a high-performance shallow skillet, crepe pan, baking tray, or griddle for all kinds of frying and grilling.
Unsurpassed nöni™ performance:
Solid 3mm thick

Non-nickel ferritic (highly conductive) stainless steel

specially made for us in Germany (no stainless steel is made in Australia).
Wrought from

one solid piece

with our patented world-first method
No rivets, joins or screws for world-leading durability and easy cleaning.

Indestructible.

Ferritic stainless is a far superior conductor of heat

than the regular austenitic stainless, aluminum-clad, materials used in most cookware, for fast, even cooking without hot spots
Will not react with food -

non-nickel/toxin-free

Bakes/Cooks evenly

and less likely to burn
Easy release of foods -

natural non-stick

Easy to clean

, and dishwasher safe

No coating to scratch or wear off

Attractive and durable brushed interior

Suitable for any heat source

Won't rust

/

Low maintenance

Multi-Lifetime Warranty