Our Lovers group exclusive launch. Preorder available until 30 June 2022, for estimated shipping late September 2022.

Our latest exclusive Lovers Launch is here: a new 4.5L is joining our nöni Rondeau family! This is a great family sized set. Soups, stews, slow cooked meats, pasta, big batches of rice... there's enough capacity to feed the family, and then a few stragglers! The same depth and diameter as our much-loved big 4.5L Saucepan, but with dual Rondeau handles for easier manouvering from stovetop to oven, and more compact storage! Deeper and taller than our 6L Rondeau, taking up less room on the stove top and great for smaller ovens.
Available to pre-order as a set or individual pieces, our 4.5L Deep Rondeau and matching 27cm Skillet-Lid offer so much cooking versatility.


High performance skillet-lid
Our skillet-lids are high-performance pans in their own right. This 27cm Skillet-Lid is an excellent size for pizza bases, roasting veges, and all sorts of everyday frying, baking and grilling. This lid will also fit on our 4.5L Saucepan and 26cm Frypans. And if you already own our 27cm Skillet-Lid (the matching lid to our 4.5L Saucepan), then this lid will fit our new Rondeau (but does of course, have a much longer handle).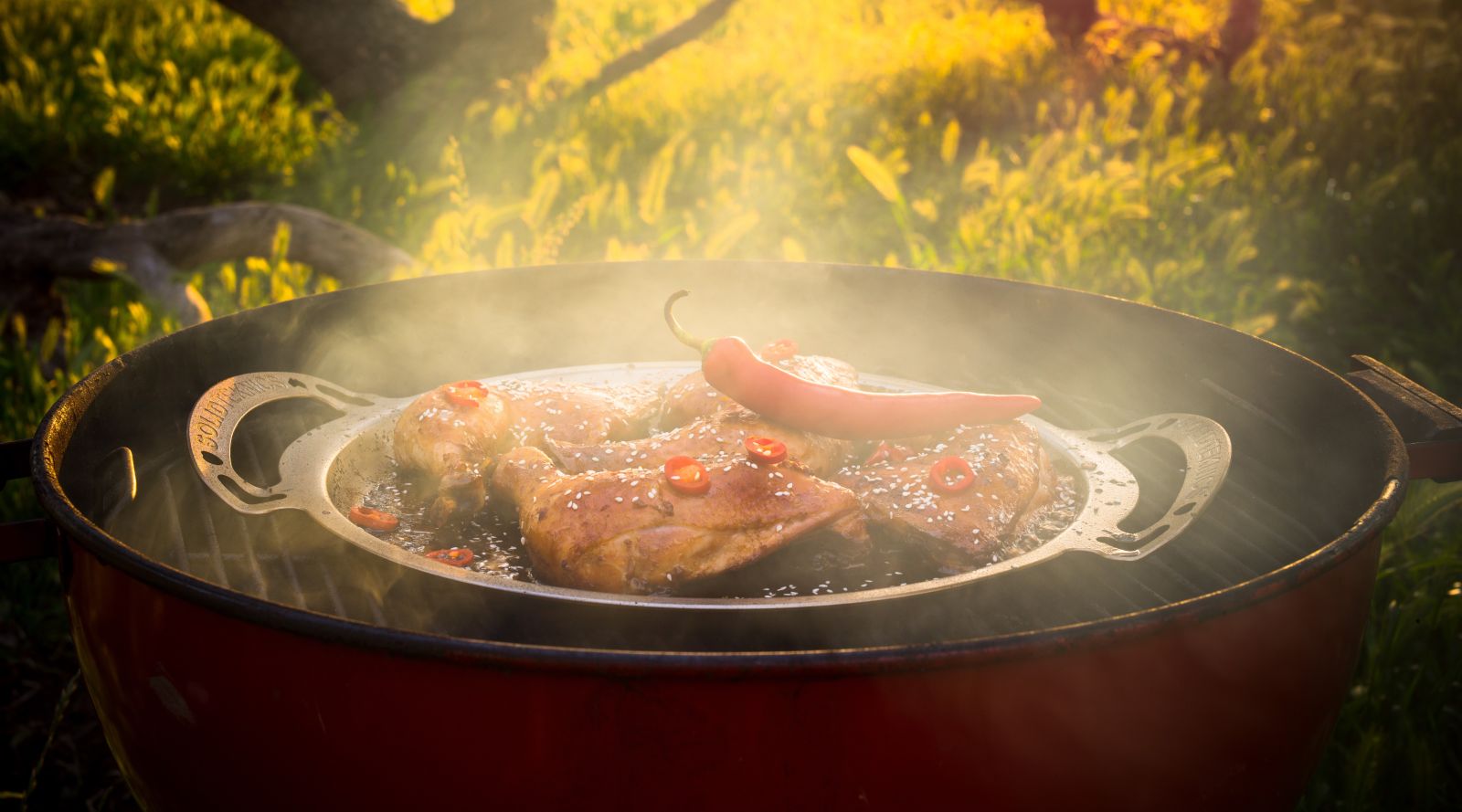 Suitable for all heat sources
From stovetop (including induction), oven, BBQ, campfires - and it's even dishwasher safe!


Dimensions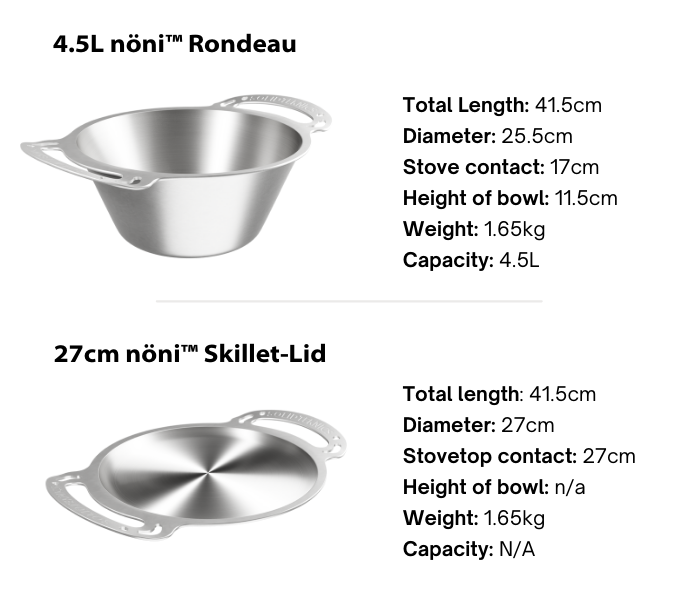 The Rondeau Family


Our lowest pricing, just for you.
Our Lovers' inspired launches are a way for us to show you our deep appreciation for your loyal Solid support. This is why we give you exclusive early access, at heavily discounted pricing. We're launching these exciting products first, which may then be followed by a Kickstarter launch, and eventually to retail.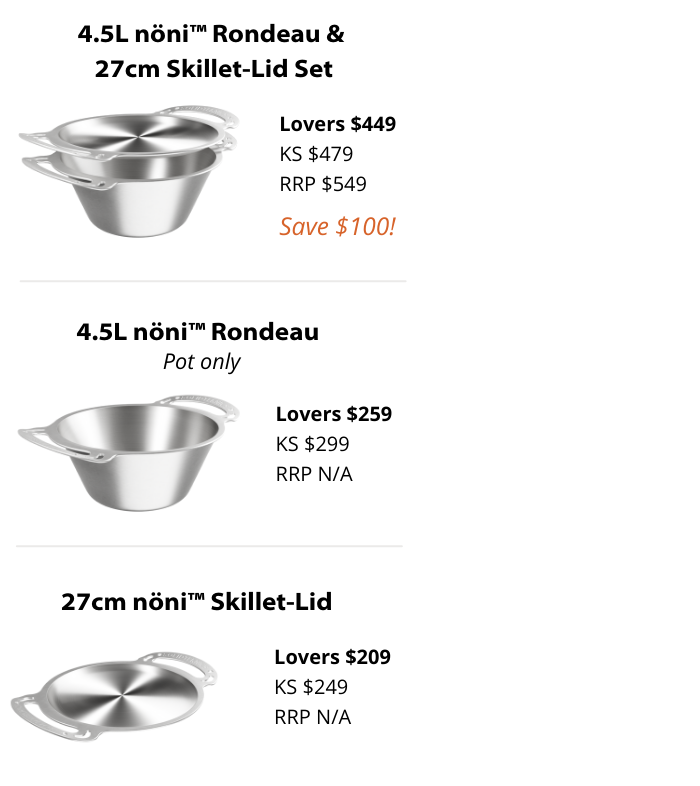 Each new piece will be:
Limited stamped '1st Lovers Edition'
Dated with month/year of manufacture
Numbered in series
Much lower pricing than Kickstarter, and much lower than retail!
Pre-order method and production timeline
Head to our exclusive Solid Lovers Store. You will need to be logged in to see the store and the listings. If you don't yet have access to our Lovers' store, please FOLLOW THESE INSTRUCTIONS.

Our new nöni™4.5L Deep Rondeau and skillet-lid will be available to preorder until 30 June 2022, and estimated to ship late September 2022.
Your credit card will be charged upon purchase.
The first 20 of each in the series will be held for the Solidteknics museum archive.
You have to be logged into your account to view the listings. If you do not yet have access to the Lovers' store, please follow THESE INSTRUCTIONS.

New to nöni™?
nöni™ is a genuine world-first in cookware: seamless one-piece production, wrought stainless steel saucepans. Made in Australia from highly conductive ferritic non-nickel stainless steel that is specially made for us in Germany (Australia doesn't make stainless steel anymore). Our solid stainless steel range is perfect for all liquid boiling, slow cooking, acidic sauces, and is very low maintenance. Suitable for all heat sources from stovetop (including induction), to oven, to BBQ and campfire.
Unsurpassed nöni™ performance:
Solid 3mm thick
Non-nickel ferritic (highly conductive) stainless steel specially made for us in Germany (no stainless steel is made in Australia).
One piece construction -no rivets, joins or screws
Ferritic stainless is a far superior conductor of heat than the regular austenitic stainless, aluminum-clad, materials used in most cookware, for fast, even cooking without hot spots
Will not react with food - non-nickel/toxin-free
Easy to clean and dishwasher safe
No coating to scratch or wear off
Suitable for any heat source
Multi-century Warranty