The launch you've all been waiting for... the ultimate three-pan nöni™ dutch oven trio!
10L/Qt nöni™ Deepa Pot
35cm nöni™ BIGGA Skillet
35cm nöni™ Flaming Skillet
To show our deep appreciation to you, our loyal Solid Lovers group members, we are giving you exclusive early access.
Each new piece will be:
Limited stamped '1st Lovers Edition'

Dated with month/year of manufacture

Numbered in series

Much lower pricing than Kickstarter, and much lower than retail!
No matter the menu, this trio has you covered: whole fish, lasagna, braised short ribs, perhaps chilli or soup with a side of home-baked bread. Pork roast, vegetables with homemade applesauce, topped off with an upside-down peach cake or brownie for dessert - this trio will make easy work of meal time! Suitable for all heat sources – stovetop (including induction), oven, BBQ, campfires - and it's even dishwasher safe!
Preorder available until 22/11/2020, for estimated shipping April 2021.
Shop the range HERE.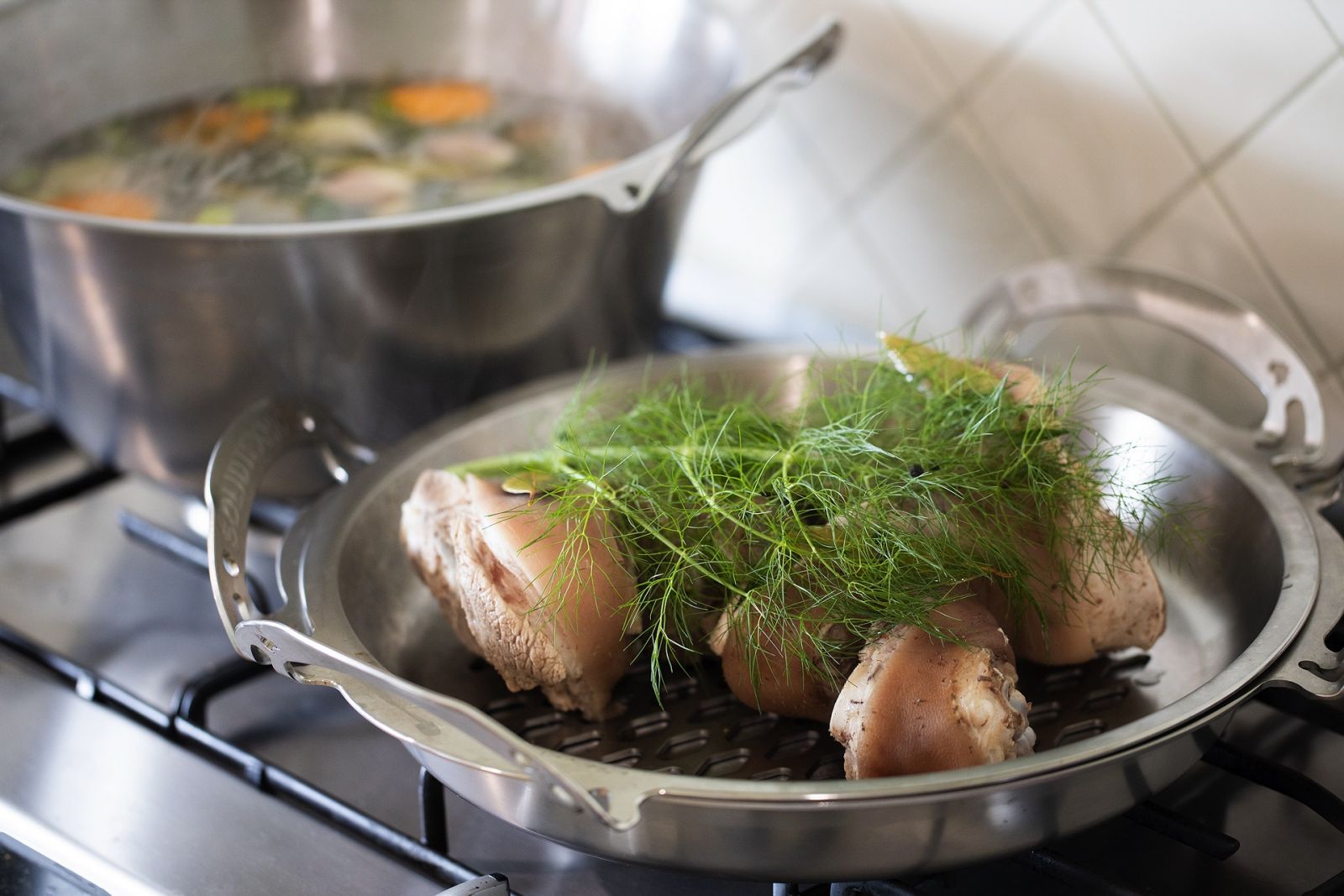 Our lowest pricing, just for you.
We're launching these exciting products first, and exclusively to you, our Lovers. This will then be followed by a Kickstarter launch, and then eventually to retail. We know this has been a tough year, so we've cut our costs heavily for this pre-launch. With your solid support of our Lovers' exclusive launches, we're confident we'll come out stronger than ever in our commitment to our Solid vision.
10L Dual Handle nöni™ Deepa/Stock Pot
This beautiful and versatile 10L Dual Handle nöni™ Deepa Pot is our largest nöni™ pot to date. Ideal for all of your braising needs, bolognaise, casseroles, slow cooks, soups & stocks, pasta, stews, jams & chutneys. Add the 35cm flaming skillet to separate your foods for steaming or elevation for flavouring. This 10L beauty will become your kitchen workhorse for all your feasts and batch cooking.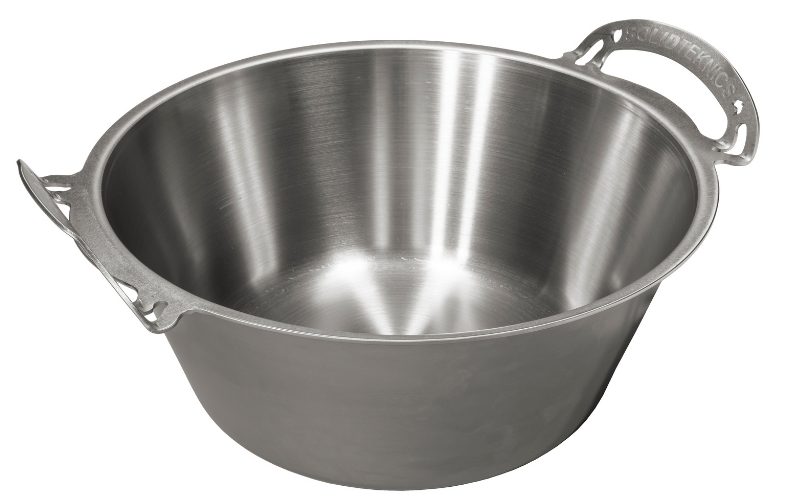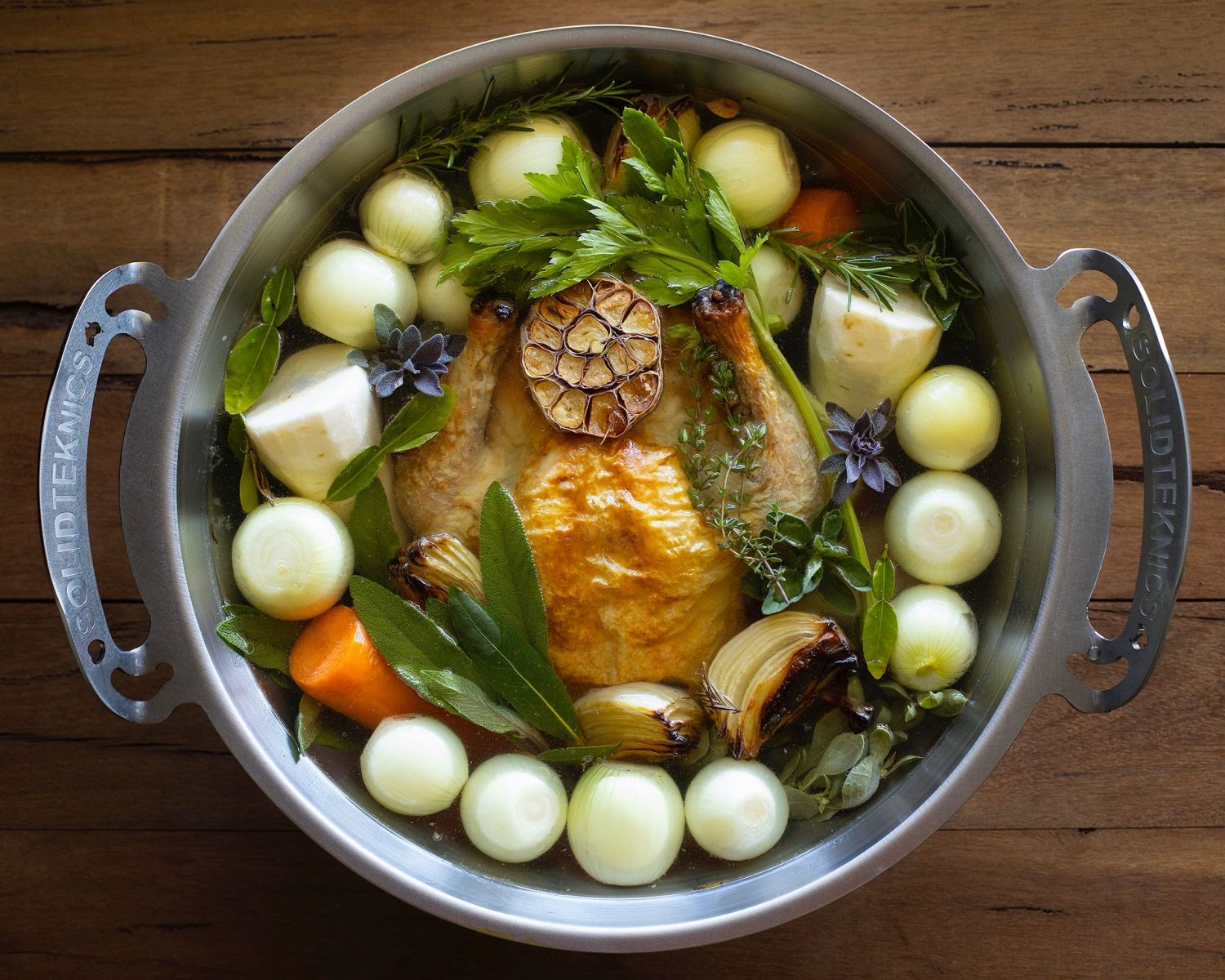 35cm nöni™ BIGGA Skillet
The BIGGA Skillet is our BIGGEST skillet! 3mm thick for very even heating. Like our 10L Deepa Pot, our skillet has been engineered with dual handles to handle heavy loads. Perfect for BBQs, baking, pizza ovens, the open fire, and everyday meals, when there are many mouths to feed or big steaks to cook! This versatile pan which also doubles as a lid to the 10L Deepa Pot is equally at home on your stovetop or oven. This will be your go-to for all manner cooking, from breakfast to dinner!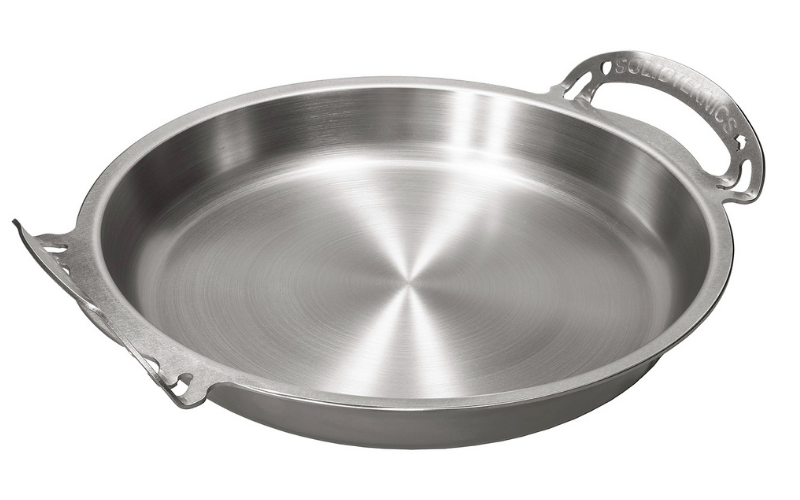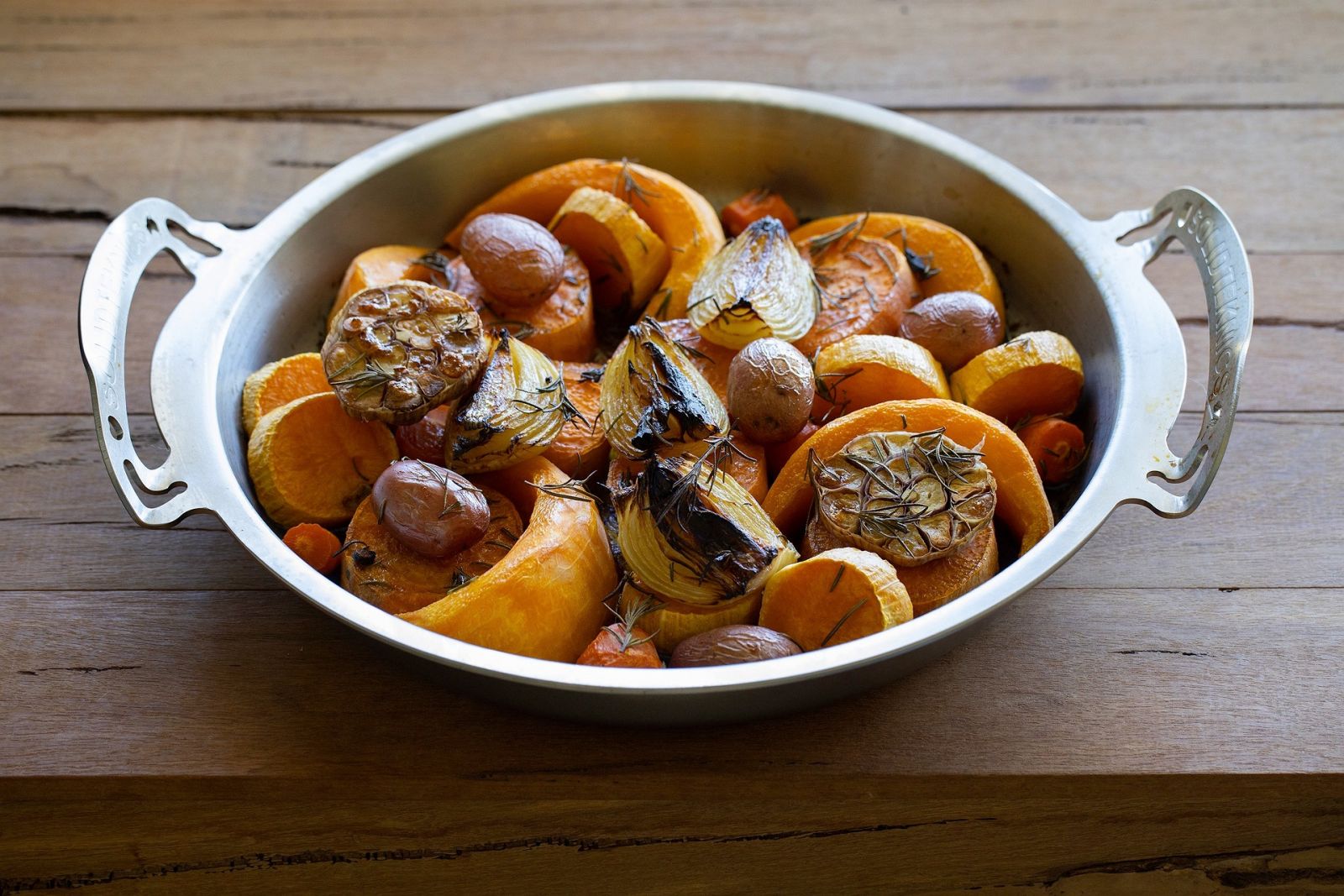 35cm nöni™ Flaming Skillet
The original 26cm flaming skillet was developed with Neil Perry and his chefs at Rockpool, for the ultimate durable mesh pan, for that prized flame-grilled taste in meats and vegetables. Perforations in the 'Flaming' skillet base allow smoke and fire to penetrate. It also nests perfectly with our new 35cm nöni™ BIGGA Skillet to catch any drips, for easy transfer of roasts and thick steaks from flame sear and seal, to the oven. Long diamond holes = more flame and steam power.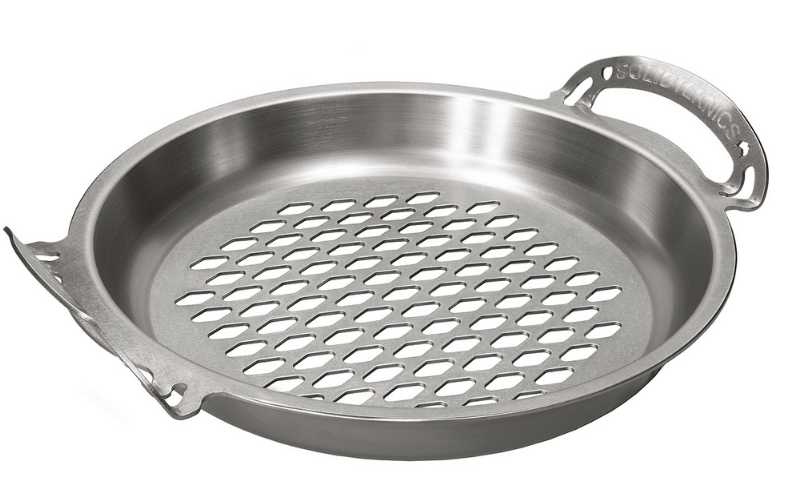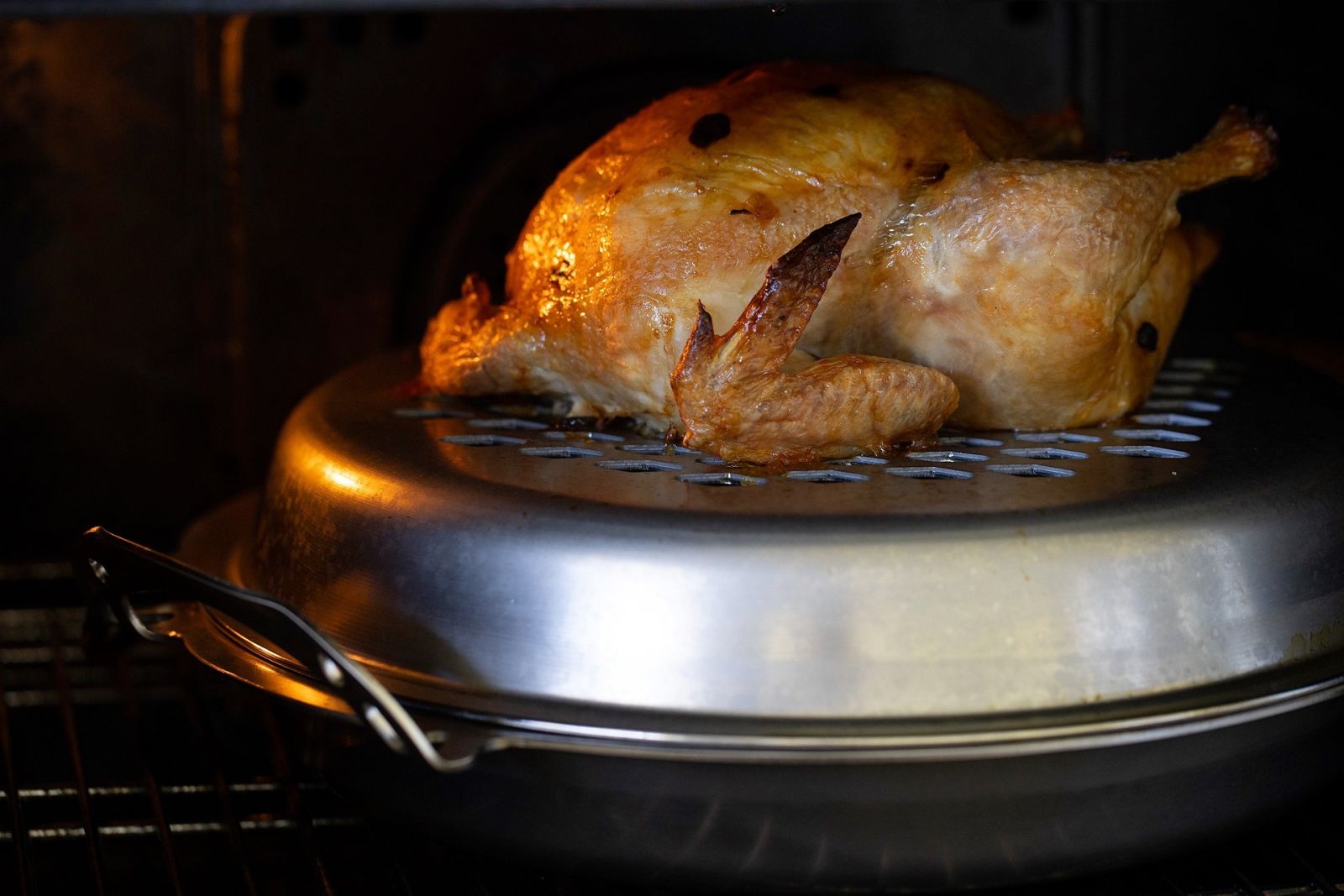 The nöni™ Trio!
All three pieces fit together to form a complete dutch oven set!

So many combinations...

The 6L nöni™ Rondeau can sit on the 10L nöni™ DEEPA Pot - teamed with the flaming skillet, for the ultimate large steamer - that's a lot of dumplings!).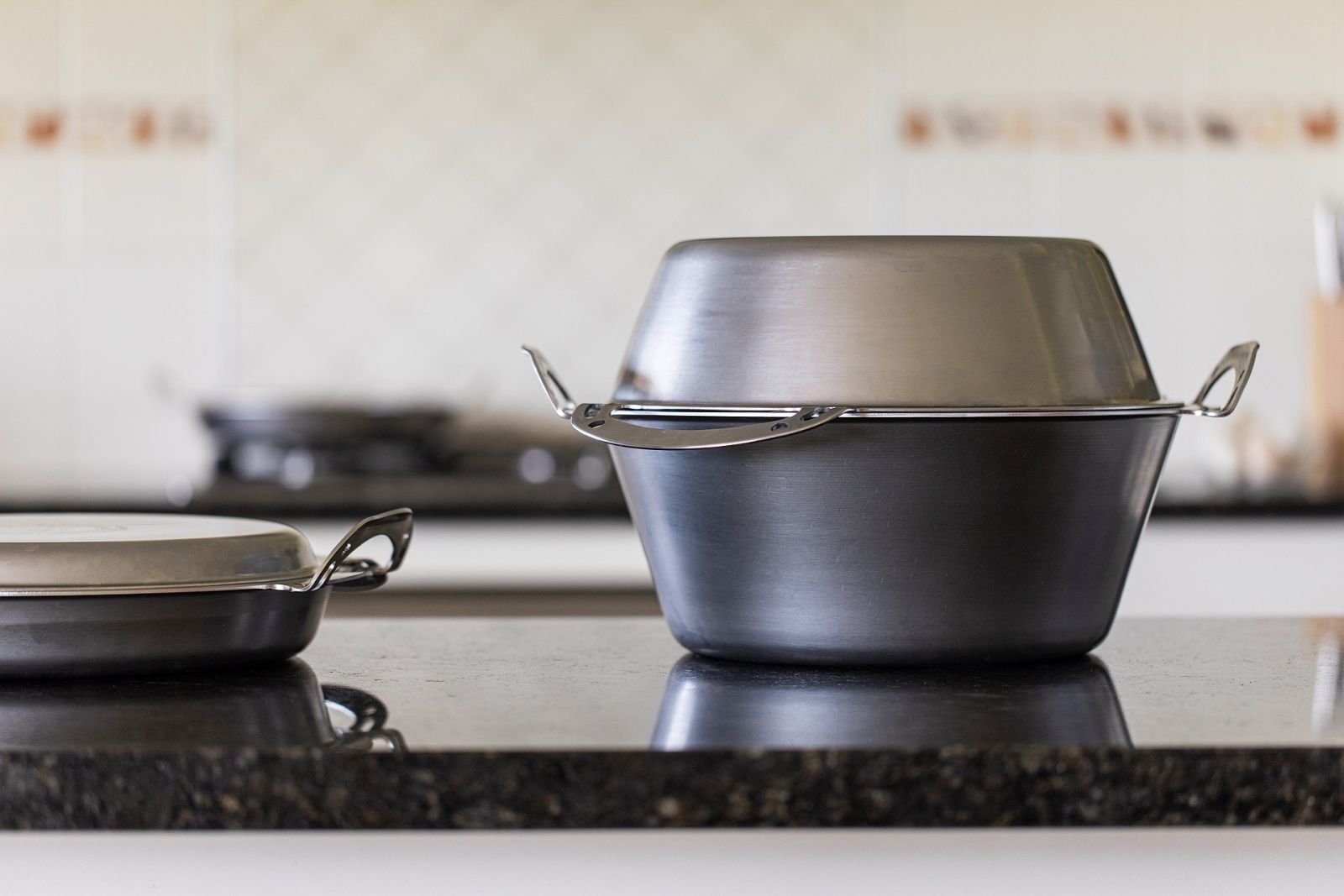 The photo on the left shows the 33cm 6L Rondeau skillet-lid on top of the new noni 35cm BIGGA Skillet. The photo on the right shows the 6L Rondeau on top of the new noni 10L DEEPA Pan.
PRICING
10L DEEPA Pot
$349 Lovers 1st Ed. launch
$379 Kickstarter launch
$399 Eventual retail price
35cm BIGGA Skillet
$299 Lovers 1st Ed. launch
$349 Kickstarter launch
$379 Eventual retail price
35cm Flaming Skillet
$349 Lovers 1st Ed. launch
$379 Kickstarter launch
$399 Eventual retail price
SETS are ALWAYS better value!
10L DEEPA + 35cm BIGGA
$629 Lovers 1st Ed. launch.
$669 Kickstarter launch.
$699 Eventual retail price
35cm Flaming & BIGGA
$629 Lovers 1st Ed. launch.
$669 Kickstarter launch.
$699 Eventual retail price
Set of three!
$939 Lovers 1st Ed. launch.
$969 Kickstarter launch.
$999 Eventual retail price
SHOP THE RANGE HERE!
Pre-order method and production timeline
Head to our exclusive Solid Lovers Store (if you haven't already, you will need to register and email us for store access). Our limited edition products are available until 22/11/2020, and estimated shipping starting April 2021.
Your credit card will be billed to secure your reserved, series numbered, dated, and signed First Lovers Edition10L nöni Deepa/Stock Pot + 35cm nöni™ BIGGA and nöni™ Flaming Skillet. The first 20 of each in the series will be held for the Solidteknics museum archive.
All products will ship together. Please note, if one product is a little late we will wait to ship until all products are ready. If one is very late we will ship each separately (for no additional shipping charges), so you can at least get started with one new world-first innovation!

New to nöni™?
nöni™ is a genuine world-first in cookware: seamless one-piece production, wrought stainless steel saucepans. Made in Australia from highly conductive ferritic non-nickel stainless steel that is specially made for us in Germany (Australia doesn't make stainless steel anymore). Our solid stainless steel range is perfect for all liquid boiling, slow cooking, acidic sauces, and is very low maintenance.
All Solidteknics' cookware can be used for both professional and home kitchens, camping, and cooking outdoors. Our lids are unique - each skillet-lid is a high-performance shallow skillet, crepe pan, baking tray, or griddle for all kinds of frying and grilling.
PROUDLY MADE IN AUSTRALIA, WITH LOVE!

MULTI-CENTURY WARRANTY
Unsurpassed nöni™ performance:
Solid 3mm thick
Non-nickel stainless steel specially made for us in Germany (no stainless steel is made in Australia).
Wrought from one solid piece with our patented world-first method
No rivets, joins or screws for world-leading durability and easy cleaning. Indestructible.
Ferritic stainless is a far superior conductor of heat than the regular austenitic stainless, aluminum-clad, materials used in most cookware, for fast, even cooking without hot spot
Stamped First Lovers' Edition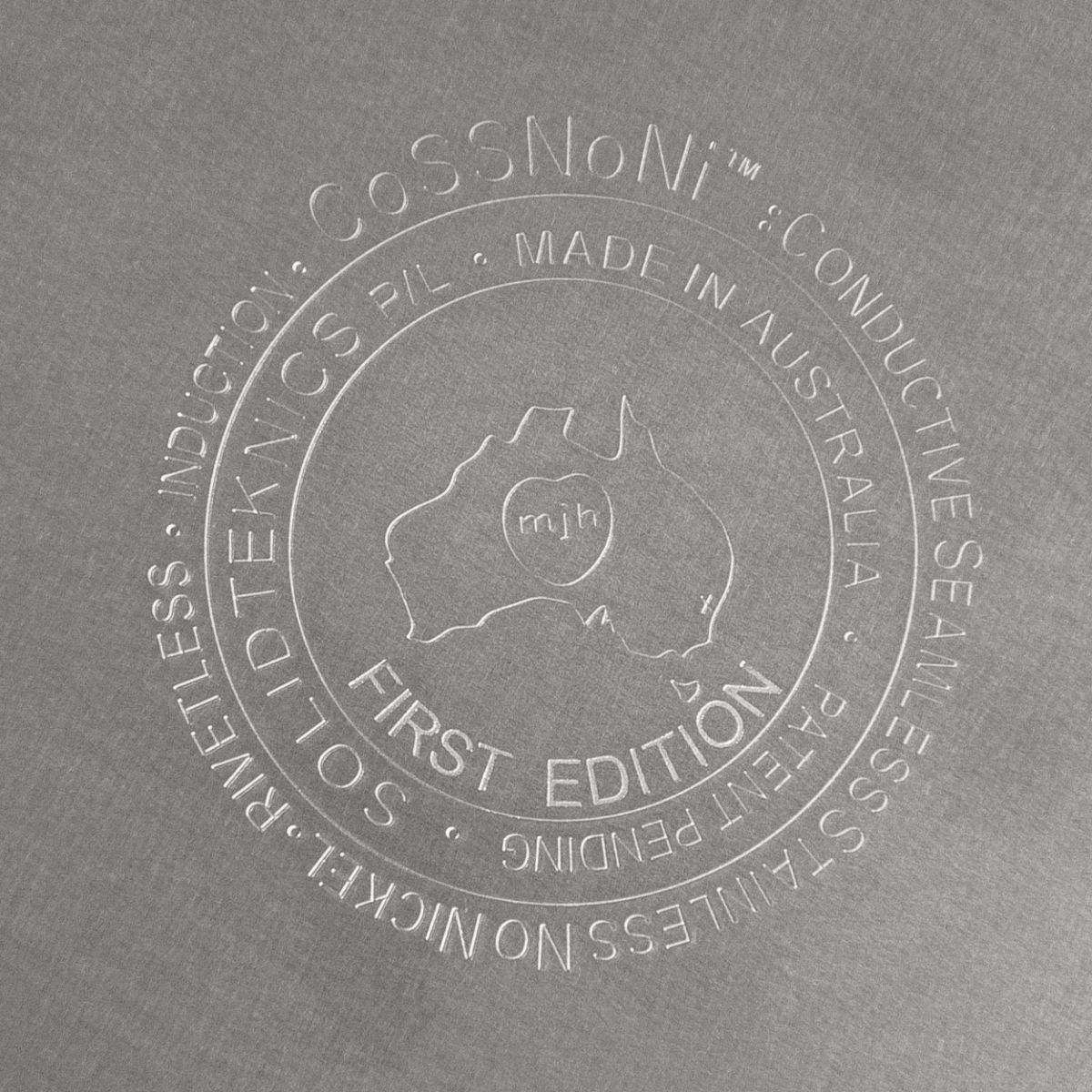 We invested heavily in this early development, so most tooling is ready, and we don't expect any delays. However, given the current COVID-19 pandemic we can't be 100% certain there will be no delays. We hope you will be patient with us in the event that there are any small delays outside of our control, in the name of making long-run history together.
Like all our Solidteknics products, our goals are the ultimate in performance, health, and sustainability through durability and locally-made. As we always say, 'together we're making history, not just the finest cookware'. There couldn't be a better embodiment of that statement than this new nöni™ trio!
Thank you in advance for your support!
The Solidteknics team