A game-changer in iron cookware!
We're so excited to finally launch Quenched™ in Australia!
Until now, our AUS-ION™ pans were sold Raw or with a Satin finish (lightly pre-seasoned), ready for your at-home seasoning. With Quenched™, we've done the oven seasoning for you. Your Quenched™ pans will come sandblasted with a strong seasoned foundation, so you can get cooking straight away. It's never been easier to make the switch to healthy, sustainable iron cookware!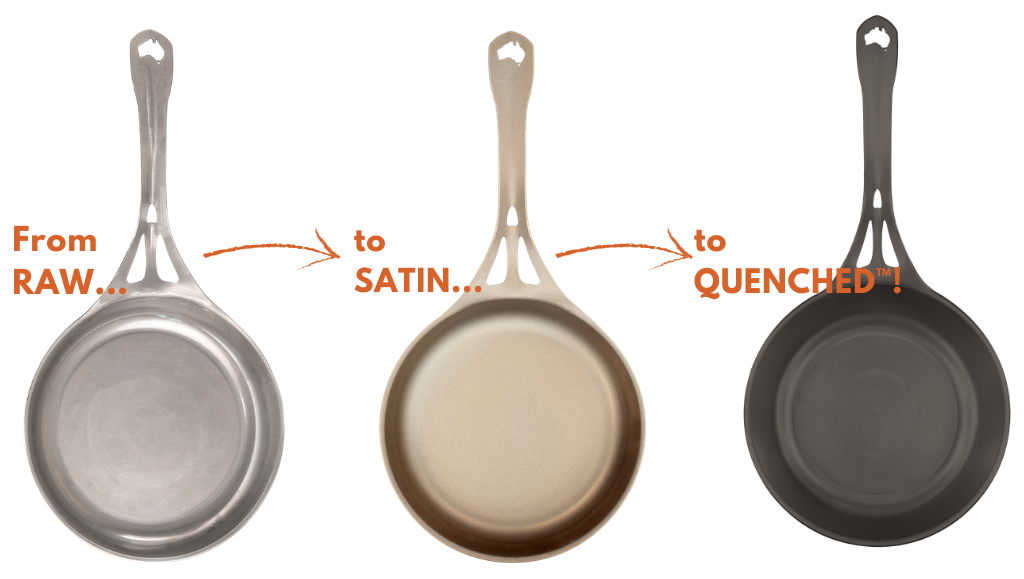 The process
Quenched™ seasoning involves sandblasting each skillet, then heating to a precise temperature, before quickly dunking it in a chilled tank of rice bran oil (one of the best oils for seasoning). The oil is instantly transformed, into a strong inert, non-toxic, natural cooking surface. Start cooking straight away, or do a little extra stovetop seasoning to achieve a non-stick surface, FAST!
Dunking a hot pan into cold oil creates turbulence, which can result in some colour variations on the pan. Remember, this is real, natural seasoning, not a synthetic coating!
N

o oven seasoning required
Our new

AUS-ION™ Quenched™

takes away the need for at-home oven seasoning, as we've done the work for you.
Y
our seasoning and non stick surface will continue to build and get better the more you cook!
Real, natural seasoning
Quenched™ is not a synthetic coating, it is still natural, real seasoning - we've just done all the oven seasoning for you to form a strong foundation, so you can get cooking straight away! You may choose to do a little stovetop seasoning for a superior non-stick surface, or let it build naturally through cooking.
As this is still real seasoning on iron pans, acidic foods and detergents can still erode the seasoning. But no big deal, it's always fixable with a little touch up to the seasoning, or just keep cooking. Our pans are made to be workhorses, not beauty queens.
Quenched™ vs Satin
If you're familiar with our AUS-ION™ range, you'll know our Satin pans come lightly pre-seasoned. However, they still require seasoning at home - a time-consuming and daunting prospect for some. Quenched™ is a game changer!
It's never been easier to make the switch to healthy, sustainable, locally-made cookware. We've done the seasoning for you, so you can enjoy world-class iron cookware performance, straight out of the box!
Spread the word to help your friends and family make the switch with our great Kickstarter pricing!
Synthetic-coated non stick pans have been wreaking havoc on our health and our environment for far too long. Let's make them a thing of the past.