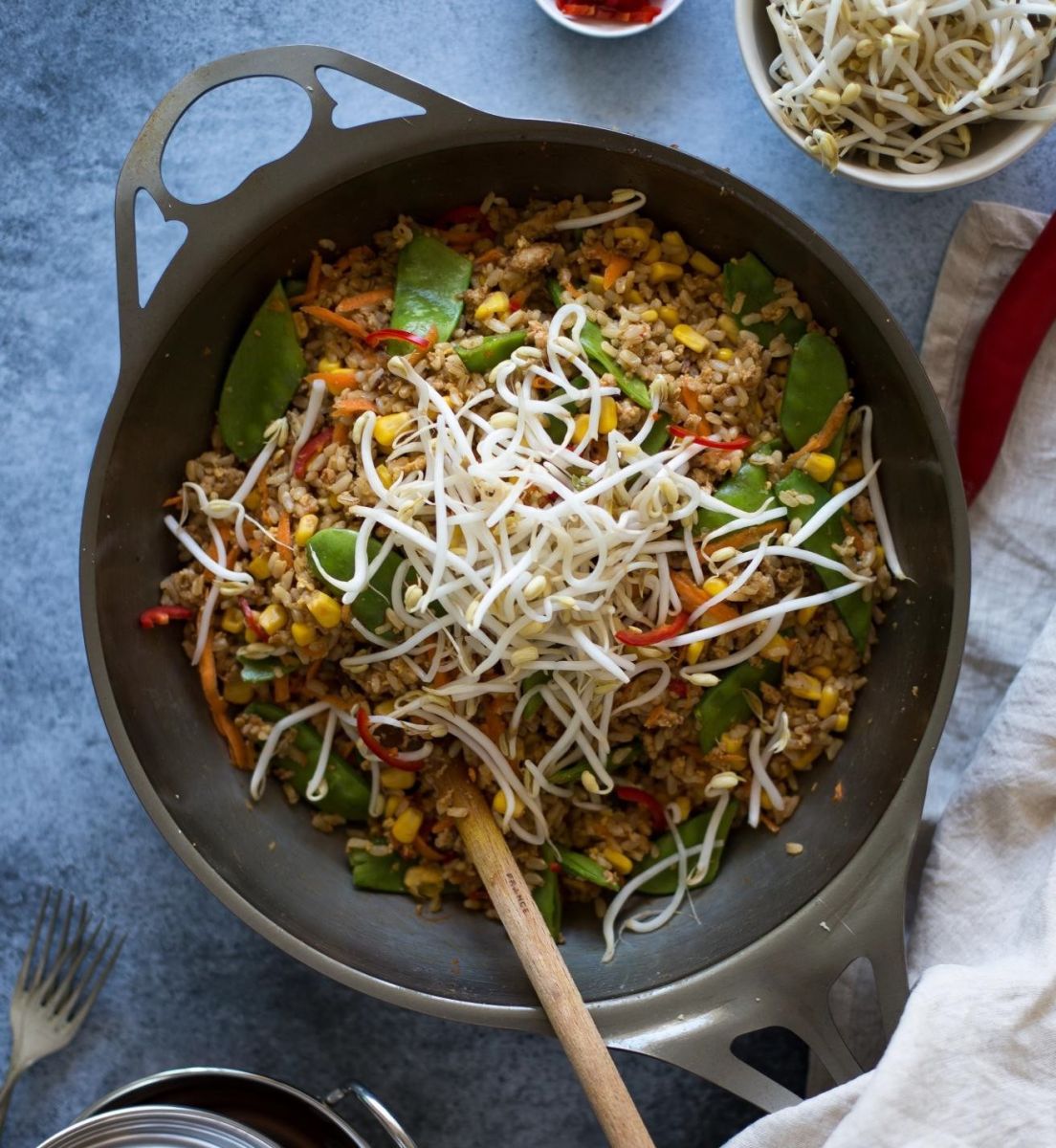 Ingredients:
3 tbs coconut or light olive oil,
divided 300-400g minced chicken
1 tbs fresh ginger, grated 2 cloves garlic, mined
2 red chillies, finely chopped
2 eggs, beaten 3-4 cups cooked and cold rice 3-4 tbs light soy sauce
2 tbs oyster sauce
3 tbsp sweet chilli sauce
2 tsp sriracha hot sauce
1 large carrot, grated
200g frozen peas or trimmed fresh
snow peas
200-300g canned sweetcorn,
drained bean sprouts to serve
Directions:
1. Place an AUS-ION™ wok on high heat. Add 2 tbsp of the oil and swirl to coat the pan. Once hot, add the chicken and cook, breaking it up with the spoon and stirring frequently until the chicken is cooked through and starting to turn a golden brown, about 6-10 minutes. Add the ginger, garlic, and chillies and stir for just 30 seconds till fragrant.
2. Push the chicken to one side of the pan. Add the remaining 1 tbs of oil to the cleared space in the pand, then pour in the beaten eggs. Stir the eggs quickly till they are cooked and starting to scramble. When they are just beginning to dry up mix them back into the chicken.
3. Add the cold rice and the sauces, mix everything together and stir for 2 minutes, till the rice is starting to warm through. Add the carrots and peas, and stir for a further 3-4 minutes until the peas are warmed through and bright green.
4. Add the corn, stir for just 30 seconds to warm through.
5. Remove from heat and serve immediately, topped with plenty of bean sprouts.