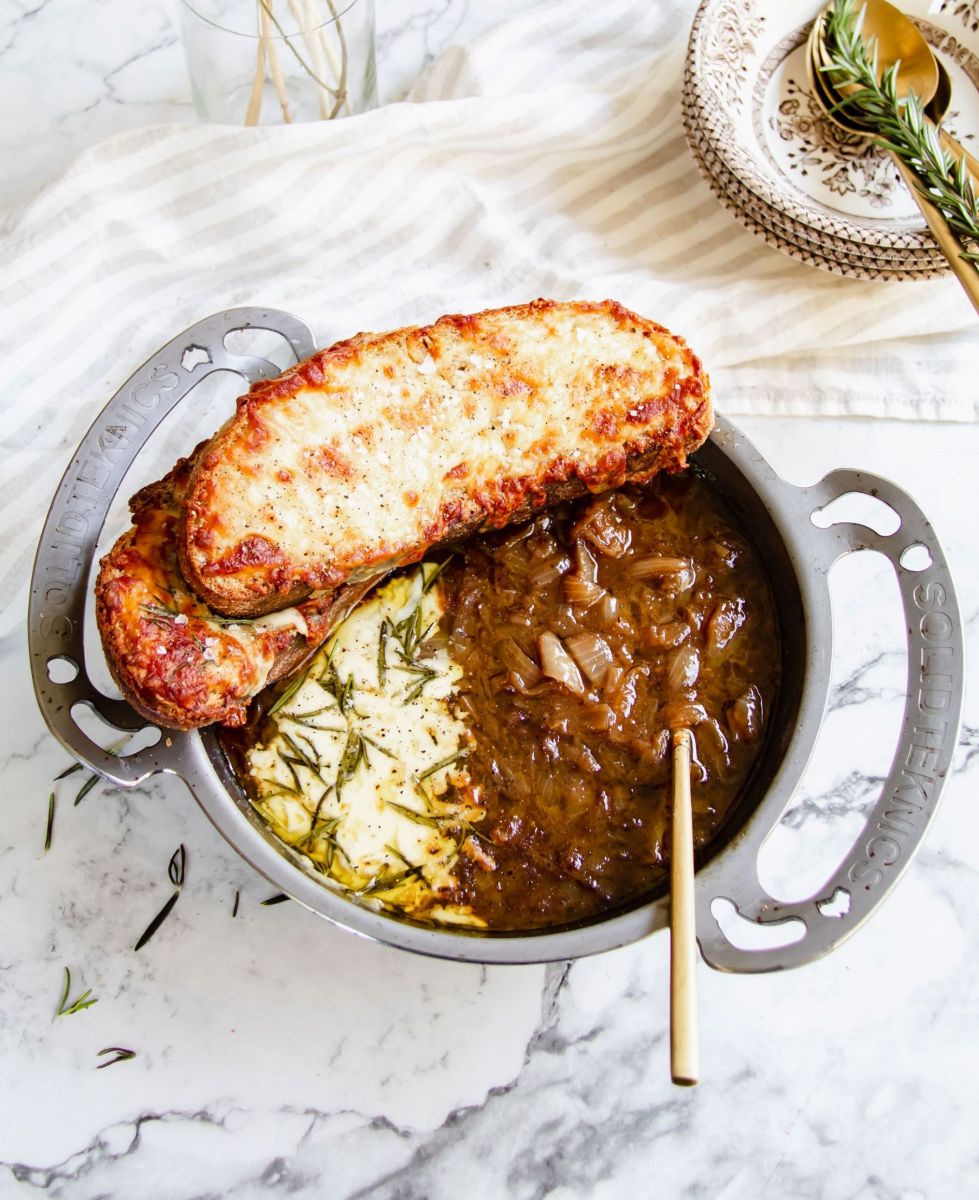 This delicious recipe and stunning imagery is brought to you by our talented friends over at Smor Kitchen!
This sweet caramelised Rustic French Onion Soup with toasty sourdough bread and melty cheese on top is both cosy and delicious. The perfect recipe to warm you up in during the cooler months. Made with simple ingredients, it's deliciously rich, comforting and satisfying. Made here in our 21cm Deep Pot, though any of our nöni™ Saucepans and Rondeaus would be idea!
Ingredients
14 brown onions, peeled and sliced finely

Large knob of salted butter

2 tsp flaky sea salt and 1 tsp cracked pepper

1 1/2 cup white wine

5 cups of water

1 slice of sourdough bread, per person

Gruyere or mozzarella cheese, grated

Fresh sprig of rosemary
Directions
In a large pot on medium heat, butter and onions. Brown the onions until they are reduced by half, dark brown in colour and caramelised. Delicious umami tasting caramelised onion paste will stick to the sides of the pot as the onions reduce, so scrape down the sides occasionally and mix back into the onion mixture for maximum flavour. Cook the onions down for 1 hour. You may need to add a splash of water towards the end once or twice. Season with salt and pepper.

When the onions are dark brown and caramelised (go on, have a taste - they will be DELICIOUS), deglaze the pot with white wine. Stir, add water and bring the heat up to high. Stir again and bring to boil.

When the soup is boiling, turn the heat down to medium and let it simmer and bubble away uncovered for at least 20 minutes.

It's time to get your cheesy toast ready. Turn the grill of your oven on and line a baking tray with aluminium foil. Sprinkle a generous mount of cheese all over one side of the bread and grill until the cheese is bubbling away and golden in colour on top. Take the cheese toast out of the oven. Sprinke with fresh rosemary sprigs. And serve.

Alternative: Pour your French onion soup into an oven proof dish. Place your slices of cheese toast on top and sprinkle extra cheese in one corner on top of the French Onion Soup. Grill until the cheese in the soup has melted. Sprinkle with fresh rosemary sprigs. And serve.