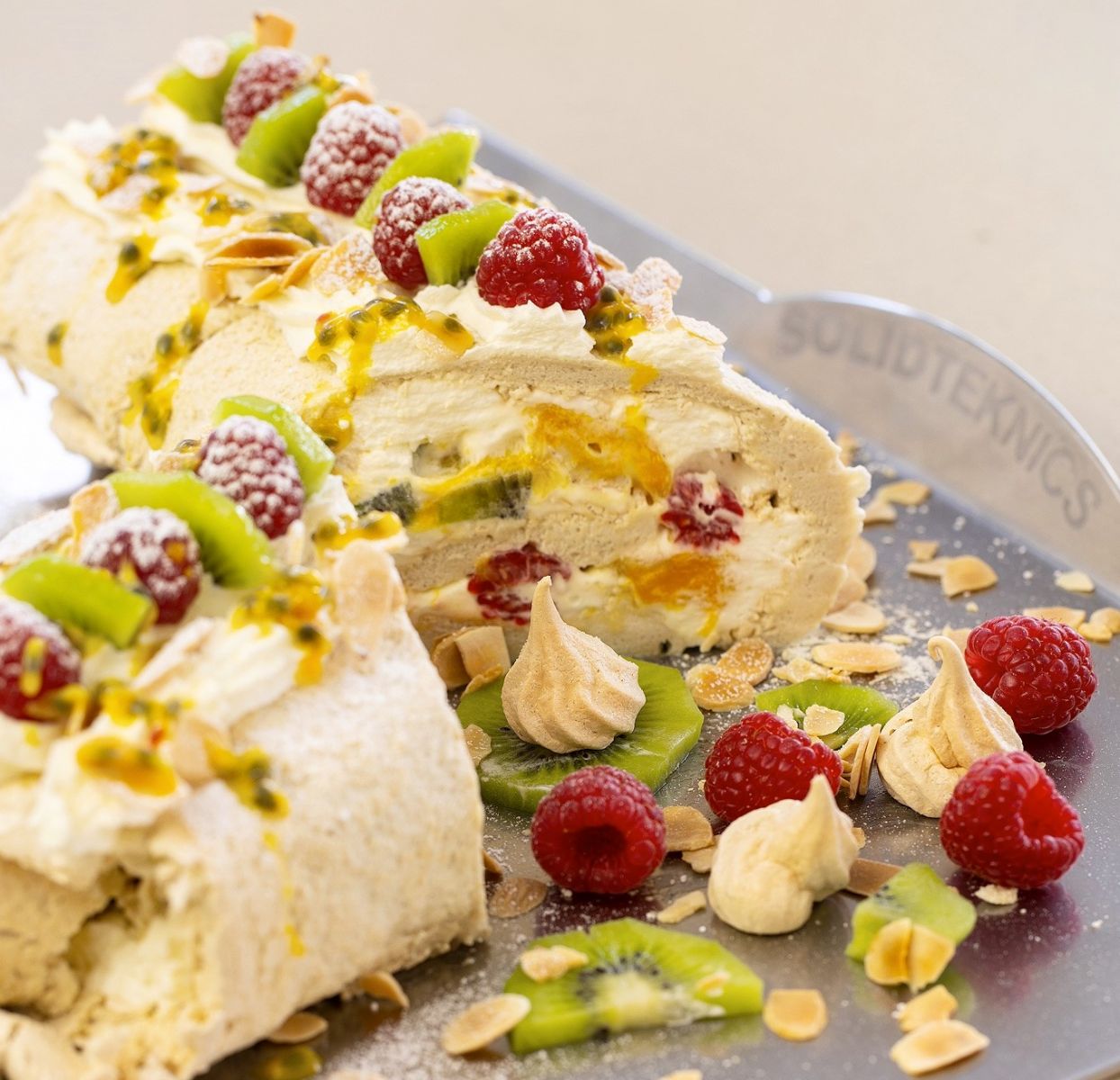 This delicious and light dessert will be sure to impress!
Ingredients:
4 egg whites
220g castor sugar
1 tsp cornflour
1 tsp vanilla extract
15g flaked almonds
125g fresh raspberries
1 kiwifruit, peeled and sliced
Pulp of 1 passionfruit
300ml whipping cream
Icing sugar, for dusting
Method
1. Preheat oven to 180˚C and line your nöni™ baking tray with baking paper. Scatter flaked almonds of the tray and bake in the oven until gold in colour. Set toasted almonds aside and allow the tray to cool. Turn the oven down to 140˚C.
2. Add the egg white to a bowl of a stand mixer and whisk on medium speed until soft peaks form.
3. Add castor sugar 1/4C at a time, mixing well between each addition. Mix until it is very thick and glossy, and holds its shape when sooped up onto a spoon.
4. Add cornflour and vanilla and mix until just combined.
5. Using a spatula, spread the meringue mixture onto the baking paper-lined oven tray, to an even depth of 1.5cm thick, leaving a gap of 1cm from the edge. Smooth the top.
6. Bake in the oven until a crust forms and the meringue is cooked through - about 30 minutes. Remove from oven and slide the baking paper with the meringue base off the tray, and allow to cool completely on a bench top.
7. Whilst the base is cooking, whip the cream until thick.
8. When meringue is completely cold, return (with baking paper) to the cold tray and spread an even 1cm thick layer of cream over the meringue, leaving a 1cm gap from edge of meringue. Scatter 3/4 of fruit over the cream layer.
9. Starting from one of the short sides, roll up the meringue slowly and as tightly as possible, peeling the baking paper away to prevent it being rolled inside. Complete the roll with the seam side down on the tray, and place in the fridge to chill for 30 minutes.
10. Just before serving, top with piped cream, more fruit pieces and the flaked almonds. Drizzle fresh passionfruit over the top and dust with icing sugar.