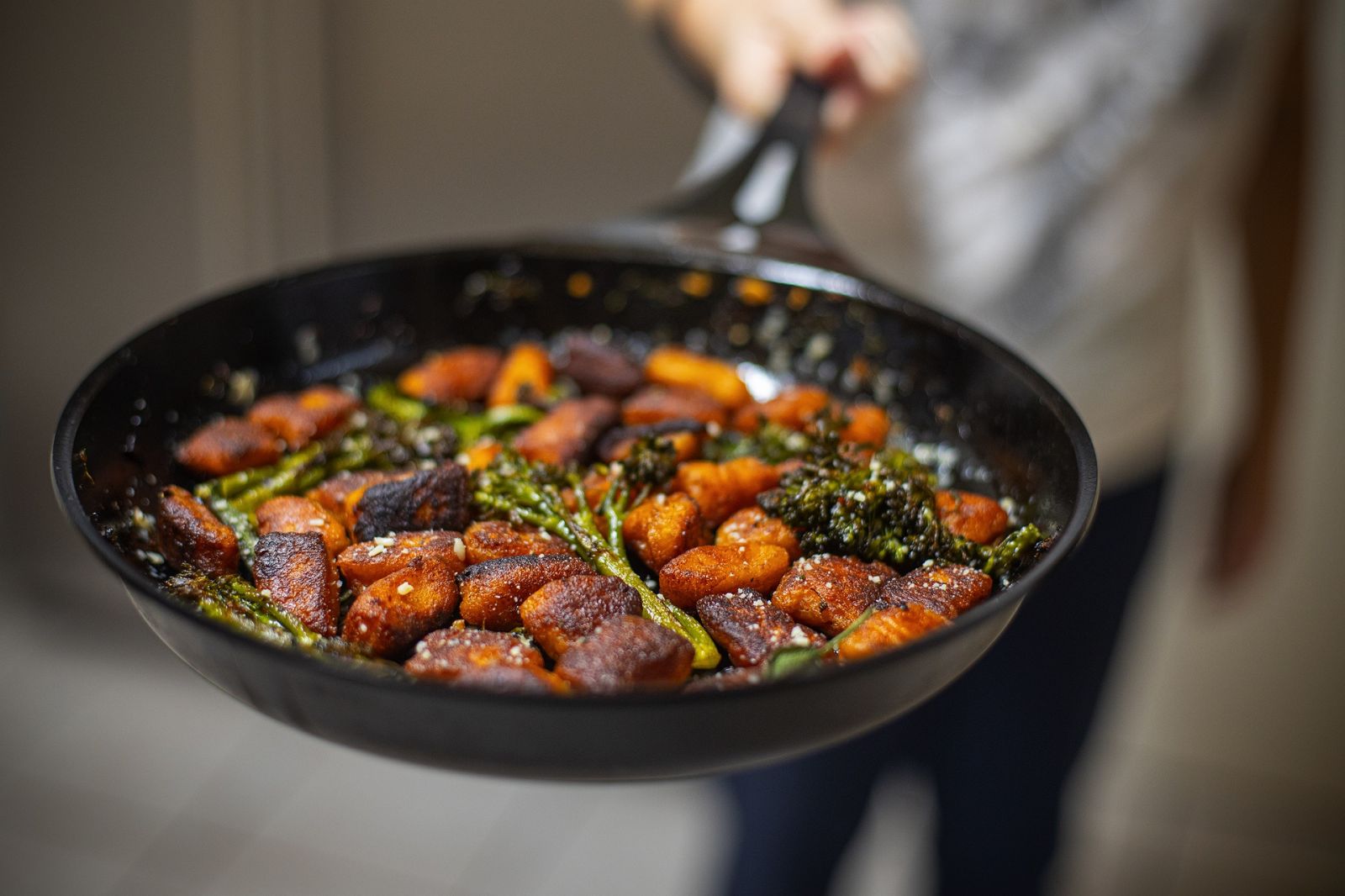 Ingredients
1 large Sweet Potato (500-600g)
1C Whole Milk Ricotta
1/4C Parmesan Cheese
1 1/2 Tbsp salt
1 1/4 C Flour
Method:
1. Prick the sweet potato a few times with a fork, and microwave until soft, about 7 minutes. (You can also bake the sweet potato in the oven, approx. 1 hour until soft).
2. Scoop the flesh of the sweet potato into a mixing bowl. Discard the skin. Mix in the ricotta, parmesan, and salt until well combined and almost completely smooth. Add the flour 1/2 cup at a time, kneading very gently after each addition (don't over knead it – you don't want it to get tough).
3. Eventually, as the dough becomes easier to handle, transfer it to a clean floured work surface and form it into a loaf, about 22 x 12cm. Cut a slice off of the loaf on the short side. Roll and stretch the slice on a floured surface until it forms a long, skinny rope-like shape. Cut the rope into 2cm segments and transfer to a bowl: this is your gnocchi.
4. Bring a large pot of water to boil, add the gnocchi, and boil until the gnocchi rise to the top of the water. Drain and toss gently with a little olive oil to prevent sticking. At this point you can cook the gnocchi, refrigerate to finish later, or freeze them.
5. Cook and serve with whicever sauce/vegetables of your choosing! We like to keep things simple with some charred broccolini, olive oil, garlic and salt. Fry the gnocchi until golden. Our AUS-ION pans are perfect for this!