Söliditi™ C5™ 15cm Usudeba Knife
Limited 1st Lovers Edition, dated 20/02/2020, numbered, initialed by Mark Henry.
C5 = Carbon steel x Cast x Cold forged x Corrugated x Chisel edge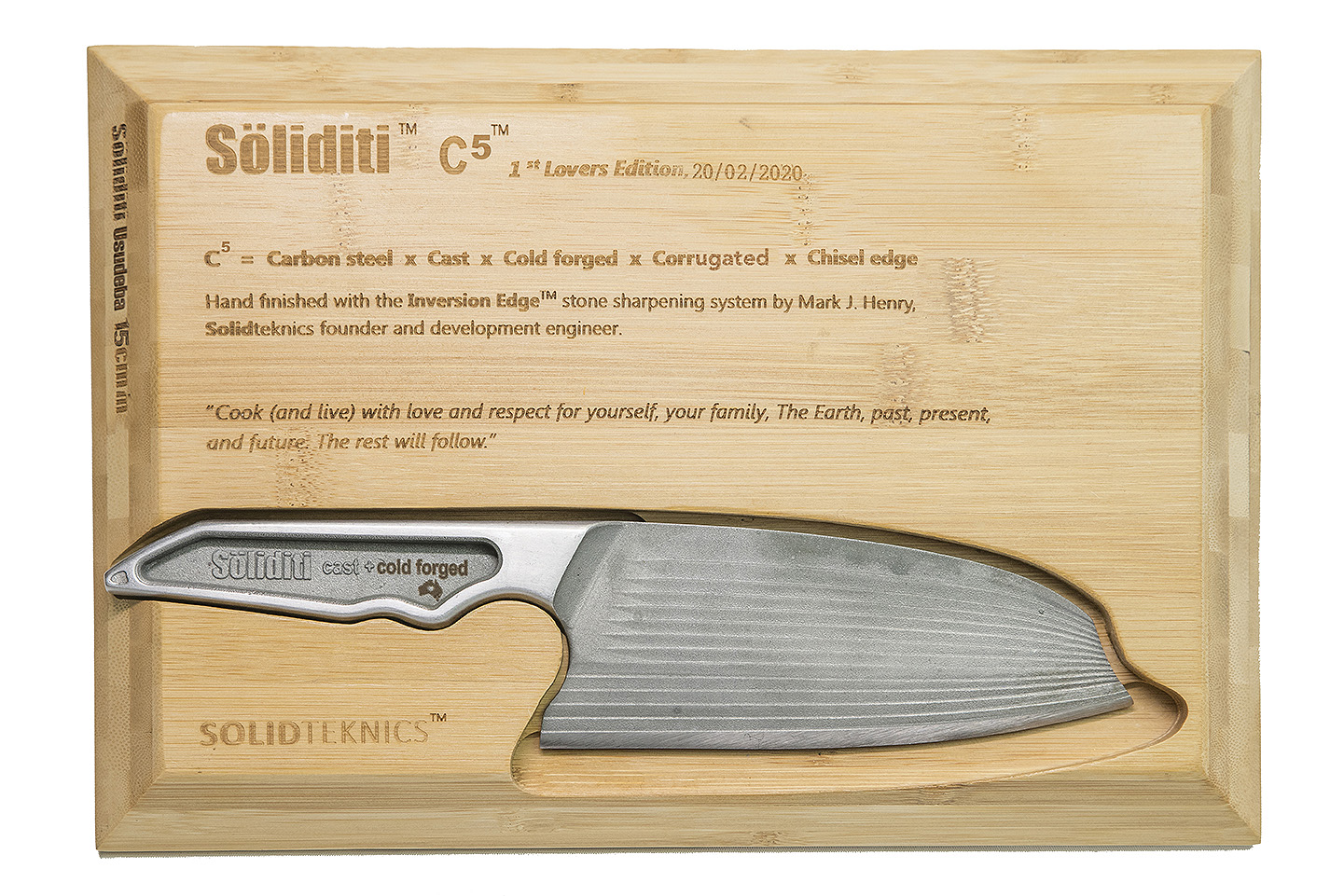 Solidteknics™ Söliditi™ C5 has been developed by Mark J. Henry to embody a lifetime of knife making knowledge and engineering expertise into the 'ultimate no-compromise purist's knife'. The radical friction-reducing corrugated blade he developed has necessitated a whole new patented method of knife manufacturing: investment cast with his custom carbon steel composition, then precisely closed-die cold-forged in one solid monobloc.
Söliditi™ C5 also had to have the ultimate purist's edge: the Japanese chisel edge. Legendary for many centuries for their far superior sharpness, but rarely used by Western cooks due to the complexity of sharpening the chisel edge. Mark J. Henry knew he had to eliminate this ancient sharpening problem, if Western cooks were to embrace this ultimate edge, so he has also invented a new, radically simplified, 'inversion' method of maintaining razor sharp edges on chisel-edged knives with real Japanese water stones. Packaging? It had to be innovative and multi-function too, so our sustainable bamboo board packaging flips over to become a chopping board.
How did this little Australian engineering team achieve such a world first?
Our founder and development engineer, Mark Henry, has been hand making knives all his life, and production manufacturing knives his whole career. He was still at university finishing his engineering degree when he founded Füri™ knives in 1996. They look common now because they have been 'adapted' by many mass consumer import knives over the decades, but they were 'cutting edge' back then! His honours thesis was based on a pioneering deep study of knife materials and cutting edges under wear conditions, which produced insights he still relies on to this day. He took the Füri™ company to the USA in 2005 and sold it in 2008 when he was making ½ million knives each year. He didn't stop developing knives, but had to work long and hard to find a way to achieve a whole new blade geometry and new manufacturing method to overcome the old bane of 'sticking friction' in knife blades. He also wanted to find a way to demystify the ancient Japanese chisel edge, particularly sharpening, and put their legendary sharpness into the hands of many more cooks.
After

launching his world-first, patented, machine-wrought Solidteknics™ cookware in 2015, this is Mark's long-anticipated return to his first love in engineering: High performance chef knives.
After many years of research, and a few intensive years of solving the manufacturing challenges, the Söliditi™ knives and Inversion™ sharpening system are the ultimate syntheses of everything he has learned, and everything he loves, in knives.
He has plans to roll out many more Solid knives and accessories in coming years, so this could well be the start of an iconic new knife brand. If so, this first numbered limited series, signed and hand-finished by Mark, will become the most cherished heirloom Solid knives of all in coming decades and centuries. That is why he is offering this first batch exclusively to our beloved Solid Lovers Group, in appreciation for everything you have done to help build this remarkable new era in innovative, local, healthy, sustainable cookware … and knives.
What all the innovation means: A whole new level of features and benefits for pro knives!
Easier slicing: World-first patented corrugated blade and chisel edge geometry reduces 'sticking friction' between blade and food by introducing air to break the vacuum – the major source of drag/resistance felt when slicing with regular flat blades, even with scallops. Sliced food just drops away, instead of sticking tight.
Sharper edge: Ancient Japanese chisel edge (single bevel), updated with Solidteknics™ corrugations, reduces the cutting force for thin slicing. There's less food compression, with one cutting edge, instead of the normal two, and much less friction from the Solidteknics™ forged blade corrugations makes any edge feel sharper. Being a single-sided bevel, blades are specifically right- or left-handed (if you are right-handed, order a right-hand blade).
.
Easier pro sharpening: Pair your Söliditi™ knives with our patent pending Japanese water stone-based Inversion™ sharpening system (also offered very soon as an exclusive First Lovers Edition before 'going public'), and you will have, for the first time ever, the ability to quickly and easily maintain 'old master level' cutting edges. No complicated rods and adjustments, no destructive drag-through gadgets. Just real water stone sharpening to extremely fine mirror-polish finish (3,000 and 8,000 grit stages), with perfect double bevel geometry. Traditional manual sharpening on stones, to this level, takes years to master. Inversion™ takes minutes, and results are made more accurate and consistent by eliminating human error. We'll show you how in simple video instructions.
Multi-century durability: Solid one-piece monobloc knife will not fall apart over the decades, and centuries, unlike all inherently fragile riveted or jointed knives. Sharpen with the gentle and extremely fine Solidteknics™ Inversion™ sharpening system for the bare minimum of blade metal wear over the centuries.
Handle dynamics, not ergonomics: Yes, the Söliditi™ handle is very comfortable, and fits the hand beautifully (we discovered inner sides of handles aren't needed by fingers). But that is simple static ergonomics. More important is dynamics when pushing a moving knife, and this mechanical engineering is our strength. The handle's reverse-wedge shape is ideal for resisting hand slip toward the blade, thereby reducing fatigue in long prep sessions. Metal surface? Most of the grip in a moving handle is in the shape, not the colour, nor the material, and our shape is the best for resisting forward slip. We know the physics behind making metal grip better than plastic.
'Solid Spirit', or 'The Feels': Impossible to describe the feeling of solidity, strength, and comfort (far beyond ergonomics) when holding this 350g monobloc of forged carbon steel. For now you'll need to trust us on that, but you will know it the moment you grip it: Söliditi™ feels unlike any other knife. Part of that comfort is knowing your dated, signed, numbered, First Lovers Edition knife will be handed down for many generations as a prized family heirloom. A tradition you started in ancient 2020. It's a feeling of pride in continuity, legacy, and an important part of what elevates this knife above just another exceptional utilitarian cutting tool. Metal with meaning. Heirloom with history.
What is an 'Usudeba' blade?
For our first ever Söliditi™ knife, we based our blade on the 'purist' Japanese vegetable knife, the Usuba. Considering vital blade geometry, not less-important profile: modern Santoku, or even traditional Nakiri knives, are thin and symmetrical-edged (Western blade geometry with a bevel on each side), and favoured by regular home cooks, while Usuba blades are favoured by expert Japanese chefs for vegetable work because their chisel edges are sharper and more precise, even if the blade is thicker and heavier (similar to their legendary Yanagiba sashimi and Deba blades, which are often 8mm thick, and still sharper for thin slices than any thin Western blade). We can use them very efficiently for slicing meats too. The only thing they don't do as well as very thin 'Westernised' Japanese Gyuto blades (very popular in recent years) is chopping through the middle of very hard vegetables, where their thickness becomes a disadvantage. For all else, they are a superior blade. Usuba blades are not usually chosen by non-experts, but fear not: we will show you how to optimally use this beautiful blade style, and easily keep it razor sharp like traditional elite chef's blades, with simple video tutorials.
Singular Manufacturing
There are a lot of world-firsts distilled into the achievement of this final Söliditi™ knife, and some will never be known beyond our founder/engineer Mark Henry and his tech team, for reasons we'll explain below*. All the manufacturing and materials tech detail we are able to share with our core Lovers Group members is summarized here and on our Facebook Lovers Group page (much more than will be shared with the wider public).
The patent for our Söliditi™ knives is based on our world-first combination of manufacturing method and blade geometry. They are intertwined: our complex corrugated geometry is not possible with traditional grinding methods or rough hot forging. With precise closed die cold forging of an accurate investment cast blank we made it possible, so we patented it.
Singular Metallurgy
Carbon steel? We make our own, in Australia! Unlike most knife makers who use 'off the shelf' blade material (most of which is excellent), Mark Henry wanted something different. His long experience with Japanese knives, particularly their modern carbon steels, made those the obvious starting point for this 'flagship' first Söliditi™ knife. However, the exact composition didn't exist to best suit the blade/edge properties he wanted, with his new cast + cold forged method and geometry. Investment casting gave him the ability to precisely smelt his own carbon steel composition to achieve the perfect material for Söliditi™. We can't disclose the exact composition, but it is broadly a high carbon alloy steel, with a tiny amount of Chromium (not for corrosion resistance, though it helps a little, but for the properties he wanted). Not at all related to all the stainless steel knife materials (particularly the common CrMoV stainless alloys), our steel is also unlike old soft carbon steels (in the French tradition), and not exactly like other common (and excellent) modern Japanese carbon steel grades. This is something else again, and perfectly suited for optimal performance with our Söliditi™ blade design and manufacturing.
Slice with Söliditi™, and sharpen it, and you will know this material, at this hardness, with this new patented geometry and manufacturing method, is something entirely new and exceptional in knives.
Your investment in our First Lovers Edition is helping make history. This is the birth of a whole new knife category.
Form and function applied to packaging
Those of you who know us well know that we love simplicity and multi-functionality in products. Now, what if beautiful packaging could also be functional and sustainable after purchase, not toxic and disposable?
We are very proud to introduce our innovative bamboo board packaging for Söliditi™ knives: great for shipping and storage, and flip it over to make a great cutting board. Bevelled edges make it easy during 'mise en place' to position shallow trays under the board edge for scraping different chopped foods off the board and staging them for cooking. Button magnets embedded in the bamboo hold the knife secure during storage. Stack your collection of future Söliditi™ knife models in their boards, slide out the board you need and remove the knife (blade style/size laser printed on end of board), flip it over, and slice. Some boards/blades could be reserved for meat, and others for vegetables, if you're concerned about cross-contamination.
Why bamboo? If you know us and our vision, plastic is, of course, out of the question. Bamboo grows 1,000 times faster than oak, and is the most sustainable material available for anything that you know needs to wear and eventually be discarded, like cutting boards. We know we could have chosen Australian 'semi-sustainable' hardwoods for this purpose, but we couldn't bring ourselves to add to the consumer demand for these local slow growth trees, even if they were from plantation/replanted sources. So we sourced our storage/cutting boards from the international bamboo experts: China!
Söliditi™ pre-order method and production timeline
If you believe in this new era in Solid knives, please pre-order your Söliditi™ C5 knife in our exclusive Solid Lovers Store while it is available between 31/1/2019 and 20/02/2020. Your credit card will be billed to secure your reserved, series numbered, dated and signed First Lovers Edition Söliditi™ C5 knife. The first 50 knives in the series will be held for the Solidteknics museum archive.
As soon as numbers are confirmed on 21/02/2020, we will swing into action to manufacture this historic first batch for anticipated shipping in May of 2020. Because each knife will be hand finished by our founder, Mark Henry, pre-orders may need to be split into several batches of around 200 each, and shipped in the sequence in which they were ordered, each batch a month after the previous. For example, if there were 2nd and 3rd batches, they could extend into June or July of 2020, as an estimated timeline.
We invested heavily early in this development, so tooling is ready, and we don't expect any delays. However, because this is the first production run of a type of knife that has never been made before, and we're relying on several specialist sub-contractors, we can't be 100% certain there will be no delays. We hope you will be patient with us if there are any small delays, in the name of making long-run history together.
Still not sure about Japanese chisel edge blades?
We highly recommend reading some background information on Japanese chisel-edged knives if you're not too familiar with them. Here is a good place to start, then the internet will recommend many more: https://en.wikipedia.org/wiki/Japanese_kitchen_knife
These blades are legendary among serious knife users because they are simply the sharpest (practical) blades, by nature of their geometry (one bevel crushing the food, instead of two, in simple terms). We used that principle as a starting point, then did something entirely different with the blade geometry to radically reduce 'sticking friction', and basically eliminate the sticking of sliced food to blades.
This will no doubt be interesting for any serious knife user, but, along with all the other innovations in Söliditi™ knives and sharpening system, could be a little overwhelming for anyone without much knowledge of Japanese traditional chisel-edged knives, and why they are so revered, and feared. We aim to take away that fear with knowledge, a new innovation in the way these blades are made, and with a whole new 'master level' sharpening system that's quick and easy for anyone. With your help, we hope to finally bring this ancient Japanese blade wisdom to many more regular Western chefs and cooks, like us.
* Knerd free zone!
Hey, we're knife nerds too, so we understand the passion and enthusiasm as much as anyone, after making knives all our lives and dedicating decades of research and production manufacturing to this field. However, like our cookware, we will need to maintain some mystery around our many trade secrets. Why? Competitors are watching. Also, we really just never will have time for long debates with amateur engineers and knife forum heroes. That would be fun, but would achieve nothing, and take us away from all the intensive development work that needs to remain top priority for now. Apart from all the current product production, which is intensive enough, we have many other world-first innovations in development behind the scenes, lining up for launch in coming months, years, and decades. We hope you will understand when we say that there is a limit to the information we can put in the public domain, and the volume of personalized responses to FAQs. Again, all we are willing to reveal is on this page. That may not be enough to satisfy the curiosity of some 'knerds', or those who demand answers to all their questions. They will want to look elsewhere … and that is okay too … life is too short.
Example FAQ: What is the Rockwell Hardness? Answer: perfectly hard! We also don't share our exact hardness value, except to say our knives are very hard. Harder than most, and not as hard as some. We know the right hardness for our material and edge geometry. Hardness with edge toughness. Among other discoveries during Mark Henry's engineering honours thesis, he found that toughness is more important for edge retention than anyone realized. Most folks, including most of the manufacturers, still think hardness alone determines edge retention. Like almost everything else in this knife, there's a lot more to it, but we can't share our trade secrets.
Cultural cringe FAQ: 'Won't German and Japanese knives always be better than Australian?' No dignified response, except, 'please try this new era in Australian innovation, and you will soon discover your old bias is no longer valid'.
Confidentiality: it's serious.
All the information presented here is confidential, and only for the eyes of Solid Lovers Group members who have signed up for an account on our exclusive Lovers store (this page is only visible to that sub-group). Eventually we will launch this Söliditi™ knife on Kickstarter, then to retail, but they may not necessarily receive as much information as this 'inner Solid' group. Therefore, do not copy or share any of the detail of this document with anyone else. If you think your 'like-minded' friends might be interested, please ask them to apply to join our Solid Lovers group, then set up a Lovers store account, just like you did. Thank you!