Preorder available until 17/02/2021, for estimated shipping June 2021.
This exclusive Lovers' launch is doubly exciting. We've had many requests over the years for a deeper wok - a deeper wok with two short handles, a deeper wok with one long handle... We don't like to disappoint, so we're launching both options! And to coincide with our new QUENCHED™ Kickstarter launch, these woks will come seasoned, ready to use!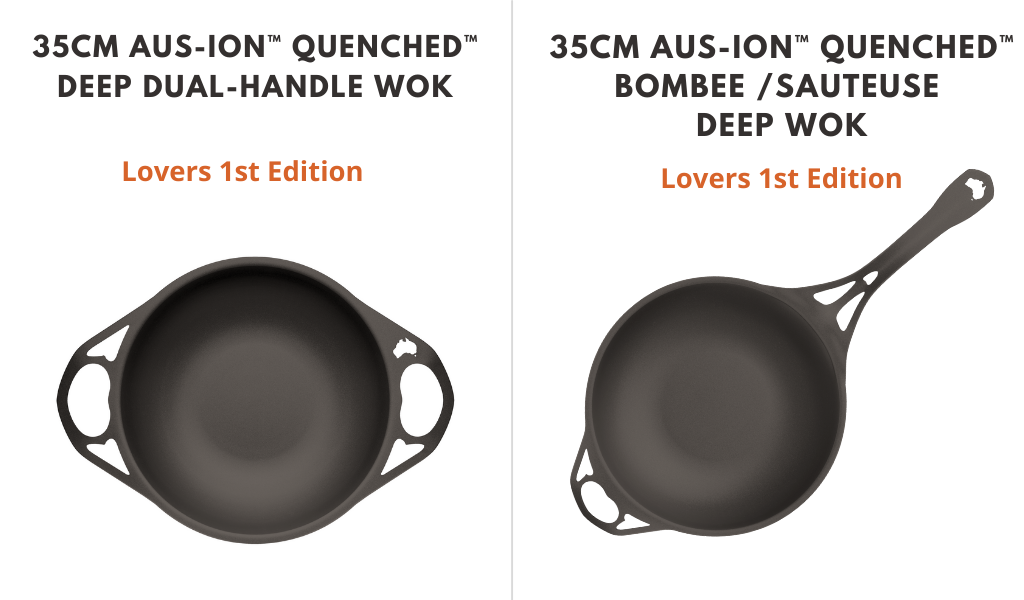 Each new piece will be:
Limited stamped '1st Lovers Edition'

Dated with month/year of manufacture

Much lower pricing than Kickstarter, and much lower than retail!
​

The wok - think beyond the stirfry!
These versatile woks can do so much more than an amazing stirfry - think steaming, pan-frying, deep-frying, poaching, boiling, braising, searing, stewing, scrambling eggs, popping popcorn, smoking, and roasting...
Suitable for all heat sources – stovetop (including induction), oven, BBQ, and campfires.
Introducing QUENCHED™!
We're so excited to launch Quenched™ in Australia! This patented, world-first seasoning process does all the work for you, so you can get cooking straight away. No synthetic coatings, just natural, real seasoning.
Until now, our AUS-ION™ pans were sold Raw or with a Satin finish (lightly pre-seasoned), ready for your at-home seasoning. With Quenched™, there's no need for oven seasoning. Learn more about Quenched™ here.
And if you're wanting to get your hands on any of our existing AUS-ION™ range in Quenched™, our Kickstarter is live now!
Our lowest pricing, just for you.
We're launching these products first, and exclusively to you, our Lovers. Our Lovers' exclusive launches will always have our lowest, deeply discounted pricing. This is our way of thanking you for your SOLID, ongoing support.
Pre-order method and production timeline
Head to our exclusive Solid Lovers Store. (If you don't have access, you will need to register an account here and then email us for store access - info@solidteknics.com)
Your credit card will be billed to secure your limited edition dated, and signed First Lovers Edition.
All products will ship together. Please note, if one product is a little late we won't ship until all products are ready.
Preorder available until 17/02/2021. Estimated shipping June 2021.
Our complete range of AUS-ION™ Woks!

IMPORTANT: These NEW 35cm woks are only available exclusively on the Lovers store. Our existing range of AUS-ION™ woks are available in Quenched™ on Kickstarter now. Shipping between Kickstarter and our store cannot be combined.
AUS-ION™ performance
Our AUS-ION™ is perfect for everyday oil/fat based stirfry, frying, baking and grilling for professional and home kitchens, indoors and out. ​
Proudly made in Australia, from clean Australian iron

Seamless, one-piece design for easy cleaning and maximum durability

Vented handles in the neck, to reduce the heat transfer for cooler handling.
Suitable for any cooking surface -

from stovetops (including induction), to oven, to BBQ, pizza ovens and camp fires.

Multi-century warranty

Now

Quenched

™

-

these new woks come seasoned, ready to cook!

We invested heavily in this early development, so most tooling is ready, and we don't expect any delays. However, bringing new innovations to life is never easy and there can be unforeseen hurdles from time to time. In the unlikely event there are delays, we thank you in advance for your patience.
As we always say, 'together we're making history, not just the finest cookware'. There couldn't be a better embodiment of that statement than these new AUS-ION™ woks!
Thank you in advance for your support!
The Solidteknics team