'Try Me' 21cm nöni™ Skillet - Pre orders due late July 2022
Australian-made, healthy & multi-generational cookware
---
Preorder available from now through to 30 April 2022, for estimated shipping late July 2022.
The BEST part is, we're offering you this early opportunity, pre purchase 21cm nöni pan to you, for $99.
No frills i.e. no fancy packaging. Though this pan is heavily reduced in price, we will never take short cuts in manufacturing or use lesser quality material to achieve this pricing. The pan is made exactly the same as all our nöni models, just in this new size.
The whole goal is 'Try Me', and see what all the Solid love is about.
21cm nöni™ frypan is a great all rounder to last multiple generations.
Perfect for all of your everyday frying, sauteing and simmering needs: Think meats, eggs, stirfries, sauces, pasta but also ideal for creating quick, healthy & tasty one-pan meals which are easily transferrable from the stove-top to the oven.
Because of its excellent heat conductivity, this pan is great for recipes when you need a bit of browning (Maillard reaction). However, not being limited to the stovetop, you can use it for all sorts of baking too - cakes, brownies, bread making, meatloaf, roast vegetables and more!
Made from solid, 3mm thick ferritic stainless steel, with a patented, seamless, one-piece design for maximum durability and superior performance. Take it from stovetop (including induction) to oven, to BBQ, to the outdoors. Our nöni™ range is made from highly conductive ferritic (non-nickel) stainless steel, made especially for us according to our strict health and performance specifications. - basically it cooks like iron, but cleans like stainless steel! nöni™ is ideal for all liquid boiling, slow cooking, acidic sauces, and is very low maintenance.
Each new piece will be:
Dated with month/year of manufacture
Much lower pricing than the eventual retail price ($169)!
nöni™ cleaning, care & cooking tips, CLICK HERE
Dimensions:
Total Length: 47cm
Diameter: 21cm
Stove contact: 17cm
Height of bowl: 5cm
Weight: 1.1kg
Capacity: 1.45L
Please note, we are thrilled to be able to give you access to our world first innovations first, and heavily reduced pricing, as a way of thanking you for your continued support. We do our best to set realistic timelines, however, with innovation, often comes unpredictable challenges. We suggest that you only back our new launches if you are willing to go on our innovative journey with us - which may encounter speed bumps from time to time. Otherwise, you are best to wait for the pieces to reach our online 'buy now' store as by that stage, we have ironed out the manufacturing method.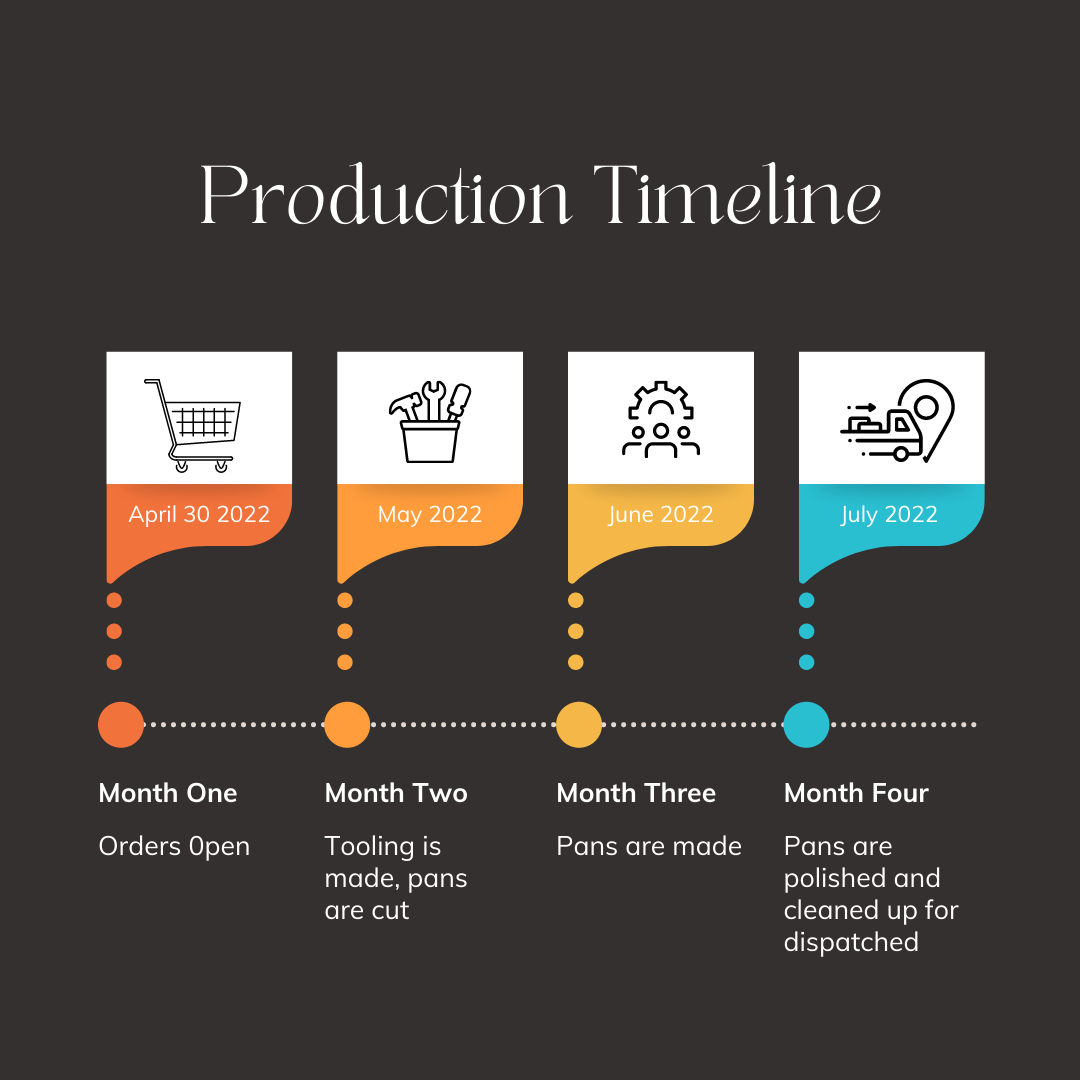 Thank you for your solid support, and helping us continue to bring new, world-leading Australian-made kitchenware innovations to life. ❤️
(ns121skRET)

Made in Australia
Suitable for all heat sources except microwaves
Made from a single sheet of 3mm ferritic, non-nickel stainless steel
One-piece, seamless design. No joins, screws or rivets!

Very low maintenance and does not require seasoning
Total Length: 47cm
Diameter: 21cm
Stove contact: 17cm
Height of bowl: 5cm
Weight: 1.1kg
Capacity: 1.45L
Be The First To Review This Product!
Help other SOLIDTEKNICS PTY LTD users shop smarter by writing reviews for products you have purchased.
We Also Recommend
Others Also Bought