2L nöni™ Casserole/Rondeau + 24cm Deep Skillet-lid
Australian-made, healthy & multi-generational cookware
---
Pre orders now closed. Estimated shipping is late December 2022.
Please note, we're all sold out of the this pan for now, and we don't have a set schedule for their return. But don't worry, if you choose the 'Notify Me' option and enter your email address, we'll let you know if they become available again. In the meantime, feel free to check out our vast selection of cookware that's available now!

nöni™ 2L Rondeau and matching deeper 24cm skillet-lid
We've turned the tables and our shallow nöni™ 2L Rondeau and nöni™ 24cm deep skillet-lid is here! The perfect pan for those jobs when the 3L or 6L Rondeau is too big or deep, and skillets are too shallow. With a matching 24cm skillet-lid, this is the perfect size for one-pan meals, small roasts, baking cakes and breads, and sauces or heating up leaftovers! A great size for the caravan and outdoor adventures, with dual-handles make it a convenient size for smaller ovens. From stove top, to oven, to campfire!
Plus, it will also work as a vessel for our nöni™ 6.5L Steamer AND will fit with your 3L Rondeau base and skillet-lid! So many possible combinations and cooking options!
(ns224psRET)
Dated with month/year of manufacture
Made from 3mm ferritic, non nickel stainless steel with a seamless, one-piece design for easy cleaning and maximum durability.
nöni™ cleaning, care & cooking tips, CLICK HERE
Please note: all of our pans have a carefully engineered concave built in. This is normal with all heavy based iron and steel pans, to allow for movement when heated. To learn more about our concave and why it's important, CLICK HERE.
Dimensions:
2L Rondeau (base)
Diameter: 24cm
Depth: 6cm
Stove Contact: 18cm
Capacity: 2L
Weight: 1.53kg
24cm Deep Skillet-lid
Diameter: 24cm
Depth: 3cm
Stove Contact: 19.5cm
Capacity: 1L
Weight: 1.53kg
Be The First To Review This Product!
Help other SOLIDTEKNICS PTY LTD users shop smarter by writing reviews for products you have purchased.
We Also Recommend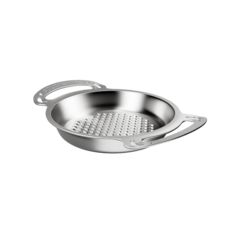 Others Also Bought