Our Dual Handle 35cm nöni™ BIGGA Skillet is ideal for roasting, baking, frying. This pan is equally at home on your stovetop, oven, or BBQ! This is your go-to pan when there are many hungry mouths to feed or big steaks to cook! Dual handles to handle heavy loads, this versatile pan doubles as a lid (or base) to the 10L DEEPA Pot. If you'd like both pieces, the complete dutch oven set is available HERE.
Made from 3mm ferritic, non nickel stainless steel with a seamless, one-piece design for easy cleaning and maximum durability. Take it from stove top (including induction), to oven, to BBQ, to the outdoors. nöni™ is very low maintenance as it does not require seasoning - cooks like iron, cleans like stainless! Ideal for all liquid boiling, slow cooking, acidic sauces, and is very low maintenance.
AUS-ION™ and nöni™ are designed to compliment each other to cover all of your cooking needs. LEARN MORE
Engraved with the month and year of manufacture for heirloom collectability, and comes with a multi-century warranty.
Rotary polished inside and raw brushed manufactured surface outside. There may be minor processing scuff marks unique to each pan, which we consider to be a thing of natural beauty and truth!
nöni™ cleaning, care & cooking tips, CLICK HERE
Please note: all of our pans have a carefully engineered concave built in. This is normal with all heavy based iron and steel pans, to allow for movement when heated. To learn more about our concave and why it's important, CLICK HERE.
(ns135bRET)
Features:
100% made in Australia (Sydney)
World-first 1-piece pan
No rivets, welds, screws = indestructible
Multi-century warranty
Date stamped for future generations
Vented handle dissipates heat
Exotic small-batch ferritic (non-nickel) stainless steel
Solid (non-clad) 3mm thick
Fast and even conduction on all heat sources
35cm nöni™ BIGGA Skillet
Length including handles 44cm
Diameter 35cm
Height of bowl 5.5 cm
Height of handle: 9cm
Weight 2.9 kg
Capacity 4.5L
Stovetop contact 30.5cm
Be The First To Review This Product!
Help other SOLIDTEKNICS PTY LTD users shop smarter by writing reviews for products you have purchased.
We Also Recommend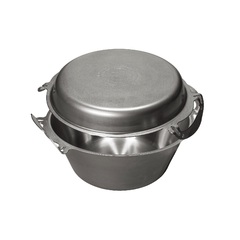 nöni™ 10L Deepa Pot + 35cm Bigga Skillet Set
Others Also Bought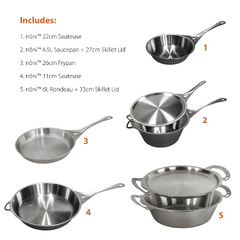 The Ultimate nöni™ 8 Piece Cookware Set!