We are SO excited to launch to you, our Lovers, the third addition to our Söliditi™ range and boy, is she a beauty... Introducing the 25cm Chef/Carving Knife - our biggest knife yet!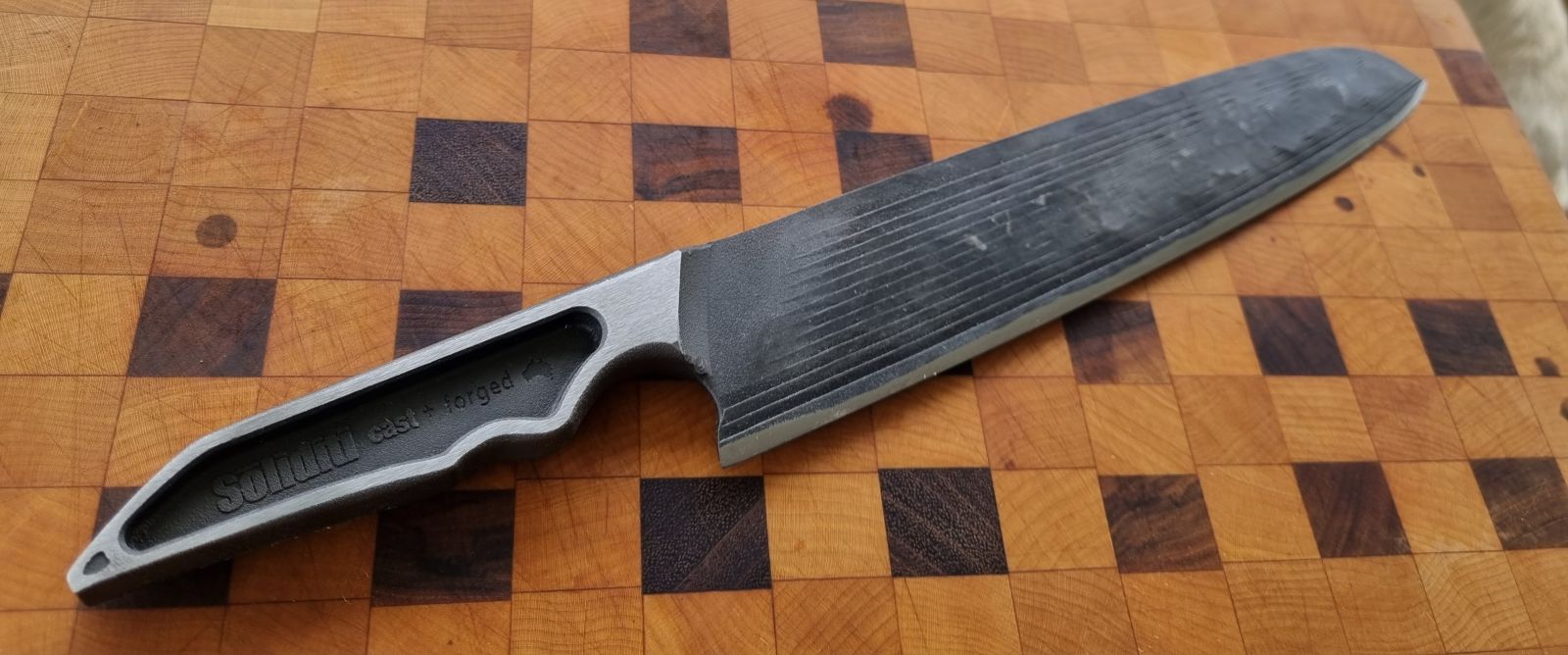 A large chef/carving knife is the hardest working knife in any professional kitchen, and will become a favourite in your home too! This one is a little extra special, with both of our manufacturing countries playing a part in its construction. Cast in the USA (more on that below), then back home to Australia to be hand forged, hand ground and hand sharpened on our InversionEdge™ Sharpening System. Cutting edge innovation meets old school, quality craftsmanship. A SOLID, versatile knife that will last generations.
Limited 1st Lovers Edition, numbered in series, initialed by Mark Henry. Available for preorder in our Exclusive Lovers Store until midnight Wed 9 Nov 2022 (AEST), with estimated shipping late July 2023.

Our Söliditi™ Range
Embodying a lifetime of knife making knowledge and engineering expertise, our Söliditi™ range are the ultimate, no-compromise, purist's knives. If you're new to our Lovers group, you may not know that Mark built his career engineering high performance chef's knives. He founded Füri™ knives back in 1996 (then sold in 2008), which is still one of Australia's leading knife brands. This is his long-anticipated return to his first engineering passion, with a Solidteknics innovative difference. Many decades of engineering and development have gone into the creation these world-first, patent-pending, cutting-edge knives. (Pun intended ;) )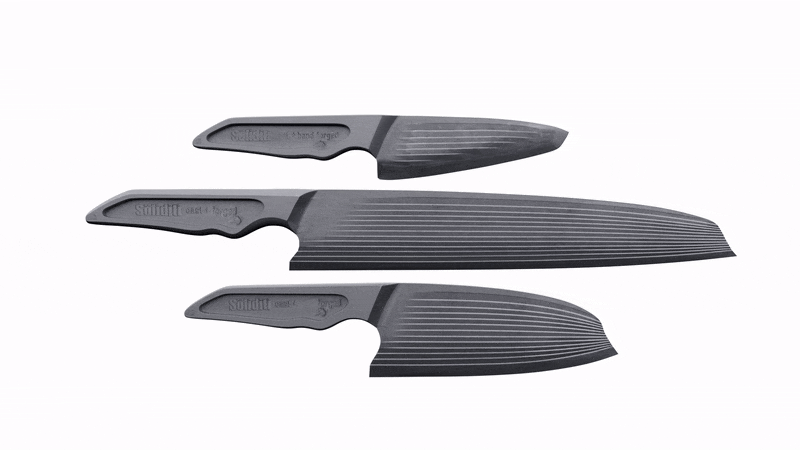 From top to bottom: 11cm USG, 25cm Chef/Carving Knife, 15cm Usudeba

What makes our Söliditi™ 25cm Chef/Carving Knife so special?
Our Söliditi 25cm Chef/Carving Knife is a chef knife and carving knife, all in one. In one big, strong, single-piece knife, you have all the versatility of a pro chef knife for fast and heavy vegetable and meat slicing and chopping, with a razor sharp single bevel chisel edge for carving the very finest of long slices. A world-first innovation.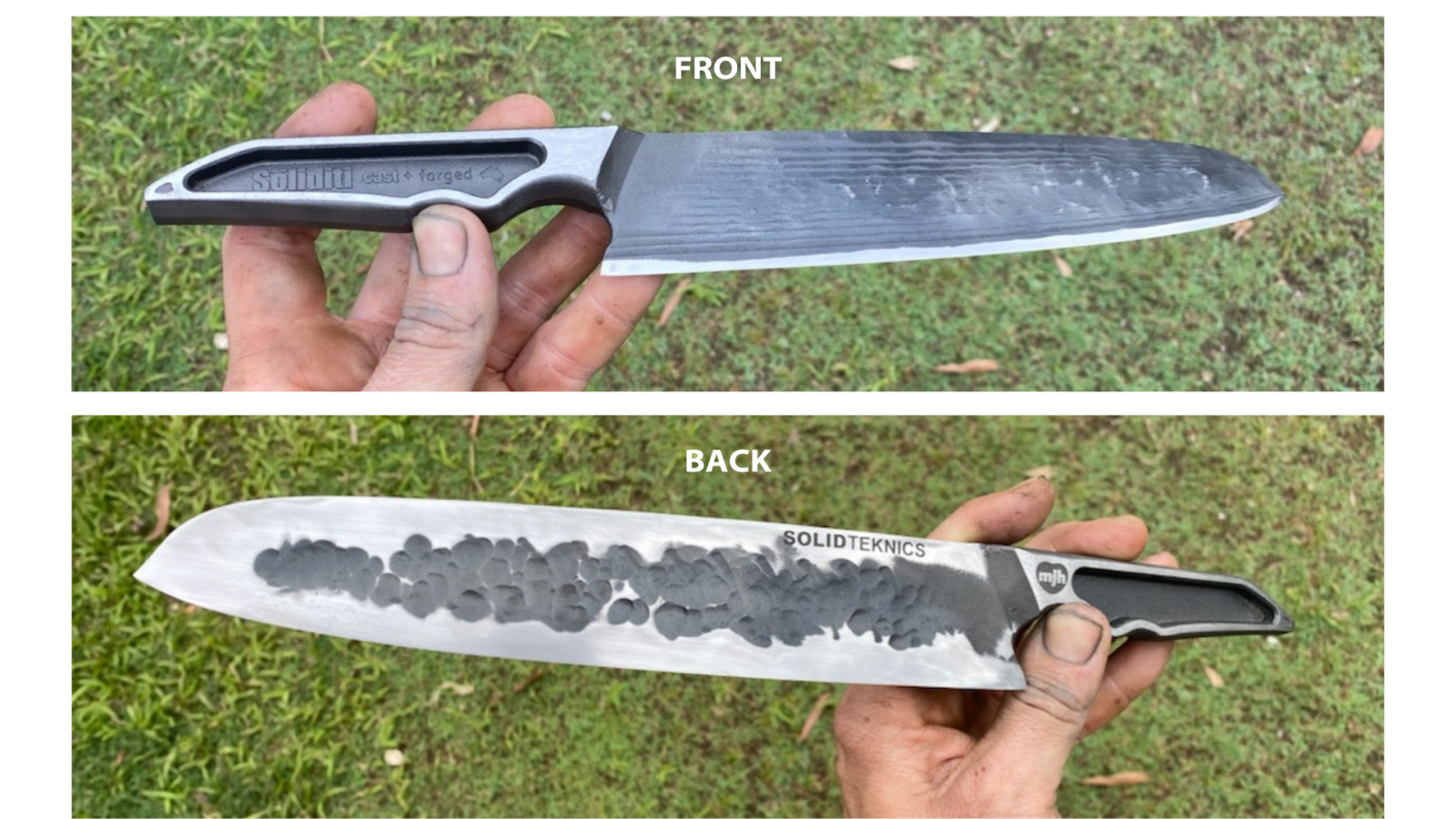 Our hybrid Chef/Carving knife is excellent for...
Chef's knife:
Classic chef knife rocking/rolling slicing - onions, tomatoes, apples, cucumbers, cheese
Chopping and dicing vegetables
Chopping nuts and herbs
Carving knife:
Carving roasts and large cuts of meat - chicken, beef, hams
Sashimi slicing to Japanese master level
Made in Australia AND the USA
These knives truly are a labour of love, touching the hands of many skilled artisans across the USA and Australia! Our new 25cm Chef/Carving Knife is being cast in the USA. A knife of this size is a lot more complex to cast, so our existing casting partner wasn't able to help. We searched high and low to find a foundry in Australia who could viably cast these knives for us, but came up empty handed. As we also manufacture our US range of cookware in the USA, it was a natural next step to turn to our friends over there to see if they could lend a hand. And we found a wonderful small foundry who can cast these beautiful knives for us!
Hand forged, hand ground & hand sharpened
These knives are the antithesis of mass production. Once cast, they will then be hand forged, hand ground, and finally hand sharpened, before being hand-engraved by Mark! No two knives will be the same. We consider this handmade finish a thing of beauty as it shows the love and hard work that has gone into each and every knife. Form and function. Art meets engineering. Check out Mark (our founder and design engineer) hand forging the very first 25cm Chef/Carving Knife prototype!
Our own special Carbon Steel blend
Like our 15cm Usudeba and 11cm USG, our 25cm Chef/Carving knife is made with the same exceptional carbon steel material - our very own special blend. We took inspiration from Japanese knives, however, the exact composition didn't exist to best suit the blade/edge properties of our new innovative knives.
Investment casting gives us the ability to precisely smelt our own carbon steel composition to achieve the perfect material. We can't disclose the exact composition, but it is broadly a high carbon alloy steel, with a tiny amount of Chromium (for performance, not for stainless).
Our steel is unlike old soft carbon steels (in the French tradition), and not quite like common modern Japanese carbon steel grades. This is something else again, and perfectly suited for optimal performance with our Söliditi™ blade design and manufacturing.
Japanese Chisel Edge - the finest, sharpest edge
Our 25cm Chef/Carving Knife has a razor sharp single bevel chisel edge, just like the finest Japanese yanagiba sashimi knives.
Ancient Japanese chisel edge (single bevel) reduces the cutting force for thin slicing. There's less food compression with one cutting edge (instead of the normal two) and much less friction. Being a single-sided bevel, blades are specifically right or left-handed (if you are right-handed, order a right-hand blade). Both Right-Hand and Left-Hand knives will be forged from the same casting, just like we did for the 11cm USG. This doesn't affect performance as the features, cast and forged, on both sides still release the food from sticking far better than regular smooth knives.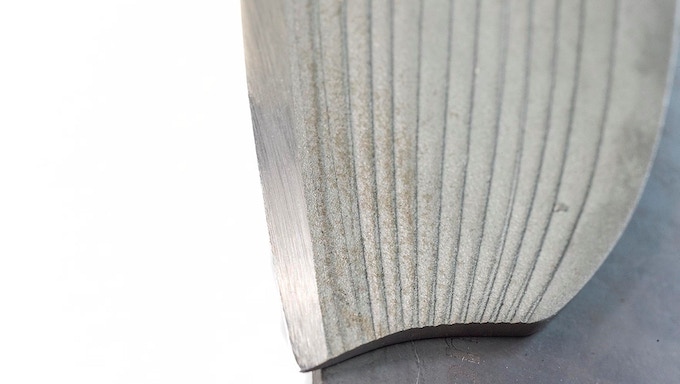 Hand sharpened on our InversionEdge™ Sharpening System
Each knife will be hand sharpened on our InversionEdge™ Sharpening System. Like the Japanese masters, we also sharpen our edge on 4 stages of the finest Japanese water stones, all the way up to the mirror polish of 8000 grit. An edge just like the finest sashimi knives, but more accurate, thanks to our Inversion Edge Pro sharpening system.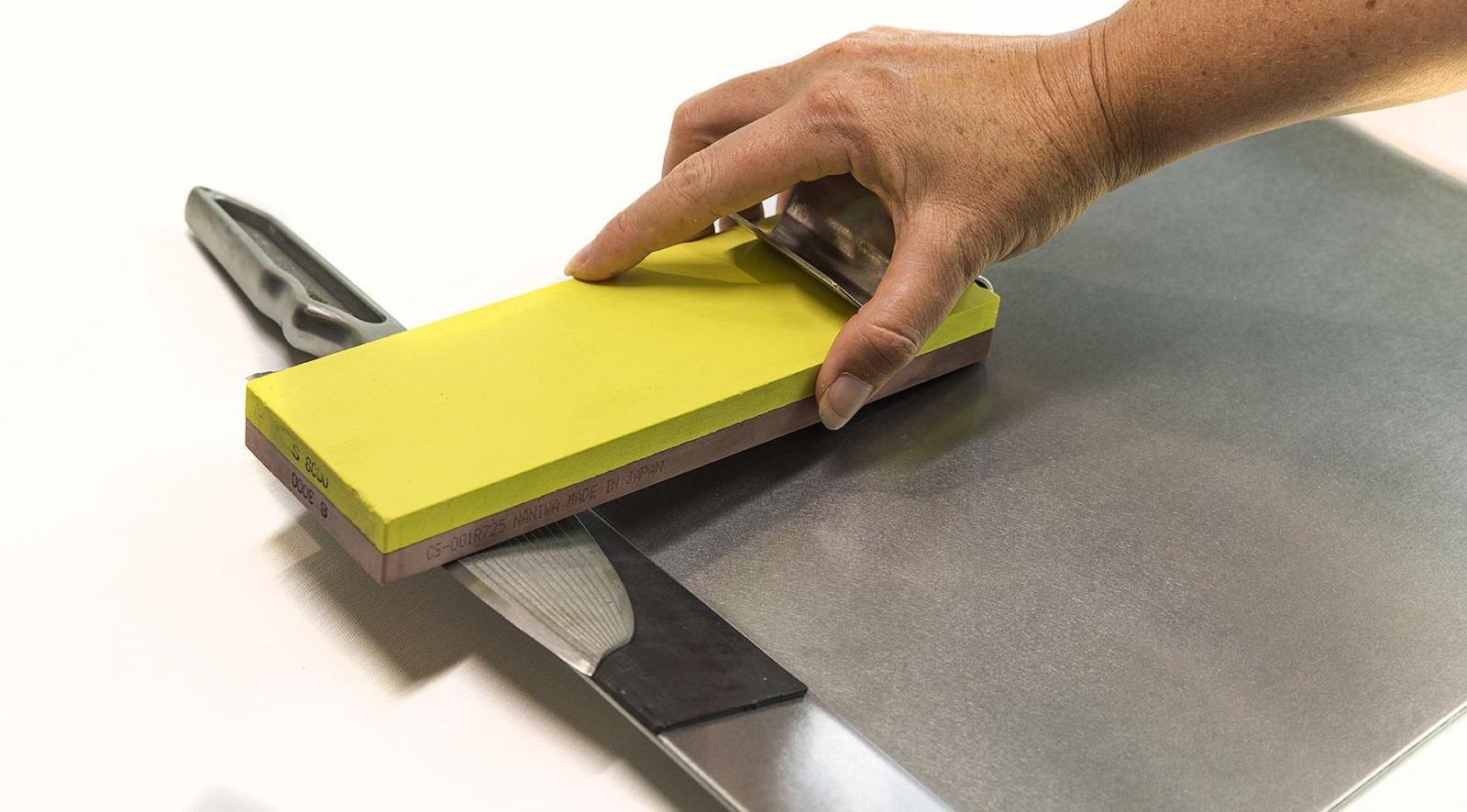 Our Japanese water stone-based sharpening system gives you the ability, for the first time ever, to quickly and easily maintain 'old master level' cutting edges. No complicated rods and adjustments, no destructive drag-through gadgets. Just real water stone sharpening to extremely fine mirror-polish finish (3,000 and 8,000 grit stages), with perfect double bevel geometry. Traditional manual sharpening on stones, to this level, takes years to master. The InversionEdge™ takes just minutes, and results are made more accurate and consistent by eliminating human error. Available on our online store HERE.
Multi-century durability
Riveted or jointed knives are inherently fragile. Our Söliditi™ knives are a solid one-piece monobloc knife, which will not fall apart, and will last for centuries. Sharpen with the gentle and extremely fine InversionEdge™ sharpening system for the bare minimum of blade metal wear over the centuries. You'll be passing your treasured First Lovers' Edition knives down through the generations alongside your Solidteknics cookware.
Functional packaging
We love simplicity and multi-functionality. This is why we created our innovative bamboo board - great for shipping and storage, then flip it over for a great cutting board! Like our Söliditi™ 15cm Usudeba (pictured below) our 25cm Chef/Carving will be packaged in its own bamboo board. Bevelled edges make it easy to position shallow trays under the board edge for scraping chopped foods off the board and staging them for cooking. Button magnets embedded in the bamboo hold the knife secure during storage.
Why bamboo? If you know us and our vision, plastic is, of course, out of the question. Bamboo grows 1,000 times faster than oak, and is the most sustainable material available for anything that needs to wear and eventually be discarded, like cutting boards. We could have chosen Australian 'semi-sustainable' hardwoods for this purpose, but we couldn't bring ourselves to add to demand for these local slow growth trees. So we sourced our storage/cutting boards from the international bamboo experts: China!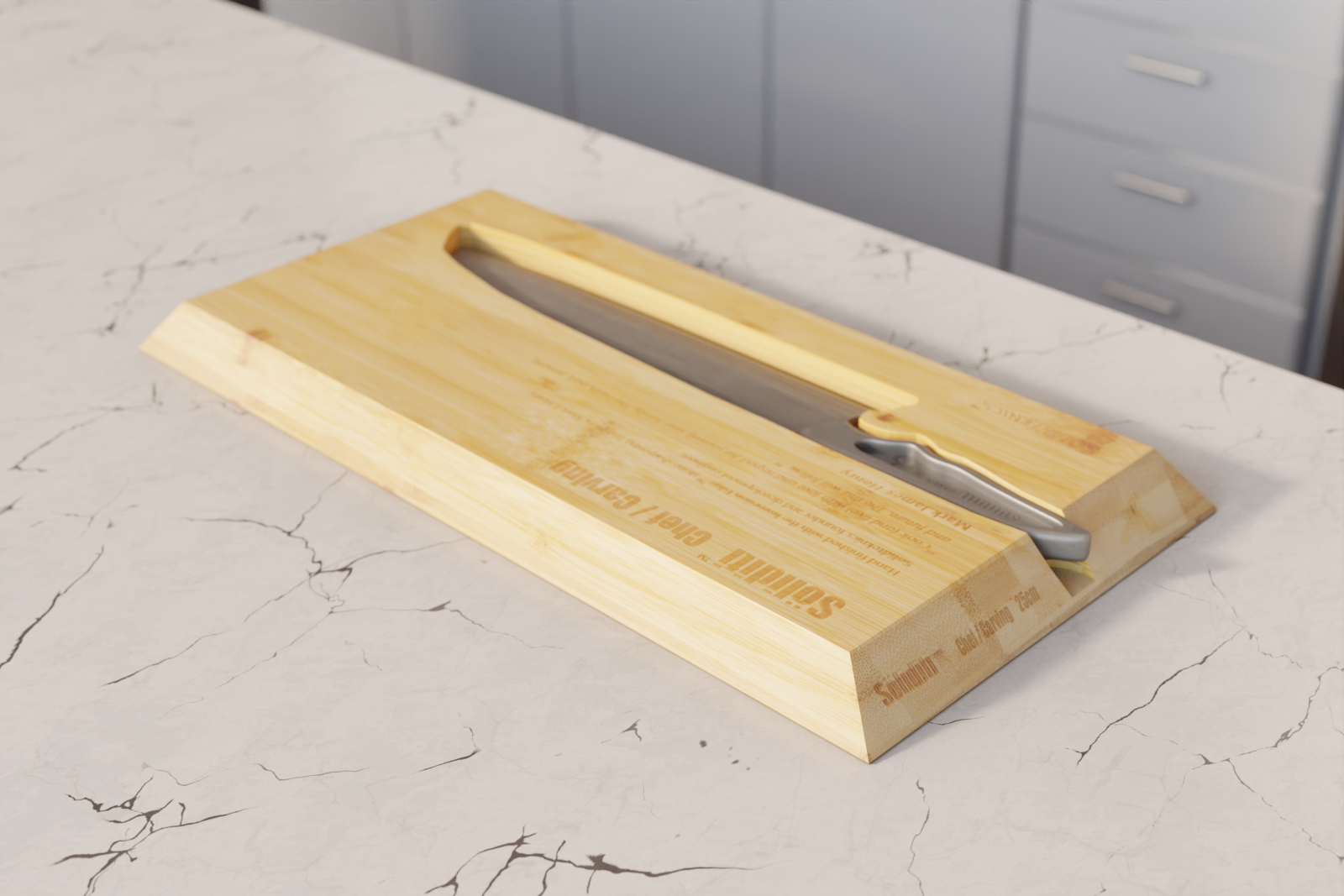 Please note, the image above is an artist's impression, so there will be some variations in the final design.

Dimensions

Weight: 370g
Exclusive First Lovers Edition
Each new piece will be:
Limited stamped '1st Lovers Edition'
Initialed by Mark
Dated with month/year of manufacture
Numbered in series
Much lower pricing than Kickstarter, and much lower than retail!
Pricing
Lovers Launch $399 (save $100 off RRP)
Kickstarter $449
RRP $499 RRP
Pre-order method and production timeline
Preorders available until midnight Wednesday 9 November 2022 (AEST), with estimated shipping late July 2023.
Head to our exclusive Solid Lovers Store. (If you don't yet have access, FOLLOW THESE STEPS).
Your credit card will be billed at the time of order.
The first 20 of each in the series will be held for the Solidteknics museum archive.
We've invested heavily in this early development, and with most tooling already underway, we don't expect any delays. By supporting our launch, you're saying yes to coming along on the manufacturing journey with us, this may involve manufacturing wins and manufacturing delays, either way, as an early adopter, we hope you will be patient with us in the event that there are any challenges outside of our control, all in the name of making long-run history together.

Like all our Solidteknics products, our goals are the ultimate in performance, health, and sustainability through durability and locally-made. As we always say, 'together we're making history, not just the finest cookware and kitchen tools'.

Coming to Kickstarter Soon

If you missed the launches of our 15cm Usudeba and 11cm USG knives you're in luck - we'll be re-launching them on Kickstarter soon! Keep an eye out over the coming weeks so you don't miss out.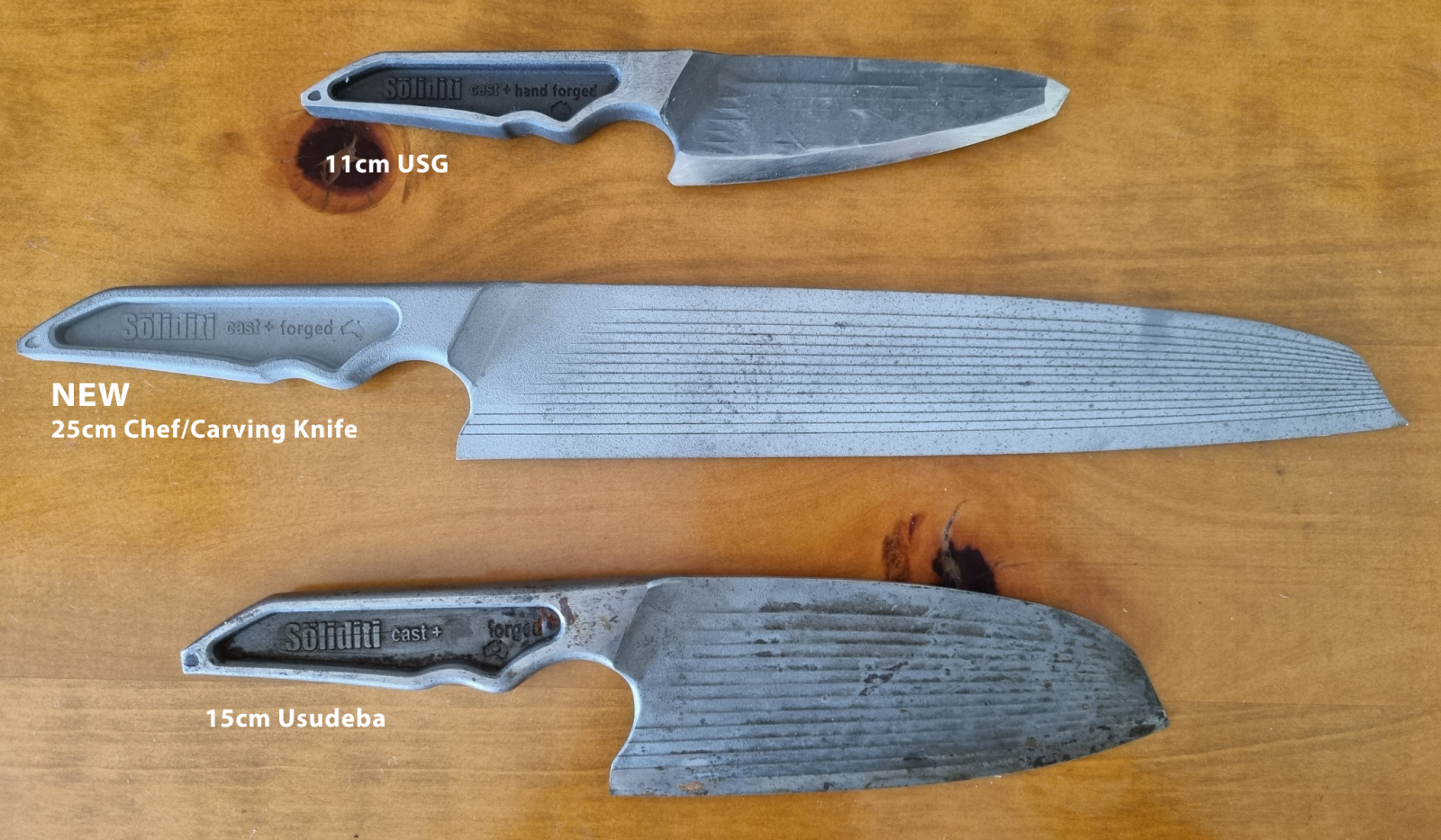 Knerd free zone!
We're knife nerds too, so we understand the passion and enthusiasm as much as anyone! However, like our cookware, we need to protect our many trade secrets. After an engineering honours degree thesis on 'Knife materials and cutting edges', multiple patents, and decades of knife making around the world, including the USA, France, and Japan, Mark J. Henry is widely regarded as a leader in chef knife innovation. We hope you'll trust our expertise and extensive experience!
We hope you can understand that there is a limit to the information we can put in the public domain. Everything we are able to reveal is on this page. We understand that may not be enough to satisfy the curiosity of some and they may want to look elsewhere - and that's OK! You're welcome to reach out to our team directly, though please don't be disappointed if we can't answer technical questions: info@solidteknics.com