Serves 4
Recipe and images by Chef Jason Roberts
(Baked in a 26cm AUS-ION Frypan)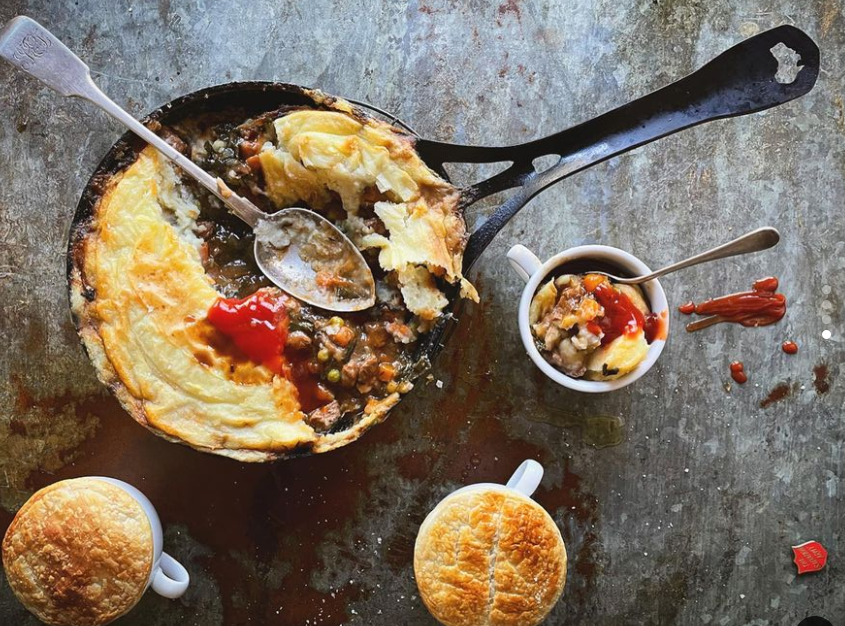 Ingredients:

1 onion, finely chopped
1 carrot finely chopped
½ tsp dried oregano
1 Tblspn olive oil
500g (1.1lb)diced beef brisket
3 tbs (50g / 1 3/4 oz) plain flour
1 cup (250ml /8fl oz) beef stock
¼ cup (60ml/2 fl oz) tomato sauce
½ cup water
2 tsp Worcestershire sauce
½ bunch shredded silverbeet stems + leaves
½ cup frozen peas
Sea salt & freshly ground black pepper
Pinch of nutmeg
1 sheet ready-rolled puff pastry
1 beaten egg, for glazing
Method:
In a 26cm AUS-ION pan, using a little olive oil cook the onion, carrot, dried oregano and mince until well browned. Sprinkle over flour and mixing well to incorporate. Add stock in 3 batches, stirring well between each.

Add the tomato and Worcestershire sauces along with the shredded silverbeet and a ½ cup of water. Bring to a boil then lower heat to a simmer and cook for a further five minutes stirring frequently.

Season with a good pinch of salt, black pepper and nutmeg. Remove from heat and allow to steep for 15 minutes.

Preheat oven to 230°C/ 450°F

Choose your desired dish* and invert over pastry. Cut pastry rounds allowing an extra 5mm / 1/5th inch larger than the top of the dish. Fill the dish with meat mixture leaving a little space from the top.

Brush the rim of the pan with beaten egg, lightly press pastry round on top and brush with egg. Bake 15 – 20 minutes, until pastry, is well risen. Serve with extra tomato sauce.

NOTE: this is a great 'prepare ahead' dish where you can have everything done up to putting it into the oven. You can be a good day ahead with the pies sitting in the fridge. Important to remember though that if the pie filling has come straight from the fridge it will take a little longer to heat in the oven.

* Could be either 4 large individual coffee cups or 1 individual pie