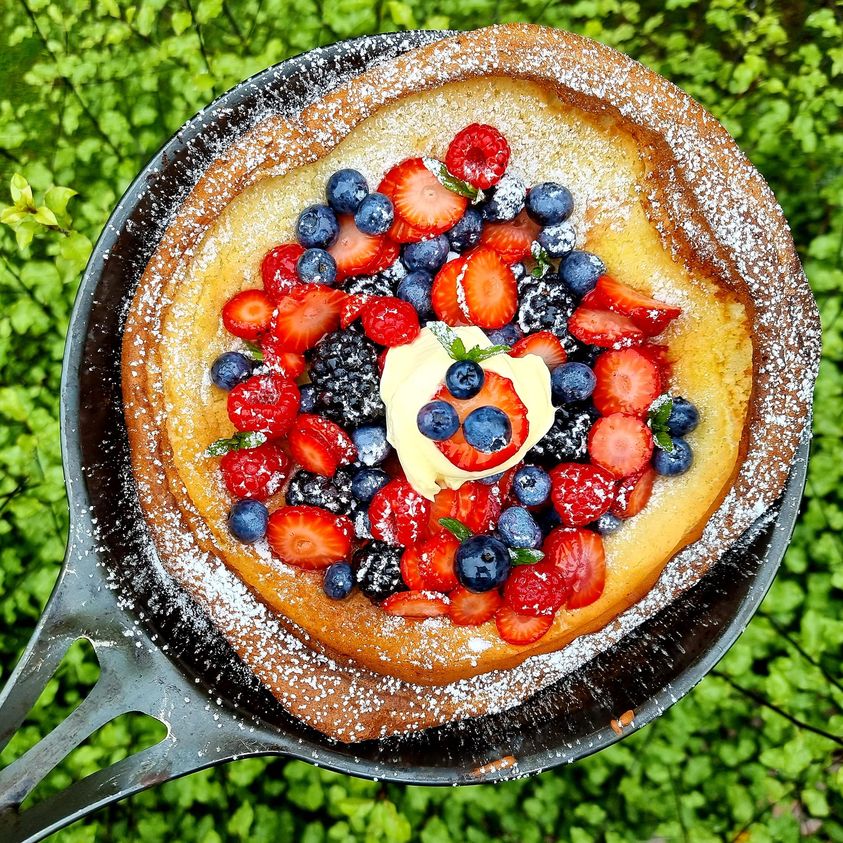 This fluffy pancake is excellent for breakfast, brunch, lunch and dessert any time of year. And it comes together in about five blessed minutes. It can be as easy as dumping all of the ingredients into a blender, give it a good whirl, pour it into a heated skillet sizzling with butter, and popping it into the oven for 20 minutes. Twenty-five minutes later? Bliss.
⁠Dutch baby pancake baked in our small yet mighty 18cm AUS-ION™ frypan.
⁠
INGREDIENTS⁠
2 eggs⁠
½ cup flour⁠
½ cup milk⁠
1 tablespoon sugar⁠
1 teaspoon of vanilla⁠
2 tablespoons unsalted butter⁠
⁠
PREPARATION⁠
Preheat oven to 210C / 425F degrees. Once the oven is hot, place the pan in the oven with a tablespoon of butter, so it preheats (watch it so it does not burn).⁠
⁠
Heat milk and the other tablespoon of butter slowly until the butter has melted.⁠
⁠
Combine eggs, sugar, vanilla, blend until smooth. Batter may also be mixed by hand.⁠
⁠
Combine milk & butter with eggs mix, add flour. Mix.⁠
⁠
Once ready, carefully add the batter to the warm buttered pan, return the pan to the oven and bake for 20 minutes, until the pancake is puffed and golden. If necessary, lower oven temperature to 150C / 300F degrees and bake five minutes longer.⁠
⁠
Remove pancake from oven, and serve at once topped with fresh cream and fruit, syrup, jams, icing sugar or cinnamon sugar.⁠

⁠