AUS-ION™ 35cm 'Flaming' Skillet
Australian-made, healthy & multi-generational cookware
---
Please note, we're all sold out of the this pan for now, and we don't have a set schedule for their return. But don't worry, if you choose the 'Notify Me' option and enter your email address, we'll let you know if they become available again. In the meantime, feel free to check out our vast selection of cookware that's available now!

Our big 35cm, 4mm thick Australian iron AUS-ION™ Flaming Skillet is the ultimate tough solution for flame grilling and smoking! The perforations allow smoke and fire to penetrate to sear, seal and flavour. It nests perfectly with our standard 35cm Bigga Skillet (available for separate purchase) to catch any drips, for easy transfer of roasts and thick steaks from flame sear and seal to the oven. Perfect for cooking over fire, BBQs, pizza ovens and everyday smoke and/or fire infused meals!
Available for separate purchase, this Flaming Skillet combines perfectly with the following:
AUS-ION™ Quenched™

10L, 35cm DEEPA Pan

- for big roasts, stews, camp cooking
AUS-ION™ Quenched™

35cm Bigga Skillet

- Useful from B'fast to dinner, BIG cooking surface, can be a base to the flaming skillet or lid for the 10L Deepa Pan (above).
Purchase the full three piece AUS-ION™ Quenched™ Dutch Oven Trio HERE which includes the 35cm Flaming, 35cm Bigga skillet and 10L Deepa Pan.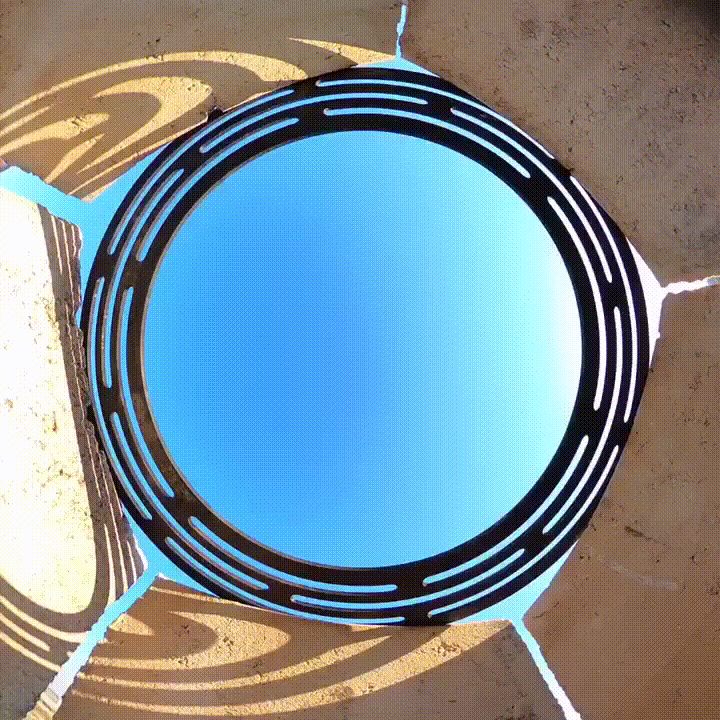 Seasoned with our new Quenched™ finish and ready to use. Learn why Quenched™ is a game-changer in iron cookware! Suitable for all heat sources from stovetop (including induction) to oven, campfire & even charcoal and pizza ovens (just don't put them in the microwave).
Please note, all of our pans have a carefully engineered concave built in. This is normal with all heavy based iron and steel pans, to allow for movement when heated. To learn more about our concave and why it's important, click here.
(Q135fRET)
Made in Australia from clean Australian iron.
Patented seamless, one-piece design. NO rivets, welds or toxic and/or short-lived coatings!
Seasoned for you with 100% non GMO Rice Bran Oil. Learn more HERE Traditional oil based seasoning is healthy, toxin-free, and forever renewable.
Suitable for Induction, stove tops, BBQ's, campfires + all (non-microwave) ovens, even charcoal and pizza ovens!
Exceptional heat retention,

even heating

and thermal mass.
Dimensions
Total Length: 38.5m
Diameter: 30cm (measured from inner top rim)
Stove contact surface: 25cm
Height of bowl: 5cm
Height at handle: 9cm
Weight: 1.8kg
Capacity: n/a
All of our pans are designed to fit in a standard 600mm domestic oven, though we recommend checking measurements prior to purchase as internal dimensions of ovens do vary.
Be The First To Review This Product!
Help other SOLIDTEKNICS PTY LTD users shop smarter by writing reviews for products you have purchased.
We Also Recommend
Others Also Bought