Our NEW 7.5L AUS-ION™ Deepa Pot is ideal for all your soups, slow cooking, stocks, pasta, stews, jams, chutneys, and much more. Dual-handles to handle heavy loads, this versatile pan doubles as a base (or lid) to the 30cm BIGGA Skillet. Add the 30cm Flaming Skillet to separate your foods for steaming or elevation for flavouring. The ultimate three-piece dutch oven set!
Made in Australia from 4mm thick Australian iron, our AUS-ION™ pans provide excellent heat retention and thermal mass for consistent, even cooking. Seasoned with our new Quenched™ finish so you can get cooking straight away.
Suitable for all heat sources from stovetop (including induction) to oven to campfire. Limited edition engraved 'First Edition' with the month and year of manufacture for heirloom collectability, and comes with a multi-century warranty.

Wanting a lid to match? Our 30cm AUS-ION™ Skillet is the perfect fit!
Get the Dutch Oven Set!
Our 7.5L DEEPA Pot is designed to be paired with our new 30cm AUS-ION™ Skillet and 30cm AUS-ION™ Flaming Skillet, to make the ultimate dutch oven. Three high-performance pans in their own right, but together, offer a multitude of cooking options. No matter the menu, this trio has you covered! Shop the set HERE.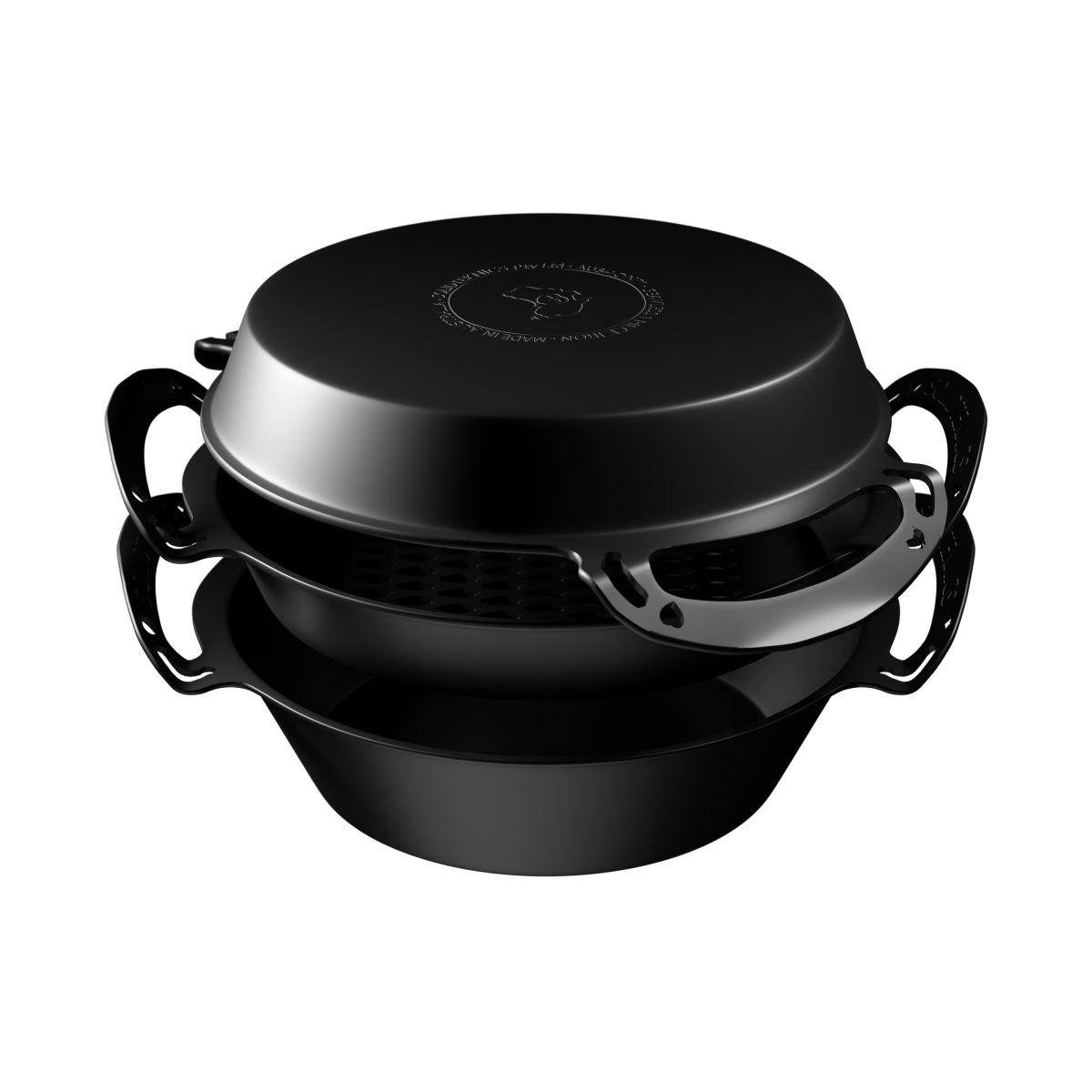 BEFORE USE: Please read our Seasoning and Care guide.
Learn why Quenched™ is a game-changer in iron cookware!
Please note: all of our pans have a carefully engineered concave built in. This is normal with all heavy based iron and steel pans, to allow for movement when heated. To learn more about our concave and why it's important, CLICK HERE.
(Q130dRET)
30cm/7.5L AUS-ION ™ Deepa/Stock Pot
Length including handles 38cm
Diameter 30cm
Height of bowl 15cm
Height of handle: 19 cm
Weight 2.7 kg
Capacity 7.5L
Stovetop contact 18.5cm
Before use: Please read our Seasoning and Care guide.
Be The First To Review This Product!
Help other SOLIDTEKNICS PTY LTD users shop smarter by writing reviews for products you have purchased.
We Also Recommend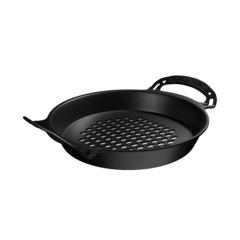 AUS-ION™ 30cm Dual Handle Flaming Skillet - Limited First Edition Offer!
(3)
[@acc_code@]
[@actual_height@]
[@actual_length@]
[@actual_width@]
[@allow_oversell@]
[@arrival_date@]
[@artisit_author@]
[@availability_description@]
[@available_preorder_quantity@]
[@barcode@]
[@base_unit@]
[@base_unit_qty@]
[@brand@]
[@committed_quantity@]
[@count@]
[@coupons@]
[@cubic@]
[@custom_label@]
[@date_created@]
[@display_template@]
[@editable_bundle@]
[@extra@]
[@filter1@]
[@filter2@]
[@filter3@]
[@filter4@]
[@filter5@]
[@filter6@]
[@filter7@]
[@filter8@]
[@filter9@]
[@format@]
[@free_gifts@]
[@has_child@]
[@has_components@]
[@has_from_price@]
[@height@]
[@inpromo@]
[@instock@]
[@inventory_id@]
[@is_kit@]
[@itm_gp_id@]
[@itm_sortorder@]
[@itm_sortorder2@]
[@length@]
[@limited_stock@]
[@list_id@]
[@manufacturer_model@]
[@misc11@]
[@misc12@]
[@misc13@]
[@misc14@]
[@misc15@]
[@misc17@]
[@misc18@]
[@misc2@]
[@misc3@]
[@misc5@]
[@model@]
[@name@]
[@no_shipping@]
[@notax@]
[@preorder@]
[@preorder_date@]
[@preorder_quantity@]
[@price@]
[@product_subtype@]
[@product_type@]
[@promo_end@]
[@promo_price@]
[@promo_save@]
[@promo_start@]
[@rating@]
[@rating_decimal@]
[@rating_round_half@]
[@ratings-count@]
[@rental_only@]
[@reorder_quantity@]
[@restock_warning_level@]
[@retail@]
[@reviews@]
[@rndm@]
[@save@]
[@save_price@]
[@service_only@]
[@sh_type_id@]
[@short_description@]
[@single_price@]
[@sku@]
[@start_date@]
[@store_price@]
[@store_quantity@]
[@subtitle@]
[@swatch@]
[@tax_inc@]
[@thumb@](CODE)
[@thumb_1@](CODE)
[@thumb_10@](CODE)
[@thumb_2@](CODE)
[@thumb_3@](CODE)
[@thumb_4@](CODE)
[@thumb_5@](CODE)
[@thumb_6@](CODE)
[@thumb_7@](CODE)
[@thumb_8@](CODE)
[@thumb_9@](CODE)
[@unit@]
[@url@]
[@weight@]
[@width@]
[@^access_control@]
[@^article_id@]
[@^blog_author@]
[@^blog_content@]
[@^blog_id@]
[@^blog_subheader@]
[@^blog_subject@]
[@^category_id@]
[@^category_name@]
[@^category_ref@]
[@^category_subheader@]
[@^ccat_id@]
[@^compat_id@]
[@^compat_list_id@]
[@^compatcat_description@]
[@^compatcat_description2@]
[@^compatcat_fullname@]
[@^compatcat_name@]
[@^compatcat_ref@]
[@^content@]
[@^content_allow_reviews@]
[@^content_author@]
[@^content_compatibility_code@]
[@^content_description1@]
[@^content_description2@]
[@^content_description3@]
[@^content_external_ref1@]
[@^content_external_ref2@]
[@^content_external_ref3@]
[@^content_external_src@]
[@^content_fullpath@]
[@^content_id@]
[@^content_label1@]
[@^content_label2@]
[@^content_label3@]
[@^content_level@]
[@^content_module@]
[@^content_name@]
[@^content_ref@]
[@^content_short_description1@]
[@^content_short_description2@]
[@^content_short_description3@]
[@^content_type_code@]
[@^content_type_id@]
[@^content_type_name@]
[@^content_wufoo_form@]
[@^date_posted@]
[@^date_updated@]
[@^description@]
[@^description2@]
[@^external_ref@]
[@^gp_restriction@]
[@^id@]
[@^name@]
[@^page_content@]
[@^page_editor@]
[@^page_header@]
[@^page_id@]
[@^page_index@]
[@^page_subheader@]
[@^page_type@]
[@^parent_ccat_id@]
[@^parent_content_id@]
[@^parent_id@]
[@^rating@]
[@^reviews@]
[@^short_description@]
[@^sortorder@]
[@^subtitle@]
[@^templatebody@]
[@^templatefoot@]
[@^templatehead@]
[@^templatesearch@]
[@^thumb@](CODE)
[@^thumb_alt@](CODE)
[@^thumb_alt1@](CODE)
[@^thumb_content_type_id@]
[@^timestamp@]
[@^title@]
[@^url@]

Others Also Bought